Discover more from The Mighty Bruin
Blog Of The Bruins, By The Bruins, For The Bruins
Over 1,000 subscribers
Welcome to the Fire, Martin Jarmond
Martin Jarmond officially takes over as the athletic director at UCLA today, and everything is on fire right at the start.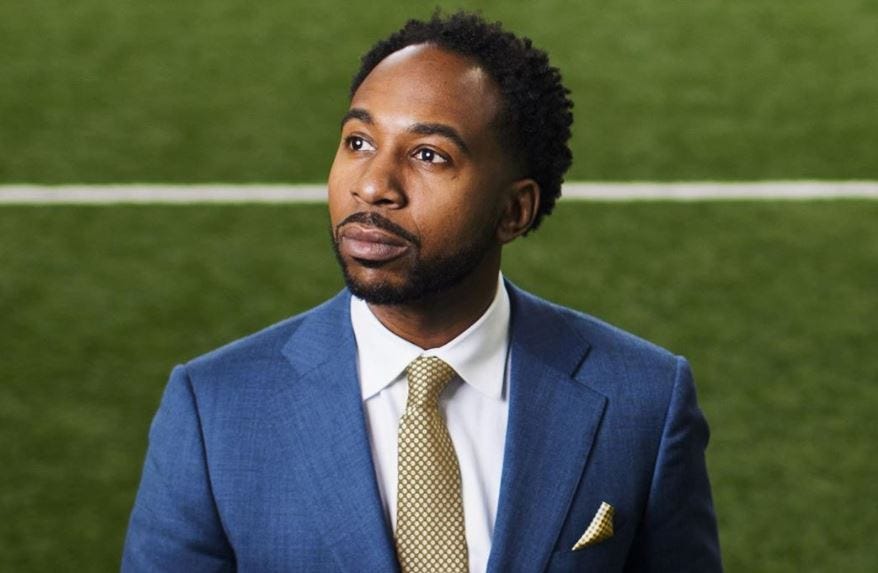 ---
UCLA is waking up to a new day. Martin Jarmond has officially taken over as the new athletic director of the school, and I'm sure UCLA fans are excited about the possibilities that his arrival could mean for the program.
It's too bad everything is currently on fire.
Let's look at some of the current major issues plaguing the school:
On Saturday, it was revealed that Under Armour was looking to get out of the $280-million apparel contract it had signed with the Bruins in 2016. The company is claiming that UCLA was in breach of contract for not providing marketing benefits that UA has paid for for an extended period of time.

Then on Monday, Jon Wilner reported that Learfield/IMG College was looking to ask for revisions in the multimedia deal they had signed with UCLA (and UC Berkeley, which is in the same boat with Under Armour).

Oh yeah, and the ongoing COVID-19 pandemic and rising cases has raised questions about the wisdom of even having a season at the moment. This is especially problematic for an athletic department that is staring at an ever-widening debt hole.
In short: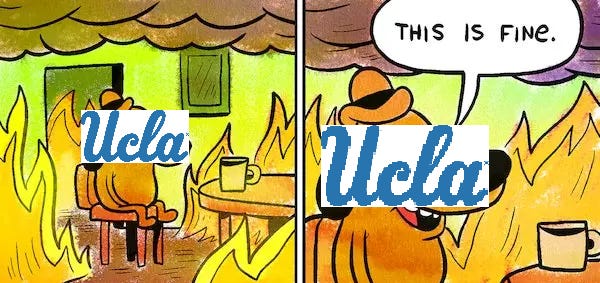 It's hard to truly blame outgoing athletic director Dan Guerrero for these events. Clearly you can't blame him for the pandemic shutting down sports, and as the recent rash of positive cases in college sports has indicated, UCLA's more cautious approach has been to the benefit of student-athletes, which is a welcome change in college athletics. The break-up with Under Armour appears to have more to do with the failures of that company than anything UCLA has done - Jon Wilner pointed out that Under Armour shares had fallen from $43 at the time of the deal's signing to $9 currently, and Lorraine Mirabella of the Baltimore Sun reported that Under Armour was trying to renegotiate endorsement deals with professional athletes back in May. The Learfield/IMG College news falls into this same boat, as Michael Smith of Sports Business Daily reported that the company was trying to renegotiate deals with colleges as far back as April due to the pandemic.
Still, it's an unenviable position that Martin Jarmond finds himself in. There are no quick fixes for these issues on the horizon, and there is a very good possibility things will need to get worse before they get better. Consider: we're all still operating on the presumption that a college football season will happen this year, even as cases rise and more and more players test positive. Kansas State, for example, had reopened the school for practice only to shut down last week after the virus began to run through the team. Schools like Clemson, LSU, and Texas have reported dozens of cases on their rosters. And the assumption from people in charge is that they will have figured everything out by the time the season starts in September? The NBA is having problems figuring it out, and they have the advantage of having much smaller rosters that can be kept to a single location in a "virtual bubble", but the NCAA and its cavalcade of stupidity will suddenly solve this one I guess.
The Under Armour deal, after stewing on it, looks to be a chance for Jarmond to make his mark on the school early. With everything I've seen, it does not appear that Under Armour has much of a chance at actually getting out of the contract without paying some kind of buyout, which can help lessen the blow from what will be some very low offers from Adidas and Nike. But I'd emphasis that those offers will be very low, as UCLA would have next to no leverage with a new company (this one you can partly blame on Guerrero if you want). At this point, if the offers come in relatively close, I think it would benefit UCLA more to sign with Nike/Jordan, but that's a decision I don't envy Jarmond having to make.
At least I can say the Learfield/IMG news isn't the worst thing in the world. Sure, it won't be great - the deal gives UCLA $15 million annually, which means UCLA is looking at less revenue regardless - but I don't think Learfield/IMG wants to just walk away from the deal entirely. Again, if I was Jarmond, I would look at getting Learfield/IMG to lessen the number of years on the deal so that they become available at the same time that the Pac-12's media rights come up in a few years so that UCLA can try to use those new rights as leverage in future deals, but generally I don't think UCLA is going to lose this deal entirely.
Still, those are three major things that have come up all at once, where just a month ago this looked like it would be a relatively calm transition. UCLA is making Martin Jarmond one of the highest-paid athletic directors in the country, and if he can figure out a way to thread this needle, he will have been worth every penny. He'd also probably be on his way to Ohio State afterwards if he solves this, but that'd be a good problem to have.
Welcome to the fire, Martin Jarmond. Hope you packed an extinguisher.
Go Bruins!