Discover more from The Mighty Bruin
Blog Of The Bruins, By The Bruins, For The Bruins
Over 1,000 subscribers
Under Armour Looks Terminate $280M UCLA Apparel Deal
Meanwhile, the UCLA Athletics Department plans to fight the termination.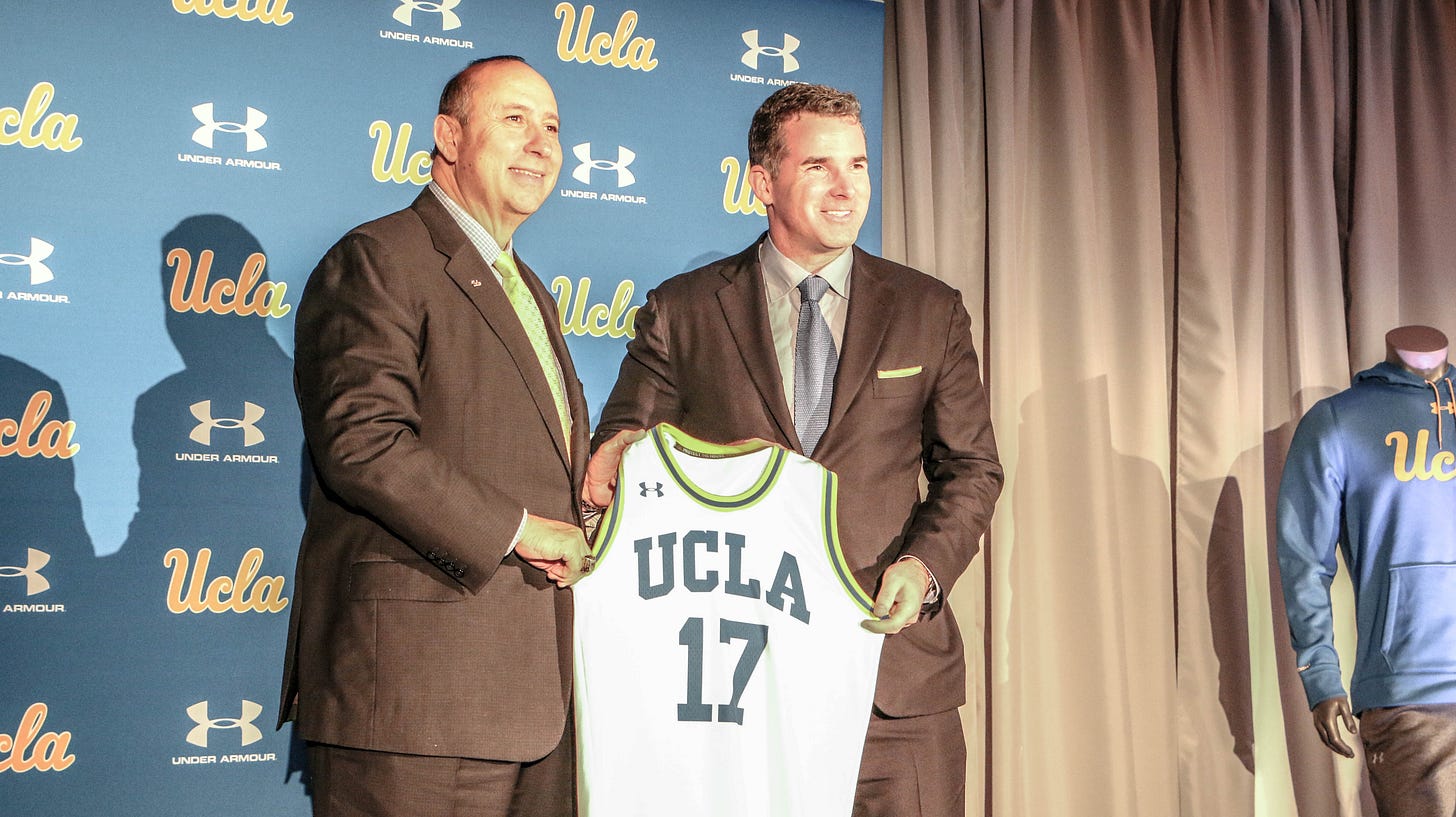 UCLA Athletic Director Dan Guerrero and former Under Armour CEO Kevin Plank at the announcement of UCLA's record-breaking apparel deal on May 24, 2016. (Photo credit: Joe Piechowski)
---
This morning, Ben Bolch of the LA Times wrote an article which reports that Under Armour "has informed UCLA that it wants to terminate the record-setting $280-million deal the apparel giant signed with the school in 2016…."
Bolch writes:
In a letter to UCLA constituents, outgoing athletic director Dan Guerrero wrote that "we are exploring all of our options to resist Under Armour's actions and will share more information as we can. We want to reassure you that UCLA Athletics remains committed to providing our hard-working staff and student-athletes with the footwear, apparel and equipment needed to train and compete at the highest level."
When you consider that UCLA ran an $18.9 million deficit in 2018-19 and is expected to run an even bigger deficit for 2019-20, the termination of the Under Armour contract would be a huge blow to the UCLA Athletic Department.
What Bolch does not mention in his article is what Under Armour is using as the reason they are looking to terminate the deal.
Since Bolch broke the story, details have been coming in from various sources. Bolch's article forced UCLA to put out a statement which is being reported by ESPN:
UCLA Athletics learned this week that Under Armour is attempting to terminate its 15-year apparel and footwear contract with us and the Bruin community. We are exploring all our options to resist Under Armour's actions. We remain committed to providing our hard-working staff and student-athletes with the footwear, apparel and equipment needed to train and compete at the highest level, as they -- and our loyal Bruin fans -- deserve.
ESPN's Adam Rittenberg tweeted UA's explanation.
The question then becomes one of what Under Armour considers to be "an extended time period."
To know whether the company really can terminate the agreement really requires looking at UCLA's contract with Under Armour. There are only a handful of reasons why the apparel company can terminate the deal.
One possible reason is if UCLA student-athletes fail to wear UA gear.
Back in 2018, some UCLA student-athletes shifted away from Under Armour products. At the time, the Daily Bruin reported that some members of the UCLA track and field team had started wearing other shoes because Under Armour "is not traditionally a track shoe company."
Realistically, however, that doesn't seem to be the case here, especially when you consider the fact that the Daily Bruin article mentions that UCLA was working with Under Armour to help improve the quality of their products. On top of that, there doesn't appear to be a significant breach here. If the football and/or basketball teams weren't wearing UA that would be one thing but, even if the track team started wearing other shoes in 2018, that doesn't seem likely to have caused the company to claim they were paying for marketing benefits they are not receiving.
So, why else could this be?
What other clause could Under Armour use to try to terminate the deal?
It's not a secret that Under Armour has been struggling financially. On February 11th before the COVID-19 pandemic hit, Bloomberg reported:
The company shocked the market Tuesday when it forecast 2020 earnings of 10 to 13 cents a share, compared with Wall Street's estimate of 46 cents. Sales are expected to decline by low single-digits.
When a company is struggling financially, it would make sense that the company would look to cut costs.
In an article appearing on Yahoo News, Footwear News reporter Claudia Miller writes:
In May, the company said it initiated several major moves to preserve cash flow, including slashing its annual operating expenses by about $325 million, centering marketing efforts on digital and temporarily laying off workers in U.S. stores and distribution centers. (It has since brought back some of its retail workers as stores reopen.)
So, while UCLA may not try to terminate Chip Kelly's contract due to the Force Majeure clause in his contract, it seems that UA is probably going to try to use the Force Majeure clause to terminate their deal with UCLA.
The contract between UCLA and Under Armour contains Force Majeure clause which reads:
If a Force Majeure Event continues for more than one hundred (100) days, either Party may terminate this Agreement with immediate effect by written notice.
Last Sunday June 21 was the 100th day of since March Madness was cancelled. Since both parties seem to agree that notice was given this week, it would appear that Under Armour is using the COVID-19 pandemic as a Force Majeure event to terminate their contract with UCLA.
If UA succeeds at terminating the deal, it would obviously be a huge blow to the UCLA Athletic Department financially. There's almost no way UCLA would have been able to sign the contracts of Chip Kelly, Mick Cronin and, possibly, even new AD Martin Jarmond without the money coming in from Under Armour.
Will Under Armour be successful at terminating the deal?
That, obviously, remains to be seen. If UA is successful, it could potentially have a trickle-down effect that forces UCLA to terminate and/or renegotiate the contracts of Kelly and Cronin? Well, if it comes down to that, UCLA could have a simple solution. That solution would be to invoke the Force Majeure clause of Kelly's contract and not re-sign him.
Based on the results of his first two seasons at UCLA, Kelly has given the school absolutely no reason to re-sign him if the clause gets invoked. Cronin, on the other hand, has.
Since arriving in Westwood, Cronin has embraced UCLA and the greater Bruin community. On top of that, Cronin's team actually showed improvement over the course of his first season. He has the basketball program on the rise again while Kelly's team has continued to falter.
But, for now, all we can do is watch and wait to see what happens next. At least, Dan Guerrero's tenure ends on Tuesday and Martin Jarmond can start the process of fixing things when he officially takes over on Wednesday.

Go Bruins!!!
---
Thanks again for supporting The Mighty Bruin. Your paid subscriptions make this site possible. Questions, comments, story ideas, angry missives and more can be sent to joe@themightybruin.com, or to @TheMightyBruin on Twitter.