Discover more from The Mighty Bruin
Blog Of The Bruins, By The Bruins, For The Bruins
Over 1,000 subscribers
UCLA Student-Athletes Begins Return to Campus
On Saturday, UCLA quietly announced its full plan for bringing student-athletes back to campus.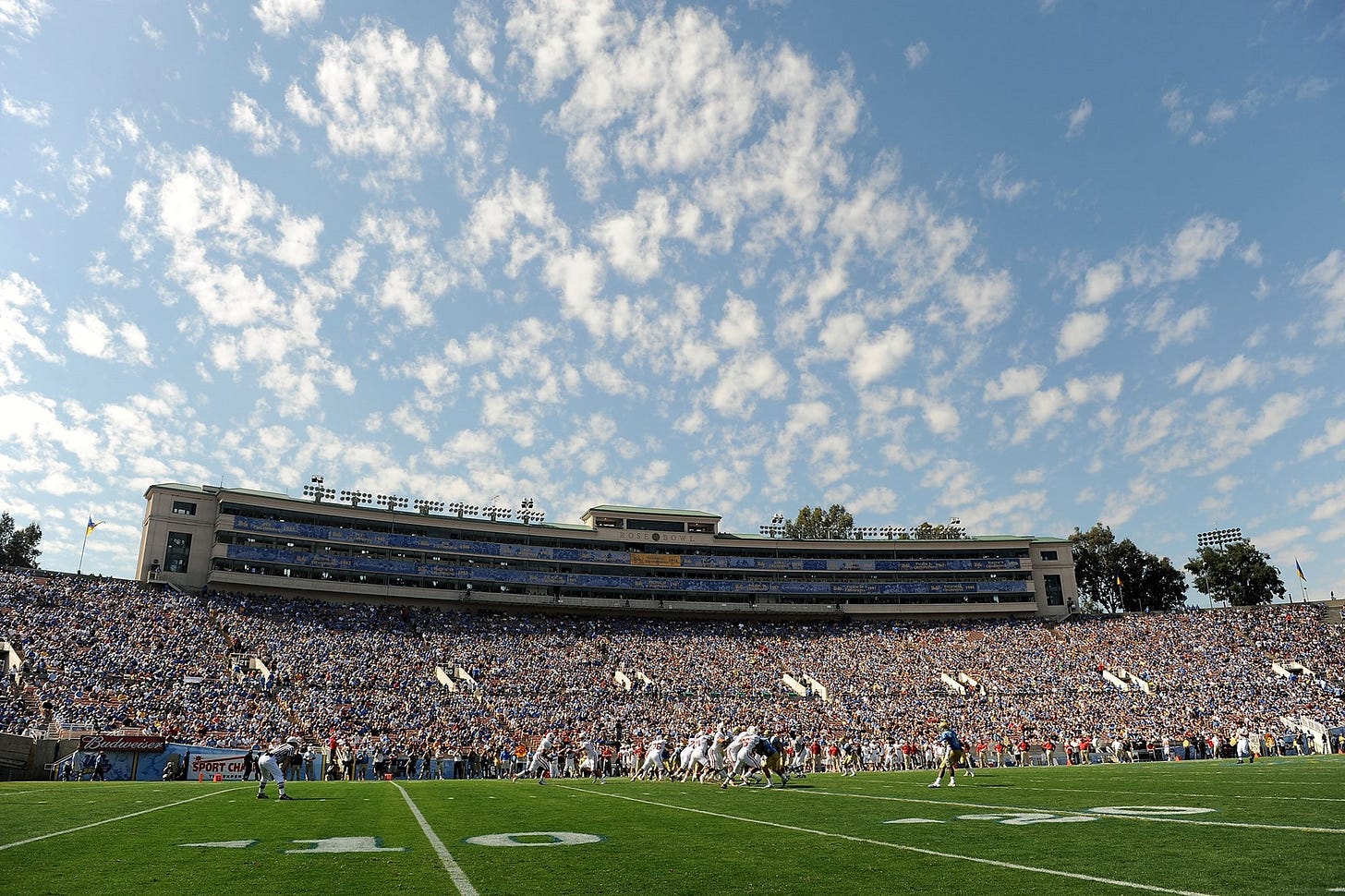 UCLA has started its four-phase plan to return athletes to campus even though COVID-19 restrictions remain in place, virtually guaranteeing that UCLA fans won't be able to fill the Rose Bowl as shown here. (Photo Credit: UCLA Athletics)
---
After the furor on Friday caused by UCLA football players who want the school to provide third-party supervision over the football program's return to campus, the UCLA Athletic Department quietly released its entire four-phase plan for student-athletes to "Return to Training."
To accomplish the plan, UCLA's 700 student-athletes have been divided into four groups:
Group 1: Fall Olympic sport student-athletes who live locally and football student-athletes

Group 2: Basketball student-athletes

Group 3: Remaining Fall Olympic sport student-athletes and all other student-athletes who live locally

Group 4: All remaining student-athletes
The first group of athletes was allowed to begin the first phase of the plan yesterday.
According to UCLA's official release, Phase One is being called the Return to Campus phase. Phase One is explained this way:
Fall Olympic sport student-athletes who live locally and football student-athletes (Group 1) may choose to return to campus to begin the process of returning to voluntary and permissible activities.

As student-athletes return to campus, their mode of transportation will determine whether they are required to complete a quarantine period prior to beginning Phase One. Those who travel by personal vehicle will not be required to quarantine, while those who travel by plane will be required to self-quarantine for a period of seven days before reporting to athletic facilities for medical screening.

Once the quarantine period, if applicable, has passed, all returning student-athletes will be tested for COVID-19 and antibodies. In addition to testing, all student-athletes will undergo comprehensive physical and mental health screenings and be provided educational and training opportunities specific to COVID-19 procedures. Once they have completed the aforementioned procedures, and medical personnel have cleared them, they may move into Phase Two.
Phase Two is called the Return to Athletic Performance phase. It consists of:
During this phase, designated groups of student-athletes and staff who have been given clearance through Phase One may begin voluntary workouts that include strength and conditioning activities and agility training. These workouts will be conducted in designated groups of 10 or less and will be overseen by athletic performance staff members. Sports medicine treatment is also permitted during Phase Two. Frequent and extensive sanitization of all equipment will take place between scheduled groups.

Anyone entering an athletic facility during Phases One and Two must adhere to the following protocol:

Daily temperature screening

Daily wellness survey

Face coverings must be worn at all times (unless activity suggests otherwise)

*Physical distancing (at least six feet) at all times

Designated student-athlete groups must be 10 or less

Use of facilities will be limited to areas where athletic performance and sports medicine activities are taking place
Phase Three is called the Return to Practice phase and consists of:
During this phase, designated student-athletes and staff who have been given clearance through Phases One and Two will be permitted to return to permissive voluntary captains' practices and/or skill work, as well as organized team practices within PAC-12 and NCAA guidelines. At this time, there is no timetable for moving into this phase.
Phase Four is the Return to Competition phase. While it may seem somewhat self-explanatory, this phase details the following:
During this phase, designated student-athletes and staff who have given clearance through the three prior phases will return to competitions within PAC-12 and NCAA guidelines. Separate, specific plans will be developed for each sport's competitions based on state and local guidelines.
On the surface, it looks like the plan has been well-designed but, as seen last Friday, it doesn't mean that everything will go perfectly. Frankly, you can't blame the football team for wanting protections from retaliation and asking for third-party supervision over the situation.
There have just been too many head-scratching situations over the past two seasons where players have been injured and never return to the program. So, it shouldn't come as a surprise to anyone who's followed the football program that current players want reassurances that the school is going to treat them the right way.
And, the situation with the football team certainly doesn't make Chip Kelly look good to his new boss Martin Jarmond who already has a football fire to put out before he officially takes over on July 1st.
Jarmond would be well-served by becoming familiar with all of the terms of Chip Kelly's contract immediately, if not sooner. Because, despite the public relations work of Dorian Thompson-Robinson on Twitter, it still looks like the players don't trust Kelly and that's a huge problem Jarmond will need to solve. While no one wants to see anyone on the football team test positive for COVID-19, maybe it wouldn't be such a bad thing if this year's UCLA football season were to be cancelled due to the pandemic. After all, at this point, it looks like there is virtually no way for UCLA's scheduled road game against Hawai'i to take place without some special waiver from the State of Hawai'i. Would it be truly terrible if the rest of the schedule got wiped out if it means that UCLA can get rid of Kelly's contract?
Go Bruins!!!
---
Thanks again for supporting The Mighty Bruin. Your paid subscriptions make this site possible. Questions, comments, story ideas, angry missives and more can be sent to joe@themightybruin.com, or to @TheMightyBruin on Twitter.