Discover more from The Mighty Bruin
Blog Of The Bruins, By The Bruins, For The Bruins
Over 1,000 subscribers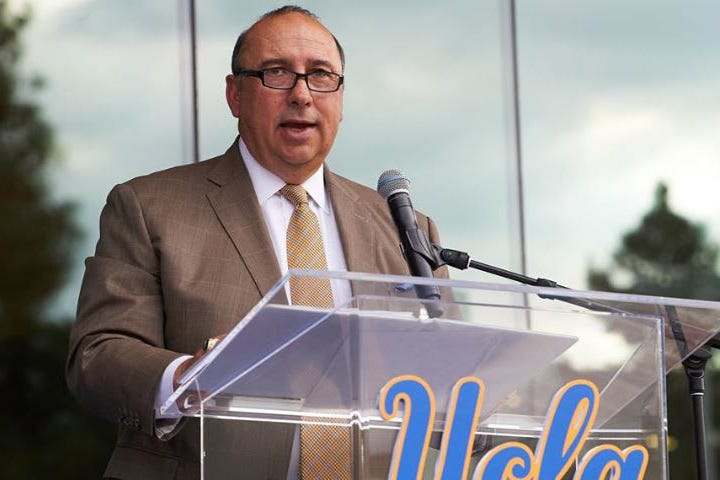 ---
Today is June 30th, 2020. It is the final full day of Dan Guerrero's tenure as the athletic director of UCLA. Tomorrow, he will officially retire, and the Martin Jarmond era at UCLA will officially begin.
I'm sure we'll have plenty to write here in the future reflecting on the various successes and failures of UCLA athletics under Guerrero's watch. In fact, I can almost guarantee Joe is salivating about that prospect, but for now, I wanted to acknowledge that the end is here.
To that end, Dan Guerrero wrote one last letter to the Bruin faithful, which you can read here. The whole thing is worth a read but I'll pull out a small section here:
We have experienced some incredible wins and tough losses together over the years, but I am so proud to have led this program every moment of the last 18 years with integrity. I will walk away knowing that we emphasized doing things the right way — not with a "win at all costs" approach. Winning is great, and we did win a lot, but at the end of the day, I'm most proud of how we won. I'm also incredibly proud of the champions we have developed here. Not just those student-athletes who have gone on to play professionally, but also the majority of former student-athletes who have gone on to make a difference in their communities and in the world.

I take pride in the fact that we have tried to uphold UCLA's esteemed tradition of supporting barrier breakers and innovators. I also take great comfort in knowing that Coach Wooden was proud of how we conducted our business. Building a relationship with him was one of the greatest honors that this role afforded me. He was the kind of man – the kind of person – that you aspire to be. For me, he was a guiding light that I never wanted to veer from.

Through it all, the tremendous privilege of serving as the steward of this storied program, at my University that gave me so much, has never been lost on me. It has been an honor that I will carry with me for the rest of my life.
At the end of the day, I truly believe Dan Guerrero tried to make UCLA athletics better. He wanted the best for his alma mater, and while his failures stand out, I do honestly believe he put the success of UCLA before anything else.
UCLA athletics put together a video highlighting some of the positive moments from Guerrero's tenure.
Some others had messages for Dan Guerrero on this last day. First up, a video from incoming athletic director Martin Jarmond.
And a video from Russell Westbrook:
Dan Guerrero will not be "retiring" in the traditional sense. As announced, he will be transitioning into a new role as president of the U.S. International University Sports Federation (USIUSF) starting on July 1.
We'd like to wish Dan the best of luck in his new job, and thank him for his time at the university.
Go Bruins!