Discover more from The Mighty Bruin
Blog Of The Bruins, By The Bruins, For The Bruins
Over 1,000 subscribers
Martin Jarmond to be Next UCLA Athletic Director
The Bruins have found their replacement for Dan Guerrero.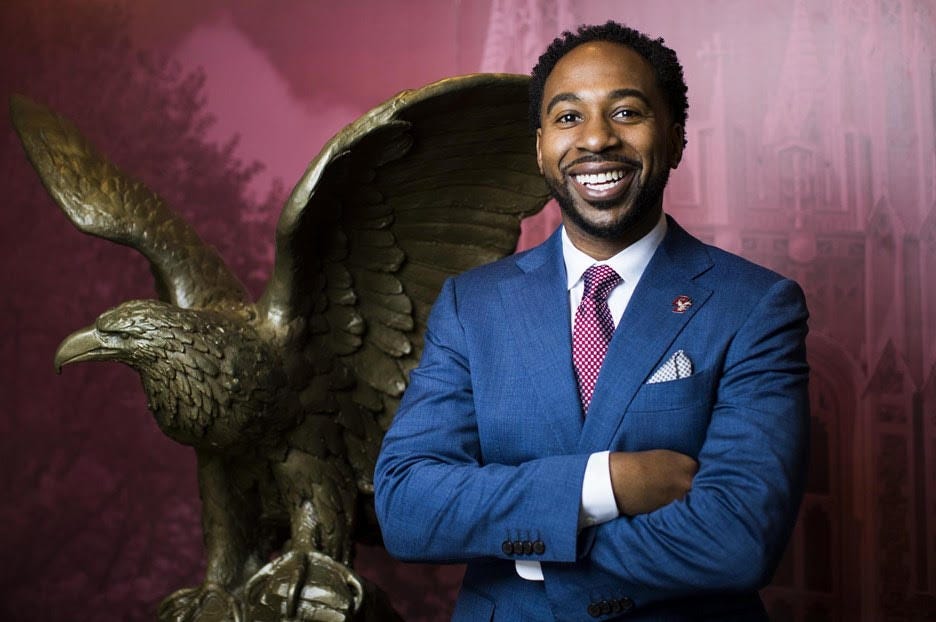 (Photo Credit: Boston College Athletics)
---
The white smoke is rising over Morgan Center this morning. Pete Thamel at Yahoo Sports is reporting that UCLA is finalizing a deal to make current BC athletic director Martin Jarmond their new athletic director, replacing the retiring Dan Guerrero. Jarmond is expected to sign a six-year deal with the university.
Martin Jarmond is a fascinating hire for the Bruins. When he took over at Boston College in 2017, he became the youngest athletic director of a Power 5 athletic department at the young age of 37. Prior to that, he served as a deputy AD at Ohio State under Gene Smith for nine years, ultimately rising to the level where he directly oversaw football. He also has experience as a member of the NCAA's inaugural College Football Playoff National Championship Advisory Group and the Rose Bowl Advisory Committee. Jarmond went to UNC-Wilmington, where he was a two-time captain of the basketball team and led the Seahawks to their first NCAA Tournament appearance.
Jarmond's major strength at this point appears to be his prodigious fundraising ability. At Boston College, Jarmond launched a $150 million athletic department capital campaign, which was not only the largest in school history but the largest in the ACC. He's a youthful administrator who prides himself on his engagement ability; he has a very active presence on Twitter and makes himself incredibly visible at Boston College sporting events. Maybe most importantly for UCLA fans, Jarmond made fan and student engagement a priority during his time with Boston College, turning games into an enjoyable experience and increasing student turnout. And, of course, it should be noted that Jarmond thrilled Boston College fans when he brought alcohol sales to BC's stadium and arena.
This biggest question mark regarding Jarmond is his ability to hire a coach. He has strong marks when it comes to non-revenue sports, making excellent hires in women's college basketball and volleyball while at BC. And luckily for him, Dan Guerrero left Jarmond with an excellent stable of non-revenue coaches to keep on, with only a few question marks among the group. That said, it's hard to judge his ability with the two revenue sports. Jim Christian has been the basketball coach at BC since 2014 and has amassed a 75–119 record in that time, which isn't great. Jarmond signed him to an extension after the 2017-2018 season, in which the Eagles went to the NIT and posted their best record (19–16) under Christian, and has been rewarded with two middling seasons since. In football, Jarmond let go of Steve Addazio, who had gone 44-44 in seven seasons, and hired former Ohio State defensive coordinator Jeff Hafley, which is a smart gamble for a program at Boston College's level.
The hiring of Martin Jarmond represents an impressive shift in the thinking surrounding UCLA athletics. Jarmond represents a break from hiring an athletic director with a prior connection to the University, and UCLA was able to conduct a search that lacked the leaks prevalent throughout many a coaching search. According to Thamel, BC made a strong late push to retain Jarmond, which could indicate that UCLA is willing to make a strong financial commitment to Jarmond, which would be outside the usual modus operandi for the university.
Frankly, I would say that UCLA nailed their process and is bringing in a highly-qualified individual to take over the program. UCLA fans should be thrilled today that Jarmond is set to be the next athletic director.
Let's welcome Martin Jarmond to Westwood!
Go Bruins!