Discover more from The Mighty Bruin
Blog Of The Bruins, By The Bruins, For The Bruins
Over 1,000 subscribers
UCLA Football Recruiting: RB Deshun Murrell Commits to the Bruins
The Bruins add a future every-down back to the 2021 class.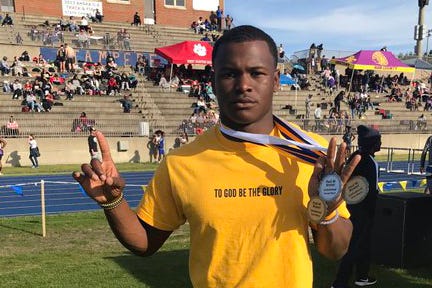 Deshun Murrell isn't just a football player. He also excels at track. (Photo Credit:
@deshun_03
)
---
The UCLA Bruins football recruiting train keeps on rolling. Last week, the Bruins picked up a commitment from quarterback Kajiya Hollowayne. Then, on Monday, he picked up a receiving option in Ezavier Staples. So, it's only fitting that the Bruins round out a blitz of commitments by finding someone to run the ball for this group. And, that's exactly what happened today, when running back Deshun Murrell made his commitment public and announced for UCLA.
According to his Hudl.com profile, Deshun Murrell stands at 5'11" and weighs in at 185 pounds. Murrell hails from Bibb County High School in Centreville, Alabama and is a consensus 3-star prospect according to 247Sports Composite Rankings. 247Sports has Murrell ranked as the 64th best running back in the country, and the 32nd best recruit in the state of Alabama. Murrell had seen his recruitment pick up tremendously in recent weeks, with a host of Power 5 offers from schools like Nebraska, Maryland, Virginia Tech, Vanderbilt, and others, along with offers from Navy and Yale.
Murrell's recruitment appears to be one of a match made in heaven. Despite seeing an uptick in recruiting interest for his services, Murrell made the decision to go with the Bruins pretty quickly. UCLA only offered Murrell back on May 19th and he has not been able to visit the campus thanks to the ongoing COVID-19 pandemic. Yet Murrell quickly went with UCLA, as it fit into the all-around package he was looking for. As he told Tracy Pierson of Bruin Report Online back when he was offered, UCLA stood out because "it's the No. 1 public school in the country" and Murrell appears to be an excellent student, holding a 3.95 GPA.
With his solid frame and speed, Murrell projects to be more of an every-down back in the mold of a Joshua Kelley or UCLA running backs coach Deshaun Foster. That's pretty important in the grand scheme of things because UCLA really lacks a running back in this mold on the roster. Outside of redshirt freshman Jahmon McClendon and Martell Irby, UCLA's running back stable is full of scatback-type runners and, even with Irby and McClendon it's hard to gather just how much faith the staff has in either player. It opens the door for Murrell to come in and compete immediately for the starting running back spot. At the very least, Murrell appears to have the ability and work ethic to make that a competition.
Normally, we take a look at the Hudl highlights whenever a recruit commits. While those may be worth a look, I think it might be more fun to take a look at some of the training videos Deshun has posted to his Twitter feed. They show him training old school. Instead of using weights, the videos feature him getting his workouts in using things like bales of hay. But, be warned! The kid also seems to like to cook. So, don't visit on an empty stomach!
Apropos of nothing, Pierson's interview with Murrell also revealed an interesting look at how UCLA is selling its offense. From the interview:
He did like the vision the coaches have for him in the UCLA offense. "It's the spread," Murrell said. "I'm more of a spread back and that's the offense I thrive in. The (UCLA) offense (fits) me perfectly, along with the conference."
I don't know if UCLA really runs what would be considered a traditional spread. Kelly has talked about UCLA using "multiple" sets in his time in Westwood and the Bruins have fallen in love with multiple tight end sets and more traditional power football at different points of the past two years. I'm not sure what this all means for the Bruins in 2020, but it is interesting that UCLA is at least selling themselves as having a spread offense.
Welcome to Westwood, Deshun!


Go Bruins!
---
Thanks again for supporting The Mighty Bruin. Your paid subscriptions make this site possible. Questions, comments, story ideas, angry missives and more can be sent to joe@themightybruin.com, or to @TheMightyBruin on Twitter.