UCLA Football Recruiting: WR Ezavier Staples Commits to the Bruins
Staples becomes the second WR recruit in the 2021 class.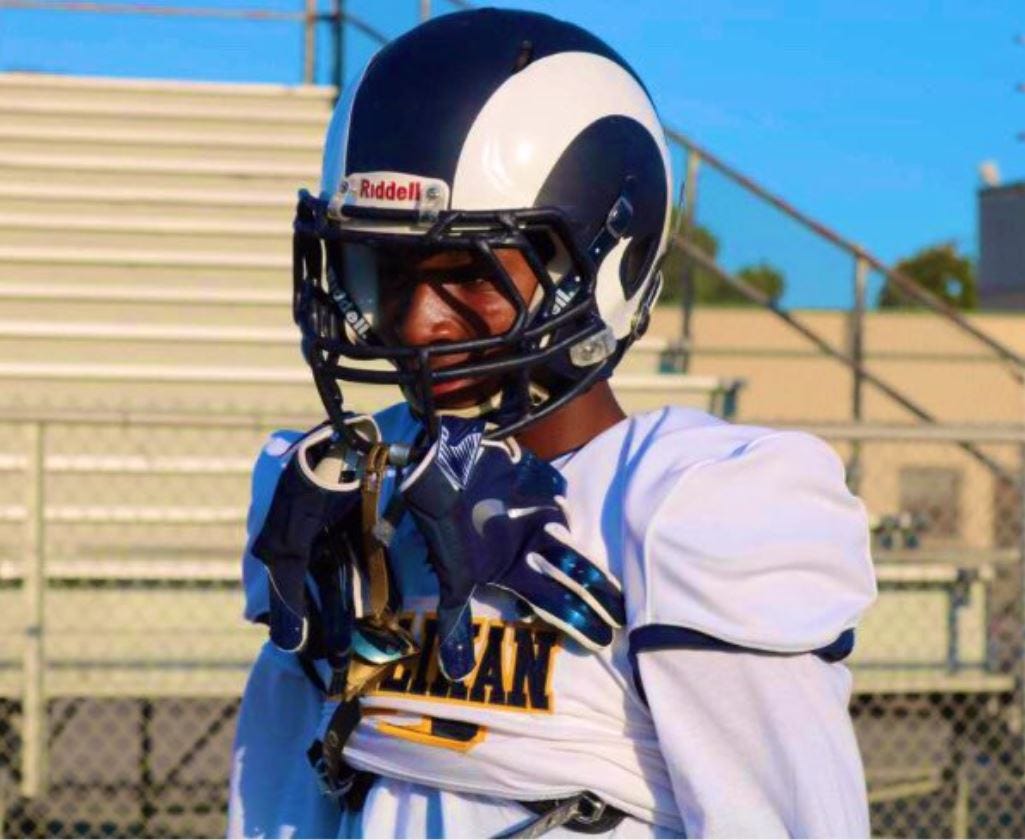 ---
It must be time for another run of football commits for the UCLA Bruins. Last Friday, the Bruins got a pleasant surprise when QB Kajiya Hollowayne moved up his commitment and announced for the Bruins, and today the Bruins picked up another commitment, as 3-star wide receiver Ezavier Staples made his decision public.
Ezavier Staples stands at 6'2" and weighs in at 182 pounds. Staples hails from Millikan Senior High School in Long Beach and is a consensus 3-star prospect according to 247Sports Composite Rankings. 247Sports ranks him as the 63rd best receiver prospect in the country, and the 42nd best prospect in the state of California. Staples is a two-sport athlete, as besides football he competes in track, running the 100 meters, 200 meters, 110 hurdles, 300 hurdles, and relays. Besides UCLA, Staples held offers from Arizona State, Utah, Purdue, and Nevada, among others.
I mention Nevada there because while Staples was considered a long-time UCLA lean, the buzz had started to build that the Bruins had parted ways with the talented receiver and that he was now focused on choosing Nevada. But it appears that buzz was nothing short of a misunderstanding, and in an interview with Greg Biggins of 247Sports Staples revealed he had given his commitment to UCLA coaches last Wednesday but waited to make it public.
While WR coach Jimmie Dougherty will get credit as Staples's main recruiter, a hat tip needs to be given to LB coach Don Pellum, who was instrumental in making an early connection. That's because Staples's head coach at Milliken happens to be Pellum's nephew Romeo Pellum, which has created a high level of trust and understanding between the Milliken staff and UCLA. That trust has clearly translated well to the recruitment of Staples.
Staples becomes the second WR commitment in the 2021 class, joining DJ Justice, and of all the positions UCLA is currently recruiting, the receiver spot seems to be the one with the best gameplan. The Bruins do not really need any instant-impact receivers in this class - they already have a solid core of excellent receivers from their previous two recruiting classes who should give UCLA plenty of excellent play for the next few years. That meant the Bruins could focus on more projects with higher upside, which is exactly what Staples projects as. He is pretty big and has tremendous speed, but is a little rough in technique, but the Bruins can afford to work with him (especially since Dougherty has proven to be an excellent coach) in a redshirt year before having him contribute.
You can check out highlights of Staples in high school at his Hudl.
Welcome to Westwood, Ezavier!
Go Bruins!
---
Thanks again for supporting The Mighty Bruin. Your paid subscriptions make this site possible. Questions, comments, story ideas, angry missives and more can be sent to joe@themightybruin.com, or to @TheMightyBruin on Twitter.