Discover more from The Mighty Bruin
Blog Of The Bruins, By The Bruins, For The Bruins
Over 1,000 subscribers
UCLA Football: OT Jake Burton Enters the Transfer Portal
The loss of Burton further depletes the offensive line.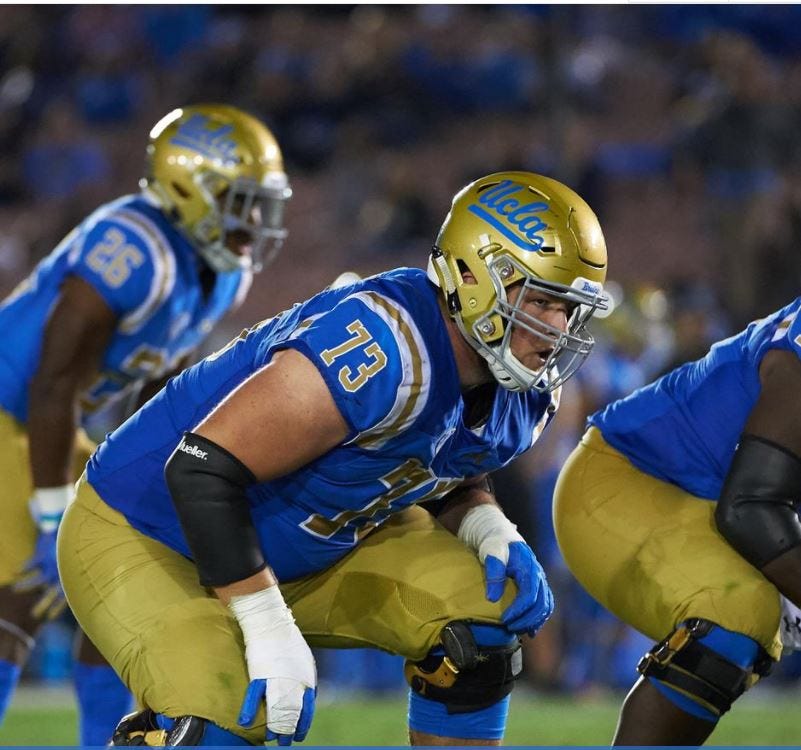 ---
With the Pac-12 postponing the fall football season, there was always the possibility of some players transferring from the various programs, and UCLA is now dealing with the ramifications of that decision as OT Jake Burton announced on Twitter that he was entering his name into the transfer portal with the hopes of playing again this fall.
The potential loss of Jake Burton is a huge blow to the Bruins. Burton was a multi-year starter at right tackle, and, following the loss of Boss Tagaloa and Christophany Murray to graduation and transfer respectively, was set to be the senior leader of a unit in transition. UCLA's depth on the offensive line was already thin and inexperienced, and while Alec Anderson can slide in and capably handle the right tackle spot, the Bruins were counting on the ability to plug him into the hole at right guard; instead, the Bruins will be looking at a host of unproven options that will be thrown into the fire.
Burton's entry into the transfer portal is understandable. Burton has developed into an NFL prospect, and with the league unwilling to move its schedule to accommodate a spring football season, playing in the fall was the only realistic opportunity that Burton has to improve his draft stock. Ben Bolch stated on Twitter that Burton is targeting an SEC/ACC school, and he should be able to find a landing spot somewhere.
That said, I mentioned it was a potential loss, because Burton has the ability to remove his name from the portal if he so chooses. Burton mentions in his statement that he hopes to play football this fall, and should the other leagues eventually choose to postpone their seasons, it could open the door for a return. It's something to watch going forward, especially as COVID-19 cases explode on campuses across the country.
In any case, we wish Jake Burton the best of luck however this situation plays out.
UPDATE: Well, that didn't take long. Jake Burton announced on Twitter late Tuesday night that he had committed to Baylor.