The New UCLA Football Schedule will Make or Break Chip Kelly's Tenure
Removing the easier non-conference games and adding Washington ups the difficulty level considerably.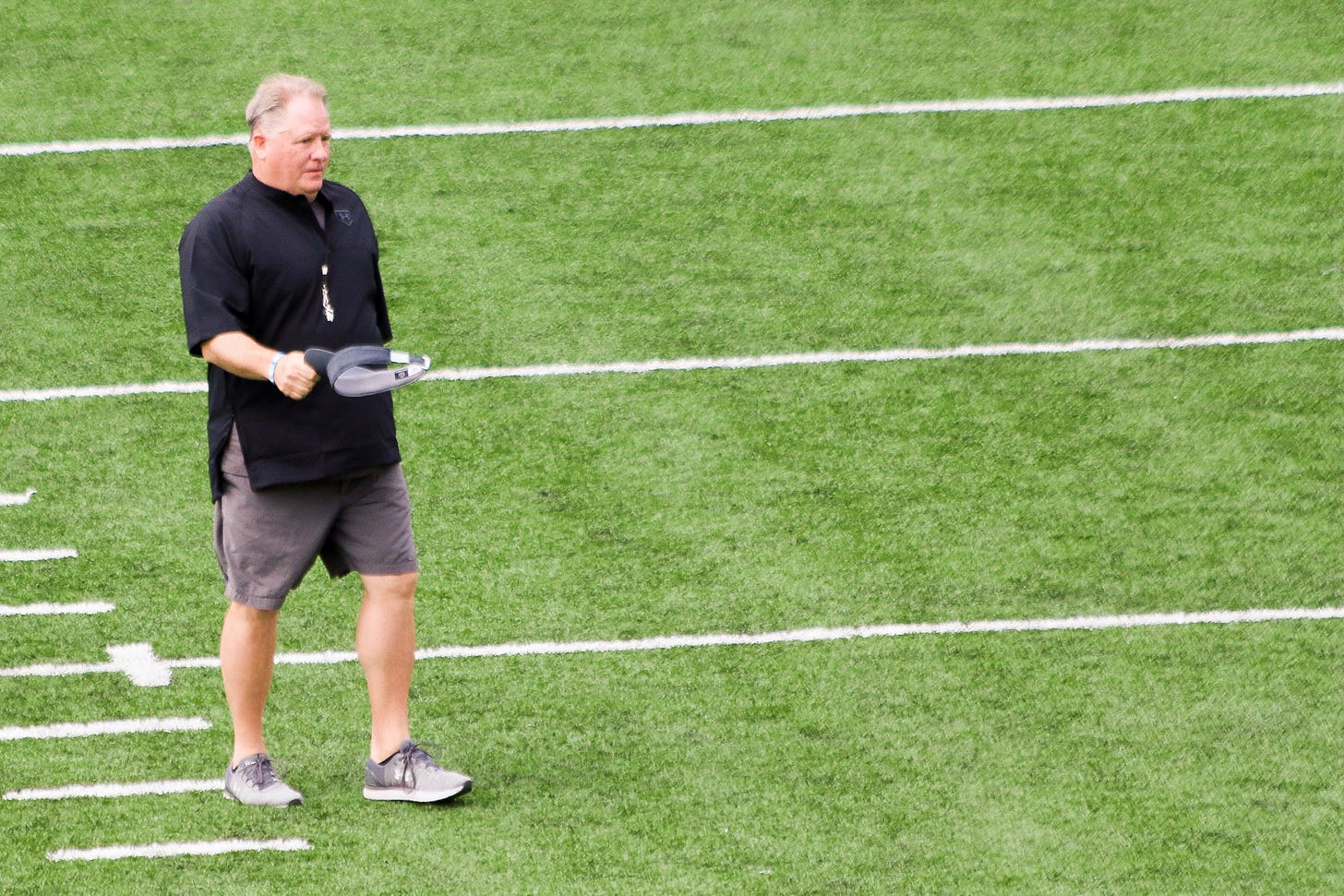 (Photo Credit: Joe Piechowski)
---
The Pac-12 Conference continued its Sisyphian march towards a potential fall football season with the approval and announcement of the new 10-game conference-only schedules on Friday. Of course, that was before more than 100 Pac-12 football players threatened to sit the season out if their demands are not met.
Of course, the UCLA Bruins are now scheduled to begin the 2020 season at home on September 26 when they host their crosstown rivals Southern Cal.
A quick caveat warning: for the rest of this article I'm looking at circumstances which could change dramatically between now and December 4th. Obviously, please disregard things if a fall football season doesn't happen. That path leads to a whole different scenario that I'm sure we'll get to when it comes to that.
Looking over the schedule, the first big takeaway is that this is now a hard schedule. The opening five games are brutal; Southern Cal and Utah are the two hardest games on the schedule, and Oregon State and Arizona State will be no slouches either. Washington State is the wildcard in the bunch under new coach Nick Rolovich, but it's hard to believe that team will be particularly bad in Year One. The second half eases up a bit, if only by virtue of having Stanford, Colorado, and Arizona in the mix, but instead of three non-conference games, the Bruins have to head to Washington, a team they were not originally scheduled to face. UCLA was already looking at needing to bank whatever wins they could in non-conference play to make a bowl game. So, this particular change ups the difficulty level considerably.
If I was being generous, I'd say that UCLA is likely to be favored in about four games on this schedule, give or take your opinion of Washington State, although Nick Rolovich appears to be doing everything in his power to make UCLA the favorite. Again, that's the generous take. A more pessimistic take may give the Bruins two games at best. Neither scenario is good if you are Chip Kelly, who needs to have a good season after going 7-17 in his first two seasons in charge of the program.
I will be brutally honest right here: this is not a schedule you'd want to see if you were Chip Kelly and were concerned about your job status, but I also don't think there was any permutation of a conference-only schedule that would have aided the Bruins, which is a damning statement in its own right.
Year Three is traditionally the year when you have the best idea of a coach's long-term viability — most players in key positions were recruited by the current staff and the offensive and defensive systems would have been in place for multiple years. This is the case for this year's Bruin football team, as all the key pieces are Kelly's recruits, and many have been in the system for multiple years. The systems and coaching staff have, mostly, been together throughout Kelly's tenure, especially at the coordinator positions. So there, theoretically, will not be a ramp-up time as the players learn a new system. This is the year UCLA fans patiently waited for while the team floundered, assuming things would improve, and this is how Kelly has rewarded that faith.
I recognize that this may be a bit unfair as the team has yet to play a single down this season, but 7-17 does not give one much in the way of confidence. UCLA has not earned the benefit of the doubt, which makes it hard to feel good about their chances going into a potential 2020 season. This is as much of a show-me business than anything else and UCLA has yet to show they can live up to any sort of hype. Again, not exactly where Chip Kelly would want to be going into his third year at the helm.
But let's take this a bit further and say the season does actually happen, and UCLA does end up going 4-6. Is that enough to save Chip Kelly's job?
Should this scenario happen, new athletic director Martin Jarmond is going to have an interesting decision on his hands. On the one hand, you could point out that losing the non-conference games did the team no favors in the W-L column, especially since it was not unreasonable to believe UCLA would have been favored in all three games. Trading three potential wins for one loss is not a good trade any way you slice it and, if the season had occurred as originally set up, 7-5 was not outside the realm of possibility. That said, you should measure your program's strength relative to your peers and, by that metric, after three years Chip Kelly would have UCLA near the bottom of the Pac-12. The looming financial strain could also play a factor, as Jarmond will have to weigh whether spending $9 million on a buyout would be something the school could handle. Though, it should be pointed out that this would be the last year it would make financial sense to move on from Kelly, as the buyout amount doesn't decrease until the start of the fifth year of the contract. I imagine the calculus will become easier should UCLA have a good season. Similarly, it will be harder to envision keeping Kelly around if the Bruins should flounder.
There's one thing we do know for sure, though: if Kelly is going to stick around after this season, he'll need to earn it.


Go Bruins.
---
Thanks again for supporting The Mighty Bruin. Your paid subscriptions make this site possible. Questions, comments, story ideas, angry missives and more can be sent to  to @TheMightyBruin on Twitter.