Discover more from The Mighty Bruin
Blog Of The Bruins, By The Bruins, For The Bruins
Over 1,000 subscribers
The Pac-12 Enters the Bargaining Stage
It is getting increasingly hard to see a college football season occurring.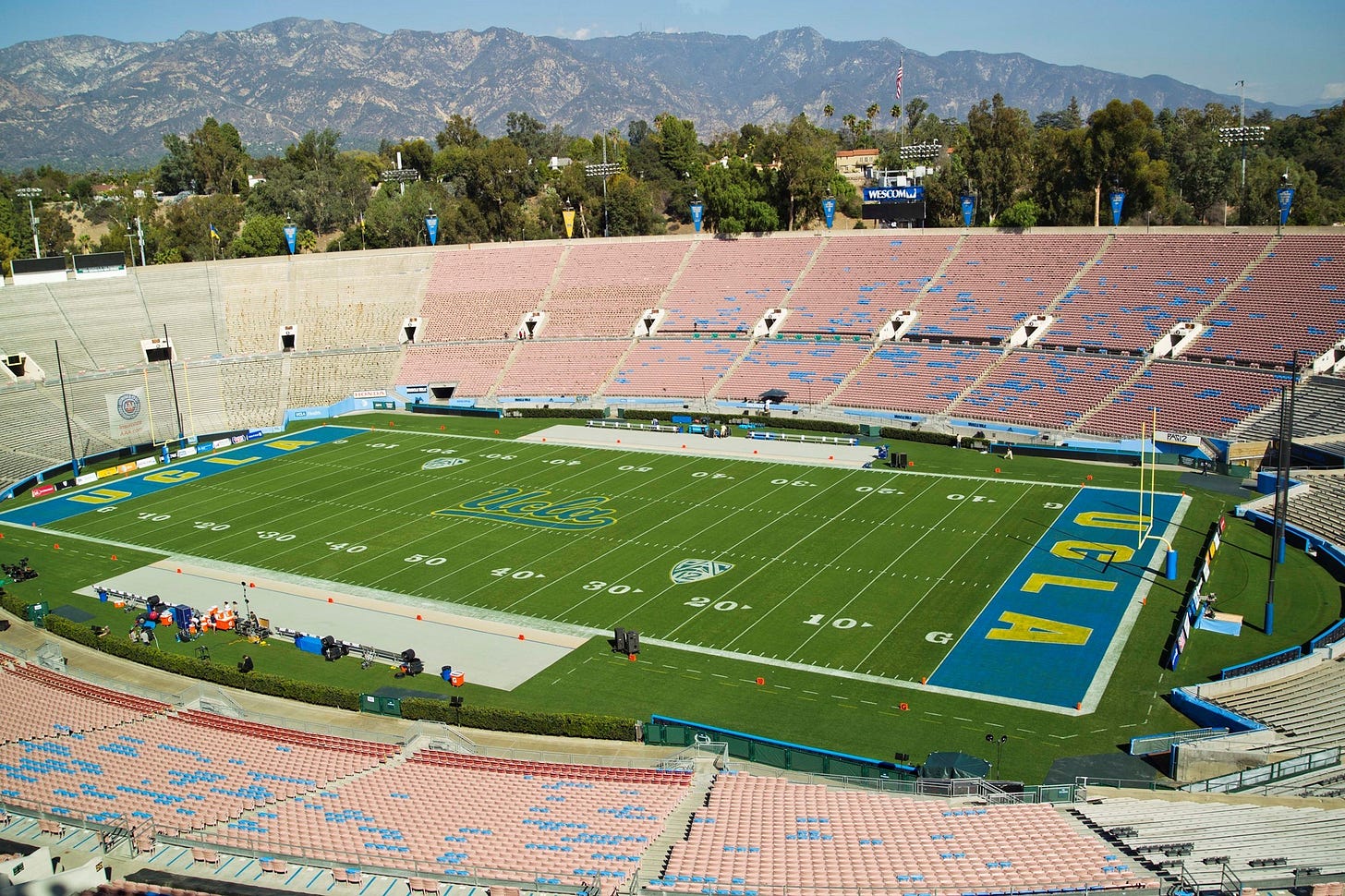 With a Fall football season starting to look doubtful, the Rose Bowl may not see a game played inside it until 2021 at the earliest. (Photo Credit: UCLA Athletics/
uclabruins.com
)
---
The history of the Kubler-Ross model is fascinating. It's the most well-known model created to explain the emotional cycle that people go through when dealing with grief, despite the fact that it is considered little more than a myth by the greater psychological community. Still, when I mention the Five Stages of Grief, there's a good chance you know what I'm talking about.
The college football landscape is currently working its way through these five stages, and the Pac-12 has arrived at the bargaining stage. On Friday, the conference announced they were joining the Big 10 in eliminating non-conference games for their fall sports programs, a move prompted by the continuing COVID-19 pandemic. Both conferences are still attempting to have a football season this fall, despite growing evidence that the systems put in place by college programs are not doing a good job of preventing the virus from running rampant through locker rooms.
Rodger Sherman wrote an excellent piece over at the Ringer outlining all of the issues at play for college sports at the moment. To summarize: college athletics cannot afford to not have a football season from an economic standpoint, but putting on a season in spite of the ongoing pandemic issues would only help to highlight the inequalities inherent to the current college football experience. College football fans have already come to terms with the fact that athletes risk their long-term health when they play, but the sheer amount of programs requiring their players to sign waivers absolving them of any liability should they contract the virus speaks to an implicit understanding that the current situation is beyond the pale.
Do not get me wrong. I would love nothing more than to have a college football season. Certainly, a return to normalcy would help us grow this site; we officially launched The Mighty Bruin right when college athletics were shutting down for the year, and have yet to cover a live UCLA athletic event. We've tried to do our best covering UCLA athletics in a time where there is not much to cover without having to resort to click-bait articles like "Six Pro Bruins set to take the stage when MLB returns in July" or "Pac-12 Programs as Broadway Plays", but even getting to report on fall practices would be a godsend for us.
For the record, UCLA would be A Chorus Line, as the bones are all there for an excellent play but it hasn't been nationally relevant in years. Southern Cal would be Cats, because they're both garbage fires that are constantly trying to distract you from the fact that they lost the plot from the beginning.
But, as we trudge into the middle of July, and watch as coronavirus cases continue to rise throughout the country, we're left with the increasingly likely result that college football will not happen this fall. Sports leagues with better resources are already having difficulties getting back to business. MLS has returned to play but has seen two teams drop out from their tournament due to positive tests. MLB has already seen numerous teams forced to delay or postpone team workouts due to testing delays. The NCAA, by its very nature, does not have a uniform plan for how to move forward and is instead leaving it up to the conferences. This has led to a gamut of responses, with the Ivy Leagues canceling fall football while the ACC and SEC look to be full-speed ahead.
So, let's get back to Kubler-Ross and how the Pac-12's current plan falls firmly into that bargaining stage. The basic premise of the Pac-12 committing to a conference-only schedule is that the conference is best equipped to keep their athletes safe, and thus allow a football season to occur. But the Pac-12 is a large conference spanning six states, running the gamut from early hotspots like Washington to Arizona, which is one of the biggest current hotspots. The geography question goes further: cutting a game like Southern Cal vs Alabama makes sense, but UCLA would not have had to leave the state for its matchup with San Diego State, so what makes that less safe than a trip to Arizona? Poor Utah loses annual in-state rivalries with BYU and Utah State all in service to this ridiculous idea that the Power Five conferences know best (even though evidence suggests these schools are just as lost as everyone else). And all of this assumes that things get better by September when anyone familiar with 2020 should understand that things can always and usually do get worse.
That's the bargain the Pac-12 is making with this plan: that you miss football so much that you're willing to overlook the fact that their plan does not hold up to even a basic level of scrutiny.
On some level, the Pac-12 has never seemed to treat the coronavirus pandemic as anything other than a threat to their bottom line. The NBA postponed their season on March 11th; the next day, the Pac-12 started as if play would continue until they joined the wave of other conferences in postponing play. In May, when California officials started pointing out that the pandemic would likely not be going away soon, the conference responded by saying that they knew best. In June, Larry Scott stated that he felt that student-athletes would be safer on campus under the careful supervision of member institutions; smash cut to the present, where programs around the country are proving that student-athletes are worse off by being on campus, and Larry Scott himself is isolating after a positive coronavirus test.
When the Pac-12 says that it is making these decisions because they care about the well-being of student-athletes, you should feel perfectly comfortable with laughing in their faces. If the conference truly cared about their student-athletes, they would follow the lead of the Ivy League, which outright canceled fall sports a few days ago. Or they would actively look to making a football season work in the spring instead of keeping the ghost of fall sports alive. But, to paraphrase the greatest poets of the 21st century, cash rules everything in high-level college athletics.
Perhaps, as this month moves on, the Pac-12 can finally reach the acceptance stage of the grief process. But I'll start prepping more Broadway musical references just in case.
---
Thanks again for supporting The Mighty Bruin. Your paid subscriptions make this site possible. Questions, comments, story ideas, angry missives and more can be sent to  to @TheMightyBruin on Twitter.