Pac-12 Football Players Threaten to Sit Out Season
A group of more than 100 Pac-12 football players has said it will opt-out of both fall camp and the 2020 season if the conference doesn't meet its set of demands.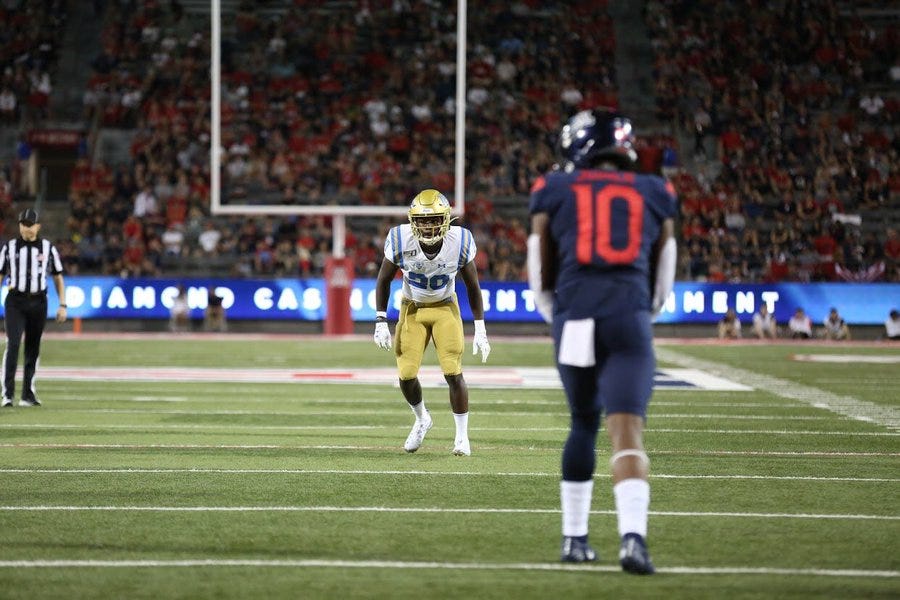 Defensive back Elisha Guidry is the only UCLA football player listed as a media contact for a group of Pac-12 players who are threatening to sit out the season. (Photo Credit:
@BiG_EZ7
)
---
Early this morning, in an article appearing on The Player's Tribune, a group of more than 100 Pac-12 football players issued a series of demands they want met before they will agree to play the 2020 season.
Overall, it's an ambitious list of demands. It includes sections on providing health and safety protections, protecting all sports, ending racial injustice in college sports and society, and providing economic freedom and equity.
Some of the sections make perfect sense given the current climate we find ourselves in such as allowing student-athletes an option to not play during the COVID-19 pandemic and prohibiting or voiding COVID-19 agreements that waive liability.
How ambitious are some of the other demands?
Well, they attempt to do something not even a series of articles from the Oregonian has been able accomplish: voluntarily reduce the "excessive pay" of Pac-12 Commissioner Larry Scott.
Additionally, the section on protecting all sports calls for an end to performance and academic bonuses while it also calls for an end to "lavish facility expenditures and use some endowment funds to preserve all sports."
I'm going to admit that I don't understand the first part of that last item. After all, don't the players benefit from lavish facilities?
The list also specifically cites that "Stanford University should reinstate all sports discontinued by tapping into their $27.7 billion endowment."
The section on economic freedom and equity has some sections which make sense such as name, image and likeness rights and representation but other parts of it are not things the Pac-12 has full control over like giving players of all sports the ability "to transfer one time without punishment, and additionally in cases of abuse or serious negligence." That's predominantly an NCAA issue. It's all well and good if the Pac-12 wants to do that, but it's just one conference of many in the NCAA and it seems unlikely that the this particular demand can be met by the conference.
The dealbreaker, however, may end up being the demand that "50% of each sport's total conference revenue" be distributed "evenly among athletes in their respective sports." That's because, even if the conference wants to shift the way its athletic departments operate, it's going to take more than two months to shift the economic model. Currently, football and, to a lesser extent, basketball pay for all of the other sports, which means it will be extremely difficult to distribute 50% of football's total conference revenue among football players without forcing cuts or, in UCLA's case, substantial subsidization from other campus funds.
There's one thing, for sure. This is a momentous development in collegiate athletics.
As I write this today, I'd argue that, while many of these demands are overdue, that it is equally likely to have disastrous consequences to both college football and other college sports on the West Coast as it could prove to be the point at which significant progress is made.

Which way will it go? Well, that's going to depend on how the presidents, chancellors and athletic directors react to the demands and, coming off the COVID-19 pandemic during which collegiate athletic departments are losing money like crazy, the financial demands may prove to be too much.


Go Bruins.
---
Thanks again for supporting The Mighty Bruin. Your paid subscriptions make this site possible. Questions, comments, story ideas, angry missives and more can be sent to  to @TheMightyBruin on Twitter.