Revised 2020 UCLA Football Schedule Released
This morning, the Pac-12 has released the latest revision to the 2020 Pac-12 football schedule.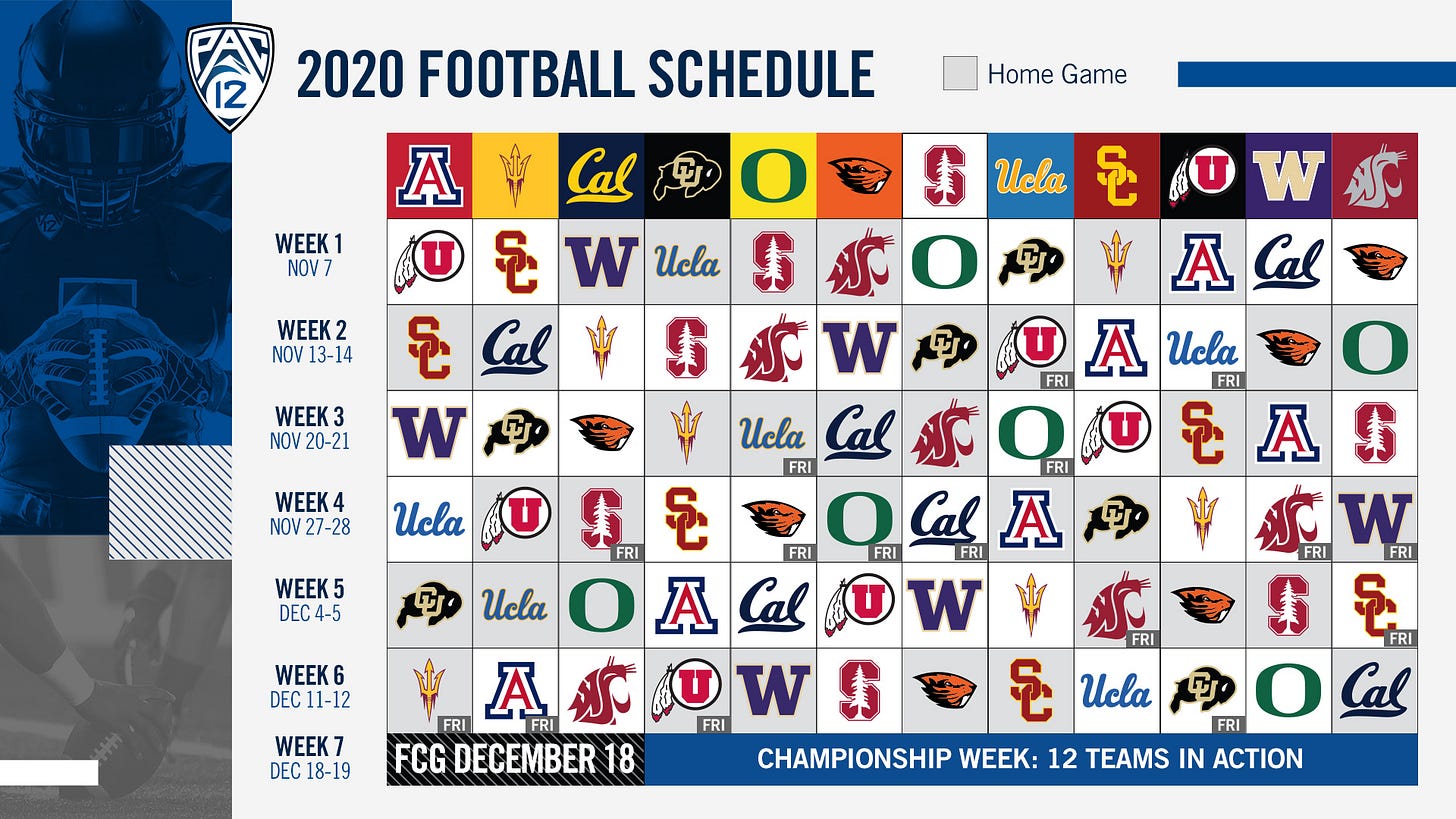 The Pac-12 released its complete revised 2020 schedule this morning. (Photo Credit:
Pac-12.com
)
---
This morning, the Pac-12 Conference released its revised 7-game football schedule and we now know that the Bruins will open the season on the road against Colorado.
UCLA will host the Utah Utes the following Friday at the Rose Bowl before traveling to Eugene to play Oregon on Friday, November 20th. According to Fox's Big Noon Kickoff, the game against Utah will be broadcast on either Fox or FS1. I'd have to guess that it will probably be on FS1 unless Fox decides to bump WWE's Friday Night Smackdown in favor of football.
On the Saturday after Thanksgiving, the Bruins will host Arizona while they visit Arizona State the first Saturday in December.
The Bruins will face crosstown rival Southern Cal for the 90th time during Rivalry Week, which will take place on the weekend of December 12th.
The final week of the season will feature the Pac-12 Championship Game on Friday, December 18th in a home-hosted format this year before the game moves to Allegiant Stadium in Las Vegas in 2021. The other ten conference teams will face an opponent to be determined on Saturday, December 19th.
In an interesting twist, all games through the first six weeks of the season will be televised nationally by a combination of ABC, ESPN, ESPN2, ESPNU, Fox and FS1. Fox will broadcast the Pac-12 Championship Game this year.
Another twist we will see are Pac-12 games starting at 9 am PT. While kickoff times for almost every game are to be determined, Rob Stone, the host of Fox's Big Noon Kickoff, has confirmed that Southern Cal and Arizona State will kickoff at 9 am PT on November 7th.
While this would be problematic most seasons, it isn't a problem this year without fans in attendance. It might even be a good thing this year as it will mean that no game in the first six weeks will be broadcast on Pac-12 Networks. When fans are able to return, though, it becomes problematic considering that the Rose Bowl parking lots generally open six hours before kickoff. So, hopefully, this is a one time thing.
Here's the complete 2020 UCLA football schedule:
2020 UCLA FOOTBALL SCHEDULE
Nov. 7 – at Colorado
Nov. 13 (Friday) – Utah
Nov. 20 (Friday) – at Oregon
Nov. 28 – Arizona
Dec. 5 – at Arizona State
Dec. 12 – USC
Dec. 18 (Friday) or 19 - TBD


Go Bruins!
---
Thanks again for supporting The Mighty Bruin. Your paid subscriptions make this site possible. Questions, comments, story ideas, angry missives and more can be sent to  to @TheMightyBruin on Twitter.