Discover more from The Mighty Bruin
Blog Of The Bruins, By The Bruins, For The Bruins
Over 1,000 subscribers
Postponing the Pac-12 Season Was the Right Thing to Do, But it Still Sucks
You can recognize a good decision and still lament what it means.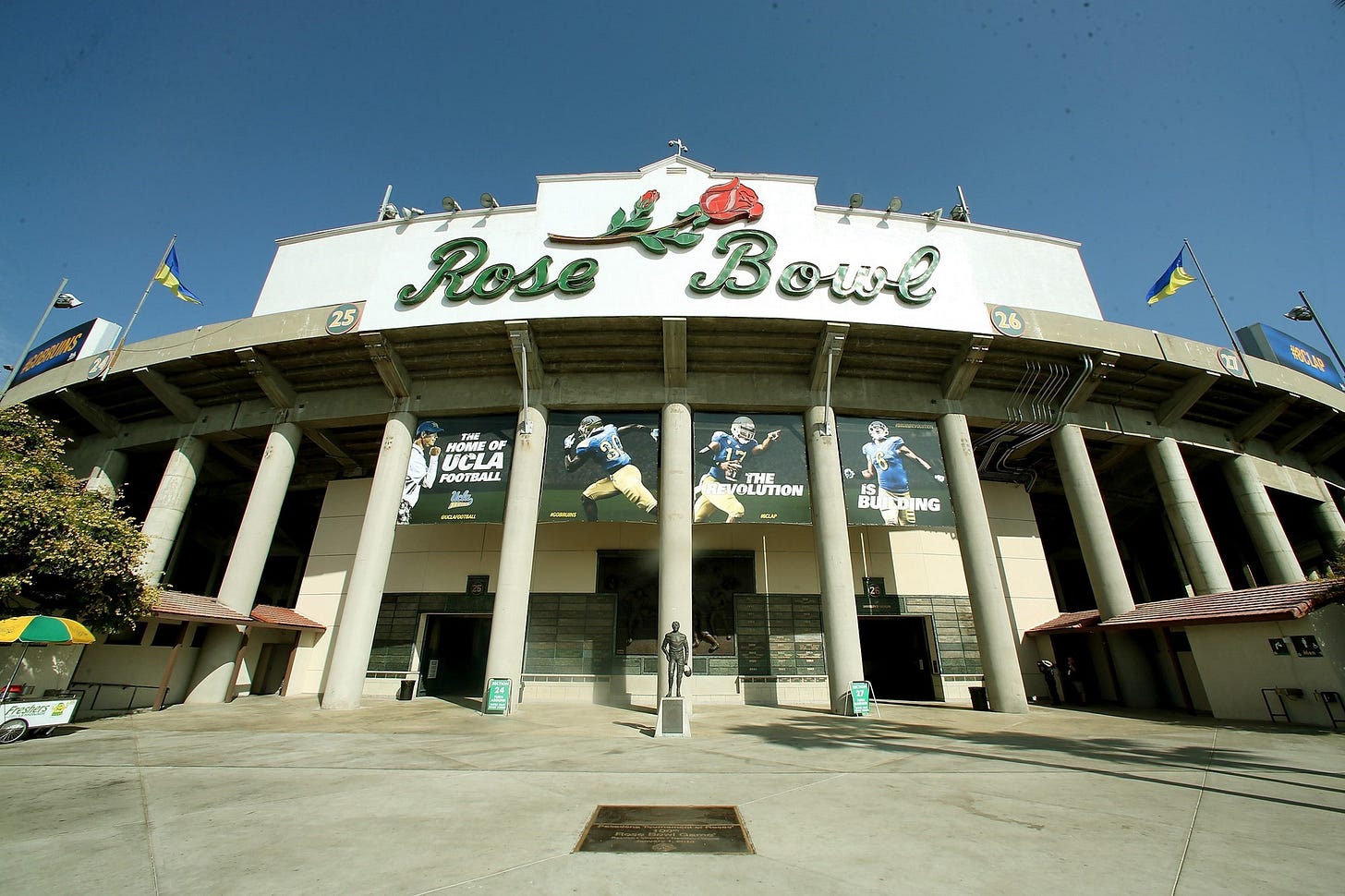 For the first time since 1981, there will be no football played inside the Rose Bowl during the Fall. (Photo Credit: UCLA Athletics)
---
The obvious thing finally happened.
On Tuesday, the Big 10 and Pac-12 announced within hours of each other that they were going to postpone the fall season for all sports, including football, with an eye towards having the seasons in the spring. The announcements came as a culmination of a long weekend where colleges suddenly started to grapple with the ramifications of trying to run a football season in the middle of a pandemic. Despite the pleas of players and coaches, the call ultimately belonged to university presidents, who were swayed by reports from medical professionals as to the long-term effects of COVID-19 (and, from some reports, suddenly understanding the long-term effects a player's association could have on the existing power structure of college athletics was a factor).
The announcement has been a long time coming. I first mentioned the possibility of the season not happening in the fall way back in March, as a passing comment in an article on how COVID-19 would affect UCLA athletics, and things have not gotten better since that time. The move to a conference-only schedule came across as a bargain to still have a season, and the current plan fits into this same concept, although maybe this time the folks in charge will actually take things seriously and develop a coherent plan. It is kicking the can down the road, but a perfectly understandable kick considering *waves hands at everything*.
The sad fact is that things have not gotten better with the pandemic; if anything, they have gotten worse. As Jon Wilner reported from a conference source in the aftermath of the decision, nine of the eleven local jurisdictions are experiencing large to uncontrollable amounts of community spread. Some places, such as Los Angeles, are still under health restrictions, which prohibit things such as quarterbacks and receivers from practicing together. The conference does not have the testing capacity to quickly test and isolate anyone with symptoms yet.
And, maybe most critically, there are still things we don't know about the virus. One of the pieces of information that apparently swayed university presidents was a greater understanding of the rare heart condition myocarditis, which has been linked to individuals who contracted COVID-19. According to Nicole Auerbach of the Athletic, at least 10 current Big 10 players have been found with myocarditis. It fits into our larger understanding that COVID-19 may not be fatal for most, but it can leave one with lasting health problems that no university wants to be liable for.
Add it all together, and it becomes perfectly understandable why the Pac-12 and Big 10 would choose caution.
That doesn't mean this result is not incredibly frustrating.
As I wrote on Monday, the individuals in charge have had since March to come up with solutions to have a college football season in the fall. At no point during this ordeal did it appear any concrete plans with any contingencies. Pete Thamel of Yahoo Sports reported that the Big 10 did not discuss how a shift to a spring season would effect teams until Monday night. Monday, August 10! The basketball tournaments were cancelled almost five months prior, and at no point in those five months did anyone think to draw up what a spring football season would look like?
The past weekend of college news has reeked of a student trying to pull an all-nighter and fudging details to make it seem like they've put in the work on a term paper. Except in this case the students get paid handsomely to fail repeatedly.
In the end, everyone suffers from this postponement.
The players suffer. So many of them have sacrificed and put in the work for a season that now will not happen, and for seniors or top underclassmen, there is no guarantee they will ever get to put on their college uniforms again.
The coaches and training staffs suffer. All of their work on trying to develop a winning team and program has gone out the window.
Athletic departments suffer. The loss of football revenue will have knock-on effects that will be felt for years.
College football media suffers. We're collectively back to the drawing board when it comes to finding things to write about for the next four months. Writing about the UCLA linebackers was the closest I've gotten to "normal" since this pandemic started, and that brief feeling is now gone.
Fans suffer. College football fans are left with the dawning realization that they will have to deal with the void left each Saturday this fall. Though on some perverse level I'm sure UCLA fans may not mind the lack of disappointment too much.
The one solace I can take from these announcements is that there is a good chance a spring season happens. The financial incentives to have something resembling a season are too great for these institutions to drop the ball and now they have a few extra months to come up with a solid plan full of contingencies. If you doubt me, consider that Larry Scott's job is likely at stake. Nothing causes someone to try and do a good job more than telling them they will lose $5.3 million yearly if they mess up.
The Pac-12 made the right call. That doesn't mean this doesn't suck.

Go Bruins.
---
Thanks again for supporting The Mighty Bruin. Your paid subscriptions make this site possible. Questions, comments, story ideas, angry missives and more can be sent to  to @TheMightyBruin on Twitter.