How COVID-19 Affects UCLA's Athletic Outlook
A window into how a handful of sports will be affected by the current pandemic.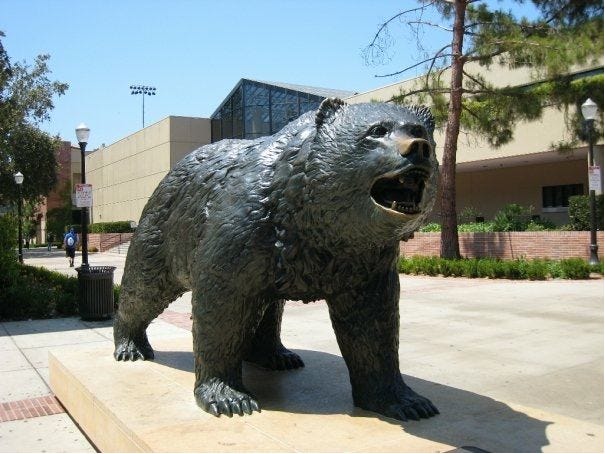 As everyone is aware, the country is currently gripping with the widespread effects of the COVID-19 pandemic. Before I go any further, I just want to once again remind everyone to stay safe, practice good hygiene, and take care.
That said, this is a UCLA athletics blog, so I might as well write a bit about UCLA athletics, and with all major sports shutting down as a result of the pandemic, this seems like an opportune moment to look at how some of the Bruin teams will handle the offseasons and how their futures will be affected.
Spring Sports
I'm grouping all of the spring sports like baseball, softball, beach volleyball, and others together because, for the most part, they're all in the same boat. The NCAA recently ruled that all spring sport athletes are receiving an additional year of eligibility and that rosters will be expanded next season to accommodate seniors who decide to stay. It will be interesting to see how this ruling affects the MLB draft in particular, with a lot of juniors and seniors not having a ton of game tape available, which could cause an influx of talent choosing to forgo the draft and stay in school. In general, this is beneficial for most of these sports, especially for seniors who have already graduated, as they can make real headway into a master's degree program should they choose.
I do want to single out softball, however, as they have a more interesting scenario at play. As noted, the Bruins lost two huge contributors, Rachel Garcia and Bubba Nickles, to Team USA's Olympic softball team. The plan was for them to take their redshirt years and return to the squad in 2021, but with the Olympics now postponed a year, you have to assume that pushes the entire timeline back a year. With all spring sport athletes getting that extra year of eligibility, they should both be fine to redshirt next year, which should turn 2022 into an absolutely loaded year for the softball team.
Men's Basketball
There's this idea that you want to end a season on a high note rather than a low one, and that is pretty close to the case for the men's basketball team. Sure, the last memory for the Bruins is losing a heartbreaker to Southern Cal, but that came at the end of a ridiculous run that brought the Bruins from 10th place all the way up to finish in 2nd in the conference. Yes, it's a bad break as far as a potential NCAA Tournament bid and run goes, but it's not the worst place in the world to end.
Now the team finds itself in an interesting spot on two fronts. First, there are questions about who on this UCLA team will be gone next year. Obviously the team will lose seniors Prince Ali and Alex Olesinski to graduation, but the bigger question mark is the status of Chris Smith, who seems at the moment to be the only current Bruin at risk of leaving early for the NBA draft. Ben Bolch at the LA Times talked to Smith's family this week about the impending decision, and it appears Smith and his family are truly torn on the decision. Certainly, having a strong end of the season would have helped, but most mock drafts do not have Smith listed in either round, and Smith stated he has a very strong relationship and admiration for coach Mick Cronin.
Smith's decision would have an impact on the other interesting scenario: recruiting. As of now, UCLA has two committed recruits in Daishan Nix and Jaylen Clark and two free scholarships still available. Now, one of those appears as it will head to transfer Joshua Morgan from Long Beach State, who will then have three more years at UCLA. Morgan won Big West Defensive Player of the Year as a freshman this past year, and while he will most likely have to sit out next year, he's a good building block for future Cronin teams.
Then you have a host of guys being looked at for that fourth scholarship. Joshua Christopher has been a name that has floated around UCLA for a while, but his interest has always seemed transactional at best, and he's appeared headed in other directions for a while now. Then there's five-star Ziaire Williams from Sierra Canyon; while UCLA has always appeared on the outside for the national recruit, but recent events like UCLA's strong end-of-season play and some shifts in other recruitments have seemingly opened the door for the Bruins to jump in. Finally, there's Kentucky transfer Johnny Juzang. Cronin actually tried to recruit Juzang last offseason, and it appears UCLA is not just among Juzang's top six, but among the leaders for Juzang's services.
Now, should Smith leave, that would open up a third scholarship, and UCLA could potentially bring in Williams to take Smith's spot next season while Juzang and Morgan sit out a year and then take over in 2021-2022. And all this doesn't take into account whether the NCAA will delay implementing their proposed changes to the transfer rule to allow players a one-time immediate eligibility transfer. In either case, the men's basketball program seems well-positioned for the future under Cronin, regardless of COVID-19 ending this season prematurely.
Women's Basketball
Here's another interesting case. The women's team was in the midst of one of their best seasons in recent memory, and thanks to COVID-19 ending the season early finished in the top 10.
Looking at next year's squad, only one major contributor is set to be gone, with senior and offensive sparkplug Japreece Dean set to head to the WNBA whenever the league is able to resume business. All other major contributors will be back; Michaela Onyenwere will be a senior as will Natalie Chou, while Charisma Osbourne will be a sophomore.
The biggest positive isn't even in their control, as Oregon's Sabrina Ionescu will be gone to the WNBA. Ionescu was one of the more dominant players in recent college basketball history, and her loss should theoretically open the door for the rest of the Pac-12. This is especially helpful to UCLA, which proved this past year that it can beat the other top teams in the conference, going 2-1 against Stanford and Oregon State this past season en route to a tie for 2nd place in the conference. Bringing back most of this year's team means they should be a factor for the conference title.
Of course, I do have to throw a little bit of doubt into the picture. All three of UCLA's incoming freshmen recruits are international, with two from Australia and one from Germany. It will definitely be interesting to see how the pandemic affects them; Germany is one of the hardest-hit countries in Europe, while Australia is bracing itself for the pandemic to hit them hard in the coming winter months. If some or all of these fantastic players aren't able to make it to campus, you'd have to consider that a blow to the Bruin's 2020-2021 season. Of course, it could also mean the season isn't happening, which would similarly be a huge blow.
Gymnastics
This one hurts. With the NCAA granting a year of extra eligibility to only spring sport athletes, it means that the fantastic careers of UCLA's senior gymnasts have come to an end in the most ungraceful way imaginable. Just look at some of the names who are gone now:
Kyla Ross
Madison Kocian
Felicia Hano
Gracie Kramer
Grace Glenn
It is patently unfair that this squad did not get a chance to compete for a title, and is a reminder that life can be cruel for no real reason.
To give some positives, the gymnastics program still looks well-stocked with talent for the future. Norah Flatley and Margzetta Frazier have seemed poised to be the next standard-bearers for UCLA since last year, while Nia Dennis now has the unenviable task of trying to follow up this year's viral sensation of a floor routine. Some of the younger members like Emma Andres, Kalyany Steele, and Chloe Lashbrooke got some key experience this season, with Steele and Lashbrooke even getting thrown into the deep end of high-intensity college gymnastics against Utah late in the season.
It's just disappointing we didn't get to see this year's team get a shot.
Football
Ok, hear me out, but maybe the pandemic can be good for the football program?
Here's what I figure: UCLA under Chip Kelly has traditionally started very slow to start each season, with improvement showing up around the midway point before a closing stretch that can either look really good (2018) or really bad (2019). Part of that is that Kelly has routinely stated that he focuses on installing fundamentals during those first few weeks of practice, rather than developing individual gameplans.
Now we have a global pandemic that has shut down all athletic activities on college campuses. Not just UCLA - all campuses. Similarly, all recruiting is shut down to various degrees, with in-person contact and scouting being completely off the table, and everyone having to go with remote contact. If college football happens this year, and it is increasingly looking like a bigger if than originally thought, then everyone will be starting on the same foot in July.
Essentially, UCLA wins by everyone else being dragged down to their level.
Everyone is going to be trying to figure out what kind of roster they will be able to field the first few weeks, while trying to minimize injuries that will decimate college programs that have been unable to have complete supervision over their players. Meanwhile, Chip Kelly's program seems already prepared to succeed in this scenario - they already act that way during the fall, and the program has at least managed to succeed in limiting injuries through sports science. And with an easier schedule than in past years to start, UCLA suddenly looks like it could be capable of making a bowl game fairly easily.
It also helps recruiting. If we take for a given that UCLA under Kelly is very good at scouting players without a ton of game tape, they should be able to find solid players while other programs, having to rely on junior year highlights at best since no offseason camps will be taking place, scramble to find players. The Bruins could actually be set up for an Early Signing Day where they land a good amount of their top targets.
Now I know a lot of this relies on a whole bunch of doomsaying about the current trajectory of UCLA football under Chip Kelly, but know that I am being at least a little bit sincere when I say Kelly's program will probably handle this pandemic better than most in the country. Yes, part of that has to do with what I feel is a hilariously-bad way to run a modern college football program with the resources UCLA has, but Kelly will have an opportunity to prove he is one of the smartest football minds around.
All of this, of course, assuming we have a season at all, and I'm sure there are some UCLA football fans who would be ok with skipping this year and the pain it will eventually cause.
Athletic Director Search
Oh, I'm not giving you this now. I have to save some things while we have no sports. But know it's coming.
Go Bruins!