College Football Viewing Guide Week 3: Big Ten Return Overshadows Another Weak Slate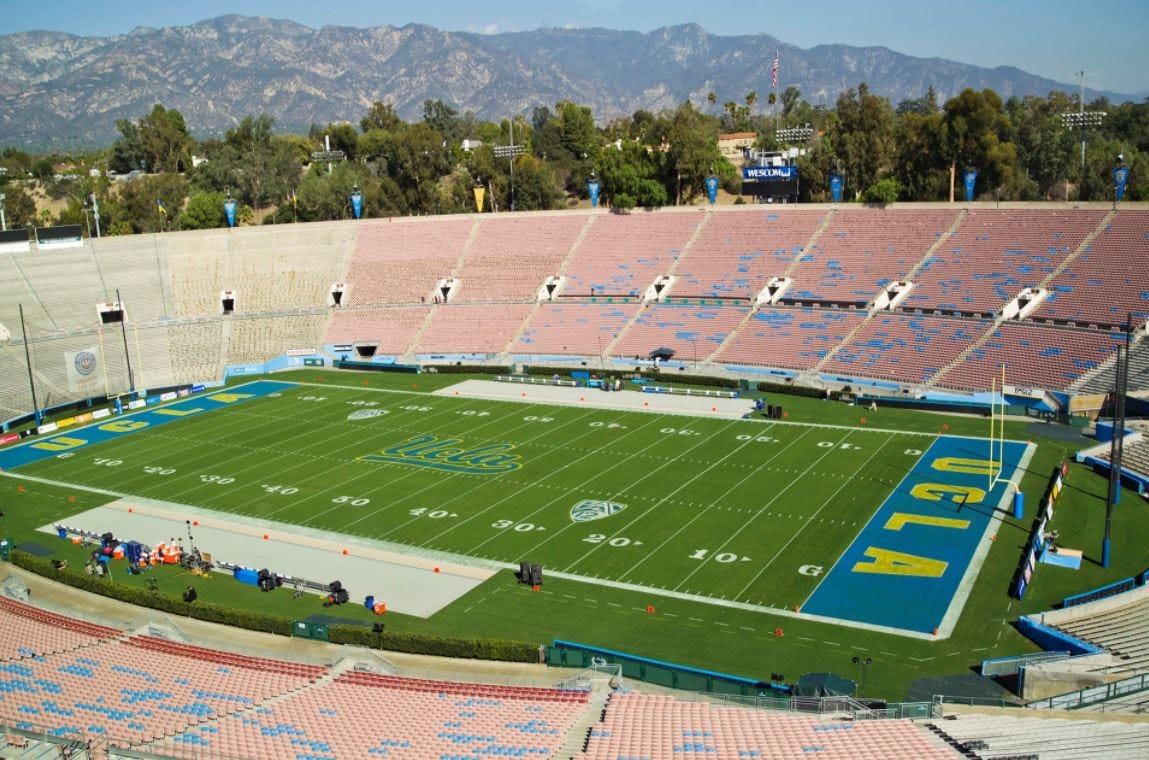 ---
Another week, another big piece of news.
This week, the Big Ten reversed course and announced it was returning to play this fall, ending a rough month for the conference. This isn't surprising by any stretch of the imagination, given the amount of public pressure combined with poor messaging from the conference, and now the conference will give Ohio State a chance to compete for a national title while everyone else in the conference counts their money.
If there is a silver lining to this, maybe it will finally put to bed the myth that the Big Ten was better than its peers. The conference has always sold itself as the perfect marriage between academic and athletic excellence, but that myth has been at odds with the conference's actions over the past few decades. Nebraska, Maryland, and Rutgers weren't added to the conference because of their athletic prowess, and they definitely weren't added for their academic standing. They were added to the conference to help prop up the new Big Ten Network. The conference willingly diluted its shared culture in pursuit of increased profits, and it should accept who it is now.
For UCLA fans, and Pac-12 fans in general, do not assume the conference will quickly follow suit. For one, the climate on the west coast is much different than it is in the Midwest. And I'm not just referring to climate in the sense that everything is on fire and it is not a healthy environment for physical activity (please stay safe everyone), but also that the west coast states are still taking major precautions with COVID-19. Case in point, this week California governor Gavin Newsom stated there was nothing currently preventing the Pac-12 from playing, while acknowledging that state guidelines prevent more than 12 players from practicing on the field at the same time, which would essentially leave California schools at a huge practice disadvantage.
A report today from Bruce Feldman at the Athletic laid out a host of the issues still plaguing the Pac-12 going forward. I'm not going to analyze the entire thing because it's behind a paywall and I encourage you to go read it on your own, but what stood out to me was how many head coaches in the conference seemed against starting up as quickly as possible. There were different reasons, from a lack of offseason training to unsafe air quality, but the earliest these coaches felt the conference could be ready would be mid-November, and even that was an optimistic feeling.
And so we continue on, still watching other conferences attempt to make a go of it. Much like last week, we have another weak slate of games on the schedule. The SEC returning next week should help a bit, but it's a good reminder of how the ACC and Big 12 are weaker conferences than anyone would care to admit, and that the SEC and Big Ten are the true standard-bearers in this regard.
Let's get to the games!
(Quick note: thanks to our subscribers for feedback on the first Game Thread. There will be another one this weekend, probably for Miami/Louisville, where I'll be trying another method just to see how it works.)
THURSDAY
Game to watch: None
Yep, no games this Thursday. Feel free to do something nice with your family in peace, or pretend that the Cleveland Browns vs Cincinnati Bengals will be a good football game.
FRIDAY
Game to watch: Campbell @ Coastal Carolina (4:30 PM PT, ESPN)
With Houston's trip to Memphis postponed due to a COVID outbreak at Memphis, this is the only game left on the schedule, and while I'm sure we all want to see how the Chanticleers follow up their victory over Kansas (one that I called during last week's preview) I think you can safely take another night off of football to do anything else.
EARLY SATURDAY
Game to watch: Houston @ Baylor (9:00 AM PT, Fox)
The early slate is full of a lot of games that should feature good teams against outmatched opponents, so let's highlight a game that wasn't originally on the schedule to begin with! This is one of those scenarios where the situations lined up just right to make something happen; I already mentioned that Houston's scheduled game with Memphis was cancelled already, but Baylor had a similar situation happen last week when their game against Louisiana Tech was cancelled, and were desperately looking for an opponent to jump in for an open spot on their schedule this week.
Now, do I expect this game to be very good? Not really. Baylor lost a lot from last year, including head coach Matt Rhule, while Houston's "amazing" plan to redshirt all of their major contributors took a hit when star QB D'Eriq King transferred to Miami. As we watched last weekend, these early games are already ugly enough, so creating more issues seems to be a recipe for bad football. It might end up being entertaining in a "so bad it's entertaining" sort of way, but if you're looking for good football, you should probably keep looking.
Keep an eye on: Navy @ Tulane (9:00 AM PT, ABC)
It's weird to look at an early-season game and think it's vitally important, but that's where Navy and Tulane may be at. Navy got the breaks beat off them by BYU, while Tulane had to come from behind against South Alabama last week. I don't think either team will really challenge for the American Conference, especially in a division that also includes Memphis, Houston, and SMU, but a win here could be the difference between a building year that can make the program feel confident about the general direction, and a lost season.
MIDDAY SATURDAY
Game to watch: #14 UCF @ Georgia Tech (12:30 PM PT, ABC)
Well hello Georgia Tech. Last week I said the Yellowjackets had no chance of upsetting Florida State, so of course the Yellowjackets went out and beat the Seminoles fairly convincingly. If anything, it was a great example of how having any sort of coaching continuity is a huge advantage in a season that featured truncated spring practices, shortened summer training, and impacted fall camps.
That said, now Georgia Tech gets to face Central Florida, a program that has had solid continuity and is accustomed to winning. UCF is already entering the season with the belief they can make a potential College Football Playoff, and they're welcoming back quarterback McKenzie Milton, who led them in that brilliant 2017 season and through much of the 2018 season before a knee injury late in that season almost cost him his leg. He isn't ready to return yet, but if he does come back and gets close to his 2017-2018 form, UCF could make a case to be the best team in the state of Florida.
Keep an eye on: #23 Appalachian State @ Marshall (12:30 PM PT, CBS)
We are now 14 years removed from one of the greatest upsets in college football history, and while Michigan has never truly recovered as a program since that loss, Appalachian State has continued their meteoric rise. They made the jump from FCS to FBS, joined the Sun Belt in 2014, have won or shared four straight Sun Belt Championships (including winning the first two Sun Belt Championship Games), and finished last season ranked #19 at the end of the year. They are, in many respects, the biggest success story in modern college football.
And yet now they are facing a surprising amount of adversity. Shawn Clarke takes over as head coach after Eliah Drinkwitz left after a single season to become head coach at Missouri, and though there is a level of continuity (Clarke was on staff already at App State and led the Mountaineers to a New Orleans Bowl win over UAB), it is unclear how he will stand up over an entire season. This is the first big test against what should be a good Marshall team, so we'll see how it plays out.
LATE SATURDAY
Game to watch: #17 Miami @ #18 Louisville (4:30 PM PT, ABC)
This is the headline game of the week, and yet I'm very unsure about how it will go. Miami pulled away from UAB last week, while Louisville went into cruise control against Western Kentucky, but it's hard to get a read on the quality of either team. Miami is the team I have more questions about, as they really did struggle for large stretches against UAB, and QB D'Eriq King looked shaky at times. Miami in recent years has had a penchant for folding under pressure, and if Louisville jumps on the Hurricanes early, they could run away with it.
Anyway, I've had to purposefully talk about Miami for two straight weeks and I'm over it. Moving on.
Keep an eye on: SMU @ North Texas (3:00 PM PT, CBSSN)
This game is technically in the midday slot, but the late games are generally not good and more-interesting matchups like Virginia-Virginia Tech and BYU-Army got postponed, so cut me some slack. I'm mostly curious how SMU bounces back after struggling against Texas State. Though maybe North Texas is better than believed - they did handle Houston Baptist easily a few weeks ago, only to watch that same HBU team almost upset Texas Tech last week.