Discover more from The Mighty Bruin
Blog Of The Bruins, By The Bruins, For The Bruins
Over 1,000 subscribers
College Football Viewing Guide Week 2: The ACC and Big 12 Begin to Make a Go of It
Let's get started!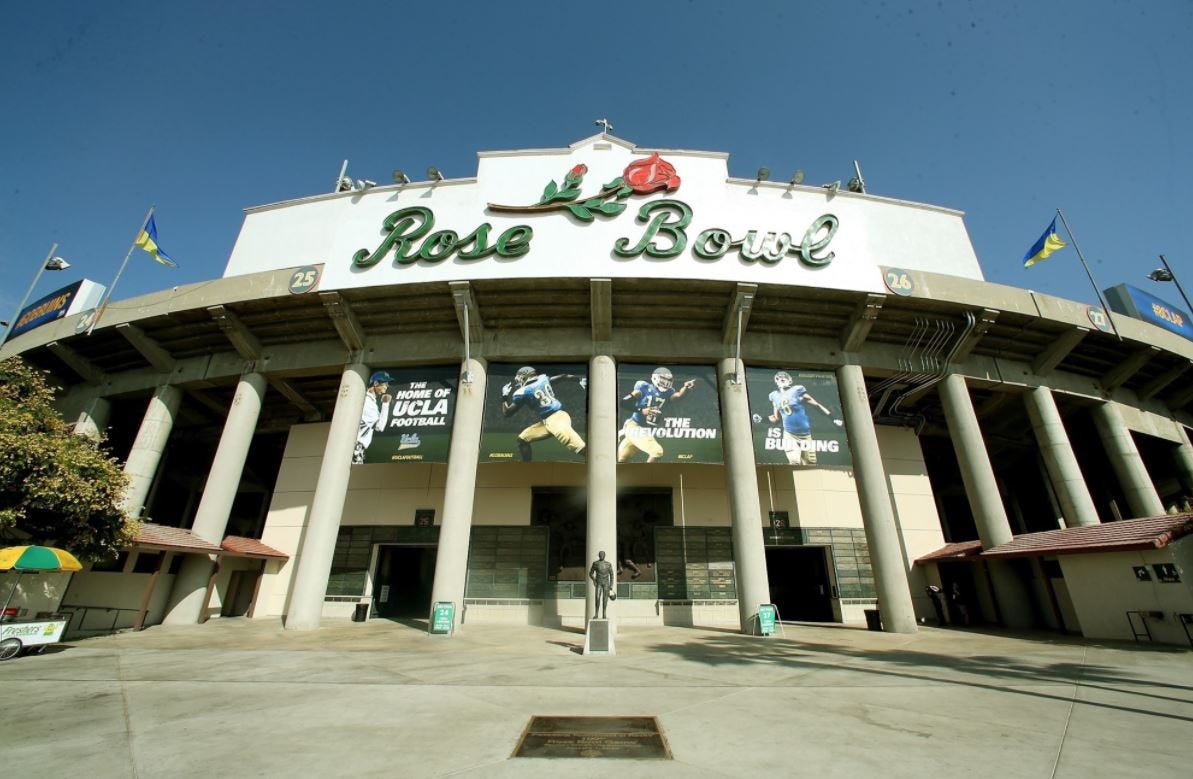 ---
Welcome to The Mighty Bruin's college football viewing guide! We had these at the old site, and I wanted to bring something like this back since I'm bored and want to talk about sports of any kind.
First off, yes there were games last week, but I will be honest and say that I didn't really watch them outside of highlights. When I did watch, I was treated to a lot of sloppy, bad football, which wasn't surprising considering the general quality of the teams playing (the best team playing last weekend was a coin flip between Memphis and Army) and the issues with trying to play a season in the middle of a pandemic.
Take the capstone game of this past weekend, a Labor Day tilt between Navy and BYU that was over by halftime as BYU cruised to a 55-3 victory. At no point did Navy look competitive, or even ready to play a game of football, which makes sense after head coach Ken Niumatalolo admitted his team had avoided full-contact practice in order to limit the chance of coronavirus spread.
The pandemic has already had an effect on this week of action. Four games have already been postponed due to COVID-related issues from lack of practice time to recent team outbreaks. This includes the lone game scheduled for Friday, a solid matchup between Texas state rivals SMU and TCU. This is going to be the big storyline to monitor as this season progresses, so we'll be sure to keep an eye on it.
That said, let's take a look at the games happening this weekend. I'm going to approach things a little differently and give you a quick look at the biggest and best games of various timeslots (aka Thursday, Friday, and three different Saturday segments). The coverage probably won't be amazing since I don't pay attention to every single detail of those teams like I would UCLA and their various opponents, but I'll try my best.
Also, before I begin, you may have noticed I posted a quick article for subscribers-only. I might as well tell you all that we'll be using these next few months to test things like our game threads here on Substack, and our wonderful subscribers will be the first to help us fine-tune things. So for our subscribers, be on the lookout for the first game thread Saturday afternoon.
Let's get started!
THURSDAY
Game to watch: UAB @ Miami (5:00 PM PST, ACCN)
Yes, it's the only game to watch on Thursday, but UAB is a good football team, and Miami was an inconsistent train wreck in Manny Diaz's first season at the helm. I'm sure that brings joy to UCLA fans, who will never get over that bleak day in 1998 (and again, Melsby was down and I will not entertain arguments to the contrary). Miami is favored by -15.5, which seems like a lot after UAB put on an offensive show against Central Arkansas last week, so if you're a betting person, this seems like an excellent underdog pick with good odds.
FRIDAY
Game to watch: None
Again, SMU @ TCU got cancelled, so you use your Friday for anything you want. If you want sports, there'll be two NBA playoff games, including a Game 7 between Toronto and Boston. Toronto forced Game 7 in part due to the heroics of former UCLA Bruin Norman Powell, who has quickly become the one true Playoff P thanks to excellent efforts the past two postseasons.
EARLY SATURDAY
Game to watch: Syracuse @ #18 North Carolina (9:00 AM PST, ACCN)
The early slot has some interesting games on the slate, but for my money this is the most interesting, as I'm curious how North Carolina looks in Mack Brown's second year back in charge of the Tar Heels. Brown has recruited excellently since returning to the coaching ranks, and while I think they're still a year or so out from providing a serious threat to challenge Clemson at the top of the ACC, a strong outing this year can only help.
On the flip side, Syracuse is a fascinating what-if for UCLA fans. I considered Syracuse head coach Dino Babers as a strong possibility to take over once Jim Mora was fired based on the strength of his rebuilding job at Syracuse, and while he had an excellent 2018, the 2019 season left much to be desired. This could be a pivotal year for the Orangemen and Babers, and a win over a rising North Carolina team could go a long way.
Keep an eye on: UL-Lafayette @ #23 Iowa State (9:00 AM PST, ESPN)
Matt Campbell spurned a few potential openings to return to Ames this past offseason, and while I don't think Iowa State will challenge Oklahoma or Oklahoma State for supremacy of the Big 12 soon, he's still a coach to keep an eye on should the UCLA job open up just due to his coaching ability.
MIDDAY SATURDAY
Game to watch: Duke @ #10 Notre Dame (11:30 AM PST, NBC)
This is a bit of a cheat, as the 11:30 kickoff puts this game in an awkward spot, but Notre Dame is one of the best teams playing on Saturday, and with no real competition in the midday, they'll take the top spot here. I'm interested to see how Notre Dame reacts to a full conference slate, though they generally play a pretty strong schedule regardless, and Duke is always a tough out under David Cutcliffe (honestly, if Cutcliffe were younger I'd consider him an option for next UCLA head coach, but at this stage of his career he's probably not much of an option).
Keep an eye on: Georgia Tech @ Florida State (12:30 PM PST, ABC)
If Paul Johnson was still the head coach of the Yellow Jackets, I'd give them an excellent chance of beating a Florida State team transitioning to their third head coach in 4 seasons, especially after an offseason where said head coach made headlines for all of the wrong reasons. But Paul Johnson is not the head coach of the Yellow Jackets anymore, and this team was awful last season as they moved away from the flexbone offense to more traditional offensive sets.
LATE SATURDAY
Game to watch: #1 Clemson @ Wake Forest (4:30 PM PST, ABC)
This game won't be close, but that doesn't matter. It's Clemson, the national runner-up last season, led by the preseason Heisman favorite and presumptive #1 pick Trevor Lawrence, and featuring a host of guys who will be playing on Sundays in the next few years. With the rest of the slate being rather boring, you watch this game just because you won't have many other chances this year to just sit back and watch Clemson demolish an opponent without a better game being on.
Keep an eye on: Coastal Carolina @ Kansas (7:00 PM PST, FS1)
This game will be closer than it has any right to be. I don't know why, and I can't explain it beyond "It's Kansas and Les Miles and an early season game."