UCLA Football Recruiting: WR Keontez Lewis Commits to the Bruins
The Bruins have seemingly finished up their receiver class with another solid prospect.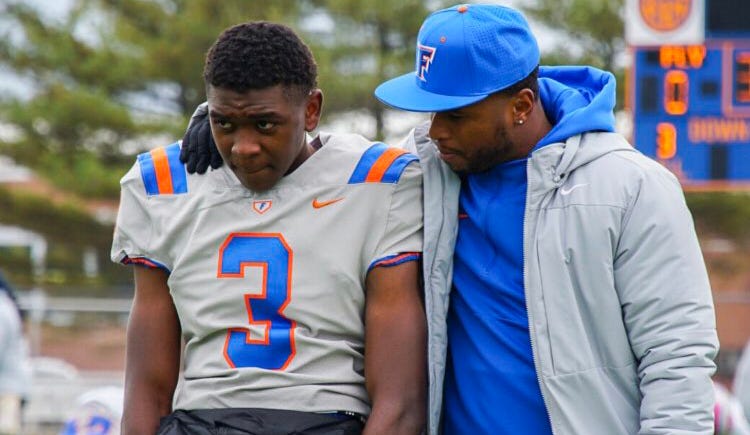 Keontez Lewis is the newest recruit to commit to the Bruins (Photo Credit:
@tfenton314
)
---
The UCLA Bruins added to their growing recruiting class on Thursday when wide receiver prospect Keontez Lewis used his birthday to announce his commitment to the Bruins.
Keontez Lewis stands at 6'2" and weighs in at 185 pounds. Lewis hails from East St. Louis (Ill.) High School in St. Louis, Illinois and is a consensus 3-star prospect, according to the 247Sports Composite Rankings. East St. Louis HS may not be a name many of our readers are familiar with, but it is a very strong program, having won two state championships since 2016 including last year's championship. Lewis was a big part of their offense that year, putting up the highest YPC on the team with 21.7 and was second on the team with 10 touchdown catches. 247Sports has him ranked as the 83rd best receiver prospect in the nation, and the 14th best prospect in the state of Illinois.
UCLA did a tremendous job recruiting Lewis, with their main competitors being Missouri, Oregon, Ole Miss, and South Carolina among others. Missouri in particular looked to be in the driver's seat for most of the way, with them being a local school that also had already gotten the commitment of Lewis's high school quarterback Tyler Macon. Also, thanks to the ongoing COVID-19 pandemic, Lewis has not had a chance to visit UCLA. So, credit should definitely go to lead recruiter Jimmie Dougherty, who is from the region himself, for making a strong connection. Still, with Lewis being an out-of-state recruit, the UCLA coaching staff will need to keep on him through Signing Day.
UCLA fans will be the first to tell you that the total package offered at the school is one of the best in the country. Lewis is an excellent student and in talking to Allen Trieu of 247Sports after his commitment, Lewis had this to say about his decision:
I chose them because of the love the coaching staff was giving me, how my involvement in the offense will be, and all the connections and people I will be around out there. This is more than a four-year decision.
As far as Keontez's fit in the UCLA offense, he's the sort of do-everything big body receiver that the Bruins have coveted in Chip Kelly's offense. Lewis' high school receiver coach Terry Fenton said of the new Bruin: "He knows where everybody is supposed to be. He's like a quarterback at receiver. He is a big play waiting to happen. He can take the top off a defense, but then he can drop his weight and run routes with great footwork, great releases." His Hudl profile provides further evidence to this fact, as it features Lewis lining up both in the slot and on the outside. He doesn't have game-breaking speed but is rather quick for his size, with good hands and a knack for breaking routes and getting open when the quarterback is in trouble.
I'd guess at a redshirt year for Lewis just to help him transition, as while he's able to easily take advantage of opposing corners due to his size at the moment, that's not something he'll be able to rely on at the college level. Plus, as I mentioned when Ezavier Staples committed last month, UCLA is pretty set at wide receiver for a few years and can afford to bring in high-ceiling guys who could use a year to develop at the next level. And this isn't to say Lewis is without talent; Greg Biggins in his analysis of the commitment said that Lewis would have a case to be a top five receiver in the state of California. So, the ability to immediately contribute is definitely there and, for the star trackers, Biggins hinted that Lewis is likely to be bumped up to a four-star prospect when the ratings get updated.
Welcome to Westwood, Keontez!


Go Bruins!!!
---
Thanks again for supporting The Mighty Bruin. Your paid subscriptions make this site possible. Questions, comments, story ideas, angry missives and more can be sent to  to @TheMightyBruin on Twitter.