Discover more from The Mighty Bruin
Blog Of The Bruins, By The Bruins, For The Bruins
Over 1,000 subscribers
UCLA Football: RB Joshua Kelley NFL Draft Profile
Former Bruin running back Josh Kelley might just be the steal of this year's draft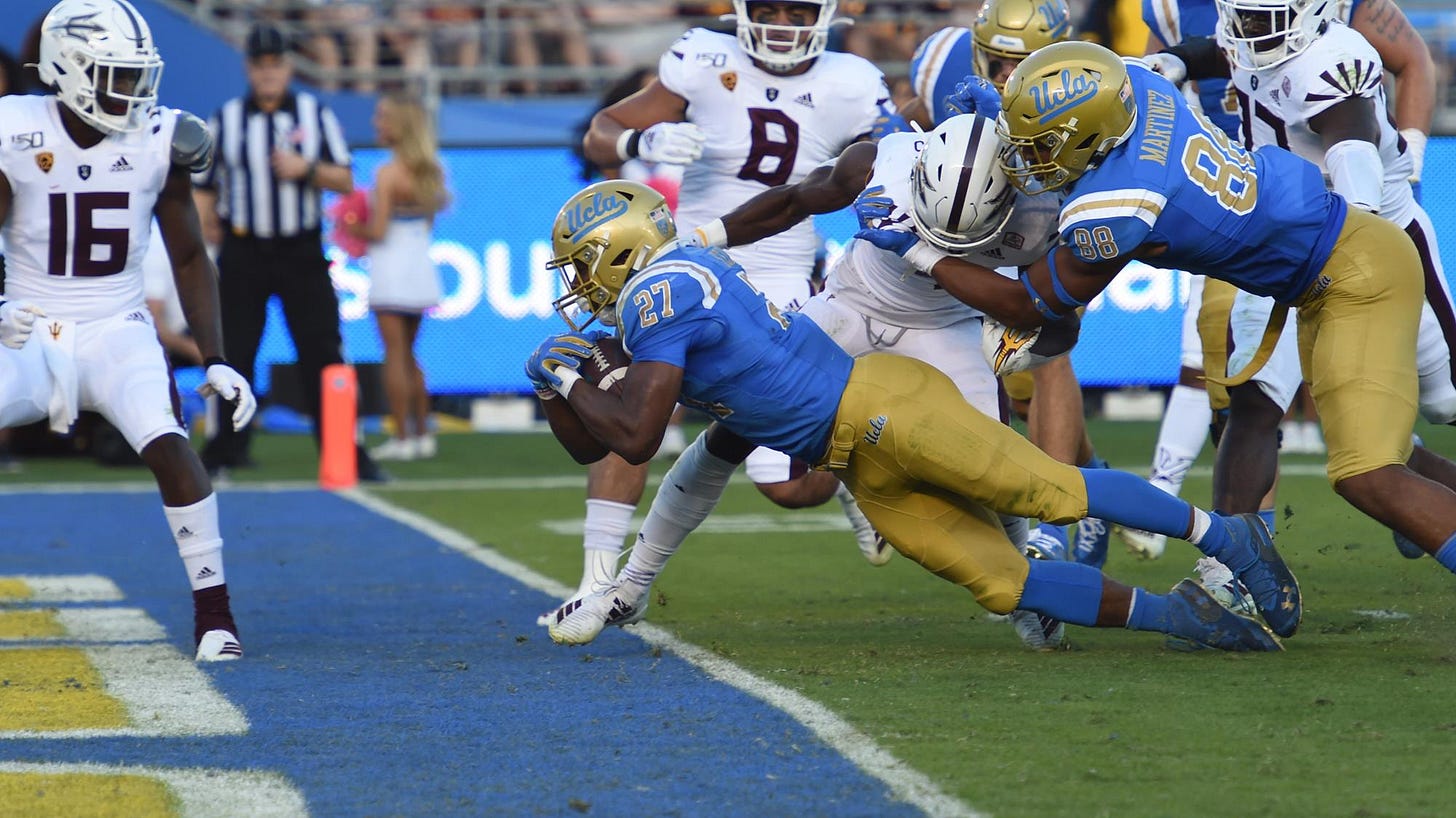 (Photo Credit: Greg Turk/UCLA Athletics)
---
UCLA running back Josh Kelley is a guy whose draft stock is rising. That's because Kelley had strong showings at both the Senior Bowl and the NFL Combine. NFL.com's Lance Zierlein calls Kelley "a coveted Day 3 pick."
But Bruin fans might argue that Kelley's stock has been a bull market pick before the transfer from UC Davis ever arrived on campus.
It's no secret that Kelley almost willed himself onto the Bruin football team when he decided to transfer and, though he suffered a slight setback during the first half of Chip Kelly's first season in Westwood, Josh's relentlessly positive attitude and solid work ethic resulted in him eventually finding his way into the starting lineup in a big way and he capped the 2018 season by rushing for 289 yards against Southern Cal, which is the most in the history of the Crosstown Showdown. Kelley finished the 2018 season with almost 1250 yards rushing and 12 touchdowns.
He followed up the 2018 season with an almost identical 2019. To be sure, he didn't have another 250-yard game like he did against Southern Cal in 2018, but he had almost an identical number of carries with 12 touchdowns and more than 1,000 yards on the season.
The one area where Kelley's performance dropped off was in receptions. After making 27 receptions for 193 yards in 2018, he only had 11 receptions for 71 yards in 2019. In all likelihood, that can probably be explained by the fact that Dorian Thompson-Robinson took over as the starting quarterback following the departure of Wilton Speight.
Tale of the Tape
Let's look at Kelley's physical stats, courtesy of NFL.com.
Height: 5' 11"

Weight: 212 lbs.

Arms: 31-5/8"

Hands: 9-5/8"
Weaknesses
Gee, trying to write about Josh Kelley's weaknesses is tough. I guess if I have to pick something I might mention the fact that Kelley did get a little banged up at times during his career at UCLA. At the same time, that shouldn't be taken as an indication that Kelley is injury-prone. That's not the case.
After all, he did play in twenty-two of UCLA's twenty-four games over the past two seasons. But his bruising running style does mean that his body will take a beating over the course of a season.
In fact, as if to show that Kelley doesn't have many weaknesses, NFL.com's draft profile on Kelley lists one of his weaknesses as "Doesn't try to make many people miss" while mentioning his "Strong lower body to dismiss upper body tackles" as a strength. That sounds like two sides of the same coin in my book. It's almost as if they were struggling to find something to list as a weakness Kelley has.
NFL Combine Physical Test Results
Let's look at Kelley's results from the NFL Combine, courtesy of NFL.com.
40-Yard Dash: 4.49 Seconds

Bench Press: 23 reps

Vertical Jump: 31.0 Inches

Broad Jump: 121.0 Inches

3-Cone Drill: 6.95 Seconds

20-Yard Shuttle: 4.28 Seconds
Strengths
Josh Kelley is a bruising physical back who doesn't shy away from making contact with defenders. He uses his lower body strength to keep the pile moving forward. Ultimately, his power and nose for the end zone could turn him into short yardage specialist on the goal line for whatever NFL team ends up drafting him.
While those are his physical strengths, it would be tough to write about Kelley without also talking about another important strength Kelley has which is sure to result in him being drafted sooner than NFL.com's projection of the fifth round. That strength is his attitude.
Kelley is one of the most relentlessly positive guys you will find. His personality is contagious and I won't be surprised to see a team grab him on Day 2 of the Draft simply because they don't want to wait longer and risk missing out on being able to select him. In fact, I'd take it even a step further by saying that Kelley's attitude positivity and constant smile is an NFL general manager's dream and it's what makes me think that teams will not let Kelley fall to the third day of the draft.


Go Bruins!!!
---
Thanks again for supporting The Mighty Bruin. Your paid subscriptions make this site possible. Questions, comments, story ideas, angry missives and more can be sent to joe@themightybruin.com, or to @JPiechowski on Twitter. (Unfortunately, the Twitter account for The Mighty Bruin remains in Twitter jail after I made the mistake of trying to set the TMB launch date as the account's birthday. We hope to have this resolved soon.)