Discover more from The Mighty Bruin
Blog Of The Bruins, By The Bruins, For The Bruins
Over 1,000 subscribers
UCLA Football is Ready for a Restart, Right?
Conflicting reports came out this weekend regarding UCLA's readiness for a potential restart at the end of October. Let's sift through the wreckage.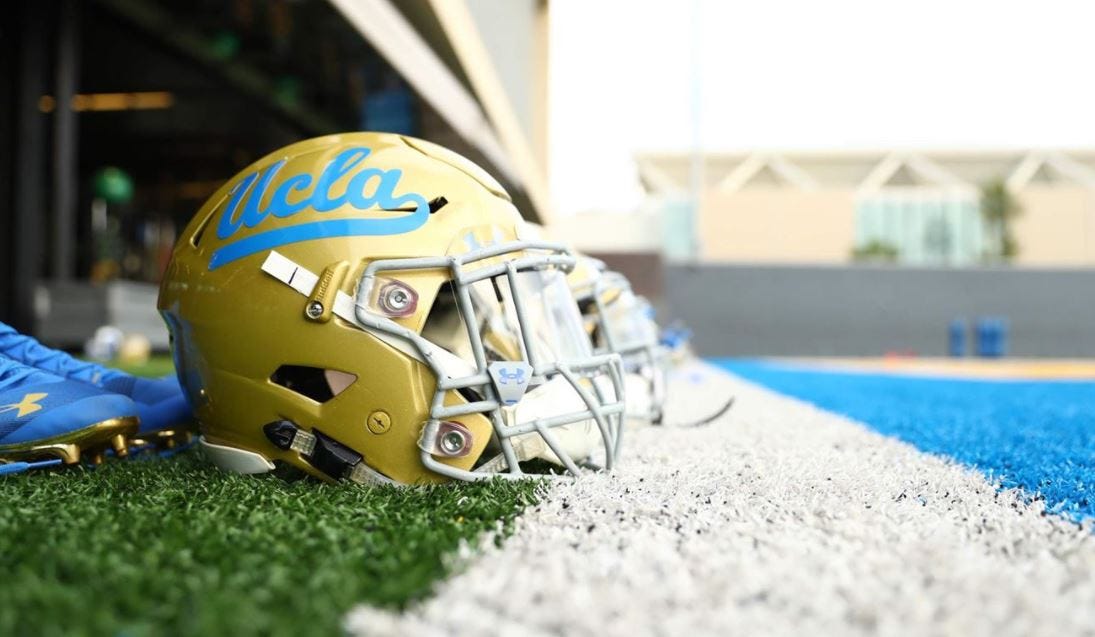 ---
The Pac-12 looks to be moving towards announcing a return to play as early as this Thursday, which is exciting just from a content standpoint. But of course UCLA found a way to become part of the story, and that's what happened late last Saturday. And now we'll try to dig through the rubble to figure out what the truth actually is.
To recap: on Saturday, Jon Wilner reported that the Pac-12 was divided on a start date, in part because half of the conference teams would not be ready for an October 31st start. He followed that report up later by specifically citing UCLA as a team that would not be ready on October 31. Almost immediately, LA Times' Ben Bolch and BRO's Mike Regalado chimed in to say that UCLA would, in fact, be ready for that start date, to which Wilner responded that it would be news to the rest of the conference.
So the question becomes: can UCLA be ready for a potential October 31st start date? Let's break it down.
First, I'm not willing to say Wilner is wrong in his reporting. The man did not become THE reporting voice in the Pac-12 for nothing, and he generally has plenty of contacts throughout the conference. Simply put, if Wilner was willing to put concrete information out there, there's a good chance it is accurate. I will add that there is a host of other evidence that supports Wilner's reporting; for example, a combined report from 247Sports' UCLA and Stanford sites stated that Stanford was the primary dissenter on a quick restart to the season, with UCLA and UC Berkeley aligning with the Cardinal on this topic. Bruce Feldman's piece at the Athletic last week also focused a lot on the California-based schools being behind the 8-ball regarding a return to play. Feldman references unnamed coaches in his report, but considering his history, it's probably a good bet that two of those coaches are Chip Kelly and David Shaw. Put it all together, and there's more than enough smoke to say that most of the Pac-12 does not believe UCLA would be ready for a quick restart.
On the flip side, I'm willing to say that Bolch and Regalado are being truthful when they report that their sources say UCLA could be ready quickly. Bolch in particular references that most of the team stuck around campus and has been working out regularly since the season was postponed. But mostly I believe that Bolch and Regalado are being truthful is because they have no reason to lie. Bolch has been a very good beat reporter with an excellent relationship to the school, and Regalado has quickly become the day-to-day point man at BRO, which needs a good relationship with the athletic department in order to maintain their business model.
Now, the caveat with that statement is that, while I trust Bolch and Regalado, I don't necessarily trust their source to be telling the truth. The simple truth is the idea of UCLA being ready for October 31st with only five weeks of "camp" and training would fly in the face of what has actually been happening at UCLA since the start of the pandemic. The Bruins did not have a full spring practice - in fact, they only had three spring practice sessions before everything was postponed. The team has not been able to hold full team practices at all this fall, instead being limited to 12 participants at a time (though Los Angeles County is finally making allowances to let that happen). The players can be working out as much as they want, but without any actual practices or ability to run large-scale drills, it's hard to say UCLA can truly be ready in such a short period of time. The Big Ten is returning after a five week ramp-up period, but the difference here is that the Big Ten has had abbreviated training since they postponed their season.
The point being, it is in UCLA's best interest for them to publicly state they are ready to restart, even if that may not be the case. The Pac-12 has gone through this entire process with a level of unanimity that was unseen in the Big Ten, which has allowed the conference to avoid the same blowback that the Big Ten received. A return to play from the conference will likely see the same level of unanimity, and even if there are members of the conference that are unable to start play on October 31, it would be in the conference's best interests for the schools to show a unified front. Plus, there is nothing preventing the conference from creating a schedule that helps those schools out (perhaps by having October 31 feature non-conference games for schools that are ready?).
Maybe it would help the conference if we clarified one last thing. John Canzano of the Oregonian pointed out that the conference's start date is being chosen in part to give the premier programs in the conference (read: Oregon and Southern Cal) a chance at making the College Football Playoff, which will not be chosen until December 20. It's a smart idea in theory, as it puts the potential payday of the CFP in play, but at the same time it relies on the idea that the Pac-12 could actually make the playoffs, and it's hard to see a scenario where an undefeated Pac-12 champion would be put into the playoffs over a 1-2 loss team from the other four Power 5 conferences. And if the eventual Pac-12 champion has a loss on their resume? Or if the conference is forced to postpone a few games due to COVID-19 outbreaks (like just happened with Notre Dame this week)? Forget about it. It would be better for the conference to specifically look to maximize as many games as possible to salvage the season, rather than try to get a team into the playoffs.
And so time continues to march on. The Pac-12 will most likely announce a return to play this week, so at least we will have UCLA football of some sort to talk about soon. I'm sure arguing about Chip Kelly will be a nice change of pace from arguing about various other disasters.
Go Bruins!