UCLA Football: Demetric Felton Named to Paul Hornung Award Watch List
The Paul Hornung Award is presented annually to the most versatile player in college football.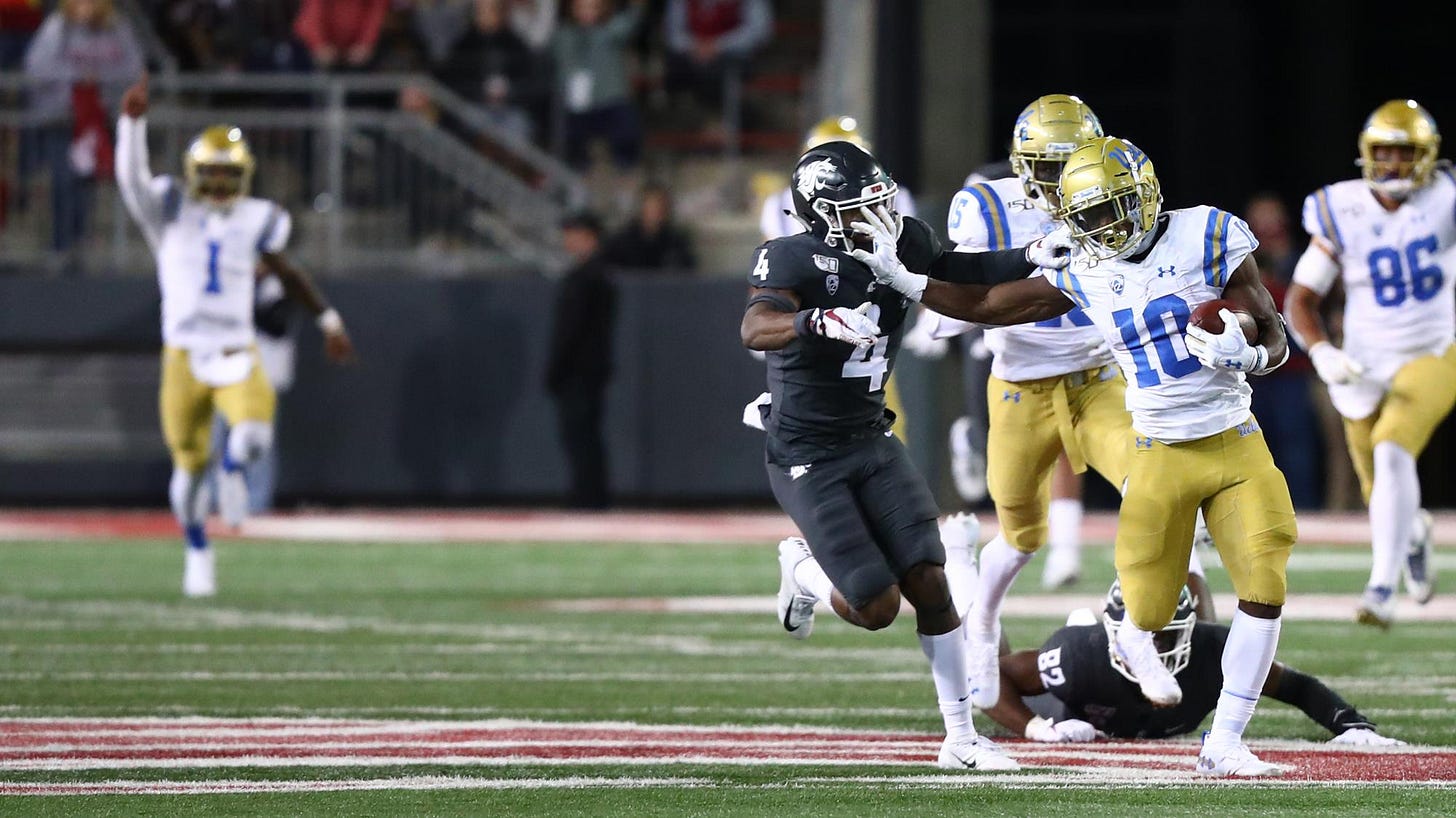 (Photo credit: Jesus Ramirez/

uclabruins.com

)
---
You know that college football season is almost hear when the annual preseason watch lists are announced but, when your favorite team wasn't very good last season, there just aren't many guys who get selected to the preseason watch lists.
That's been the case with UCLA football under Chip Kelly.
That said, UCLA's Demetric Felton was one of 50 student-athletes named to the 2020 Paul Hornung Award watch list yesterday. While this is the first year that Felton has been named to this watchlist, it's the third year in a row that a Bruin is on it. Darnay Holmes was named to the Hornung Award watch list in 2018 and 2019. This is the second watch list to which Felton has been named. Last week, Felton was named to the Doak Walker Award watch list. He is the only Bruin named to any preseason watch list so far this year.
The Paul Hornung Award, now in its eleventh season, is given annually to the most versatile player in major college football by the Louisville Sports Commission and football legend and Louisville native Paul Hornung. The winner and his family will be honored at the annual Paul Hornung Award dinner to be held at the Galt House Hotel in downtown Louisville in March 2021.
"We created this award as a way to reward college players who selflessly take on the burden of playing multiple positions, and excel at a high level the way Paul Hornung did for Notre Dame and the Green Bay Packers," said Karl Schmitt, president and CEO of the Louisville Sports Commission, owners and operators of the Award. "In addition, we wanted to introduce young players to the legacy of Hornung, who said he would do anything his coach asked of him to help his team win games."
Hornung, who still lives in his hometown of Louisville, played every position in the offensive backfield during his career with the Irish in the 1950s and also played defensive safety, punted, placekicked and returned kickoffs. He was named All-America at quarterback as a senior and won the Heisman Trophy in 1956, then was the first player selected in the NFL draft, going to Green Bay. He earned NFL MVP honors for the Packers in 1961 as a triple-threat halfback and placekicker by setting a single-season NFL scoring record that stood for 46 years. He is a member of the College and Pro Football Halls of Fame, and Vince Lombardi once called him, "The most versatile man ever to play the game."
College football fans nationwide will have the opportunity to vote for their favorite player during the regular season and again during the bowl season. Fan voting will open in late September and factor into the selection of the finalists and winner.


Go Bruins!!!
---
Thanks again for supporting The Mighty Bruin. Your paid subscriptions make this site possible. Questions, comments, story ideas, angry missives and more can be sent to  to @TheMightyBruin on Twitter.