UCLA Football: CB Darnay Holmes NFL Draft Profile
Holmes could be the first Bruin taken in the draft.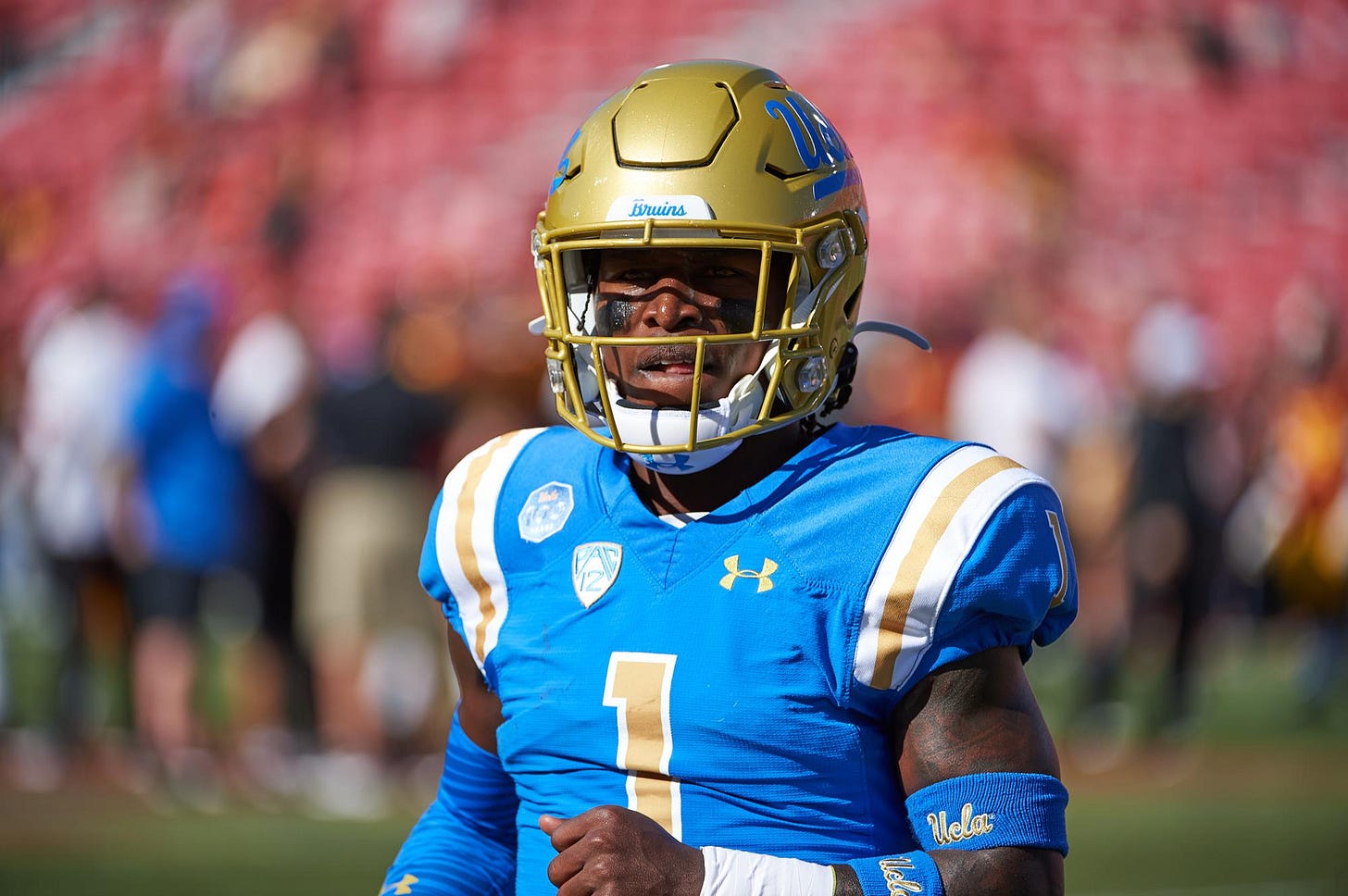 (Photo Credit: Don Liebig/UCLA Athletics)
---
Despite the coronavirus pandemic that has ground everyday life to a halt for millions of Americans, the NFL is pressing ahead and holding the annual NFL Draft this week. This has created a fascinating situation where NFL teams are going into the draft while missing tons of valuable information that they would have gained from things like pre-draft workouts. Still, ahead they are forging, and so we shall as well, and bring about some draft profiles for a handful of UCLA players.
In this profile, I'll be taking a look at Darnay Holmes. Holmes has had a fascinating UCLA career, coming in as a star part of Jim Mora's last recruiting class and immediately taking a spot as a starting cornerback. In three years at UCLA, Holmes was able to amass 121 tackles, 8 interceptions, and 17 passes defended. He also spent time as a kick returner in his first two years and found success, including a kickoff return touchdown in 2018.
Holmes has also had issues while at UCLA. On the injury front, Holmes had an ankle injury that delayed his start to the 2019 season and seemingly limited him for most of the year. More depressingly, Holmes was stuck in some truly-horrid UCLA defenses during his time, and it is hard to truly blame him for those issues, as the Bruin defense really struggled against the run, which led to breakdowns at all levels. It is for this reason that Holmes is one of the players who would have benefitted from the extra tape that a pro day would have provided; he had a solid showing at the NFL draft combine, and reports are that his performances during Senior Bowl practice were fantastic, but unfortunately, the last tape most NFL teams will look at will be from his injury-plagued final season.
Still, for my money, Darnay Holmes could be the first Bruin taken in the NFL Draft. So let's take a look at his strengths and weaknesses.
Strengths
Holmes possesses above-average athleticism and really excels in short-range coverage, as he's able to use that athleticism and excellent change-of-direction ability to stick to his man. That athletic ability also allows him to overcome mistakes he might make in coverage, as he's able to catch up quickly. He's not in the top-end of speedy cornerbacks available in this draft, but he is certainly quick enough to keep pace with a vast majority of wide receivers, as evidenced by the solid job he did against former Oklahoma Sooner and current Baltimore Ravens receiver Hollywood Brown. Holmes does a fine job when it comes to locating the ball in the air to make a play on it.
Weaknesses
The biggest knock against Darnay Holmes is how he stacks up physically. Size-wise, he's smaller than you would like a true outside corner to be at the next level, and his arm length isn't the greatest either. At the same time, when we talk about physicality, we also mean things like tackling and willingness to get physical, and that is also not Holmes's strong suit, especially when it comes to run defense.
Holmes's other big weakness is consistency. He has moments of absolute brilliance and had a reputation at UCLA of being the shutdown corner which caused fewer throws to come his way, yet he also has moments of extremely poor play. The game against Washington State this past year stands out in this regard, as Holmes became near-unplayable over the course of the game. If Holmes is going to stick at the next level, he will need to become more consistent.
Projection
Let's start by taking a look at where a few different outlets have Darnay Holmes. In the draft analysis for NFL.com, Lance Zierlein projects Holmes to be a 3rd-4th round pick. Charlie Campbell at WalterFootball.com has Holmes in a similar spot.
Interestingly enough, NFL Network analyst Bucky Brooks said that Holmes was the best nickel back prospect in the draft, and honestly, this lines up with my feelings as well. Holmes definitely has the ability to play to the outside but given his size and other weaknesses would seem to fit better as the third corner on the field. That also wouldn't be a bad way for Holmes to find his way onto an NFL roster; the nickel back spot is an increasingly-important position as passing attacks improve.
There are definitely better cornerbacks available in this draft, but with his strengths and weaknesses, Holmes can provide solid value in the mid-rounds.
---
Thanks again for supporting The Mighty Bruin. Your paid subscriptions make this site possible. Questions, comments, story ideas, angry missives and more can be sent to joe@themightybruin.com, or to @JPiechowski on Twitter. (Unfortunately, the Twitter account for The Mighty Bruin remains in Twitter jail after Joe made the mistake of trying to set the TMB launch date as the account's birthday. We hope to have this resolved soon.)