Discover more from The Mighty Bruin
Blog Of The Bruins, By The Bruins, For The Bruins
Over 1,000 subscribers
UCLA Basketball Recruiting: Five-Star Wing Peyton Watson Commits to the Bruins
The Long Beach Poly prospect chooses to stay home.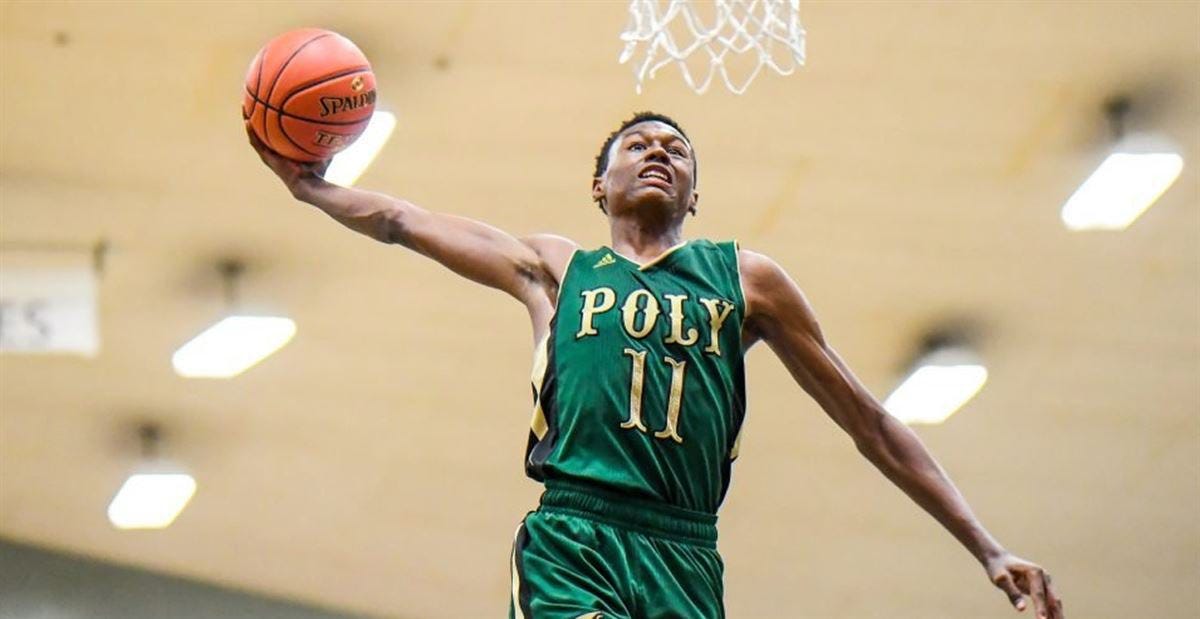 ---
UCLA basketball may still be waiting to hear on the future of Chris Smith regarding next year, but the future of the program continues to look bright. That is especially the case after five-star wing prospect Peyton Watson announced his commitment to Mick Cronin's program yesterday.
Watson stands at 6'7", weighs around 180 lbs, and plays his high school ball at Long Beach Poly. He is a consensus five-star prospect according to 247Sports Composite Rankings, which has him ranked as the third-best small forward in the country, the best prospect in the state of California, and the eighth-best prospect in the country. UCLA secured the services of Watson over a cavalcade of programs with Arizona, Washington, Oregon, Southern Cal, and Michigan among the teams that offered.
Peyton Watson is a fascinating prospect and, if you had to make a comparison to a player currently on the team, it's hard not to immediately leap to Chris Smith. Watson has great length and athleticism which allows him to guard 1-3 easily and even hold his own at the 4, similar to Smith. He's an instinctive rebounder and high-motor player that feels perfect for Mick Cronin's system. As a bonus, his offensive game is incredibly solid as Watson is a more-than-capable ball-handler and shooter. It almost creates a perfect potential scenario where Chris Smith returns for his senior season, and then Watson slots into Smith's spot in 2021.
Even with the ongoing coronavirus pandemic making commitment ceremonies hard to do, Watson found a pretty impressive way of doing so, going on Fox Sports for a traditional hat selection. If UCLA fans had any doubt as to which way Watson was leaning prior to the announcement, the fact that the show was hosted by Friends of the Program Mark Titus and Tate Frazier should have assuaged any concerns.
That said, everything Watson has said since his announcement has made it seem as though there was never any choice except for UCLA. In an interview with Jeff Borzello of ESPN, Watson stated "I'm the No. 1 player in California, and I feel like UCLA is the original blue blood. It's hard to pass up an amazing school where my parents can see me play and have the support of my community behind me." Similarly, Ben Bolch of the LA Times noted that Watson "has developed relationships with other notable Bruins alumni including Matt Barnes, Darren Collison, Trevor Ariza, and Baron Davis," proving once again that the UCLA alumni pool is incredibly deep and a true aspect to recruiting when utilized effectively. For any UCLA fan still scarred from Daishen Nix's decision to opt for the G-League over UCLA a few months ago, Watson said he is committed to college, pointing out the benefit of being able to come back and finish his degree if he ends up leaving early.
UCLA fans should be absolutely thrilled with Watson's commitment. For one, he is a fantastically-talented player who seems well-suited for Cronin's style of basketball, and you can never have enough of those. But, for Mick Cronin to go out and land the commitment of the best recruit in the state of California, specifically one in his own backyard, is a message to the rest of the country that UCLA is ready to assert itself on the national stage again, as so many great UCLA teams were aided by the Bruins putting up a proverbial recruiting fence over the state.
I'm going to give the last word to Peyton, especially since it's the kind of language UCLA basketball fans love to hear:
"My goal is to lead UCLA to a national championship."
Welcome to Westwood, Peyton!


Go Bruins!!!
---
Thanks again for supporting The Mighty Bruin. Your paid subscriptions make this site possible. Questions, comments, story ideas, angry missives and more can be sent to  to @TheMightyBruin on Twitter.