Discover more from The Mighty Bruin
Blog Of The Bruins, By The Bruins, For The Bruins
Over 1,000 subscribers
Pac-12 Fall Sports to Play Conference-Only Schedules
The UCLA football, men's and women's soccer, and women's volleyball teams will play a conference-only schedule in 2020, assuming they play at all.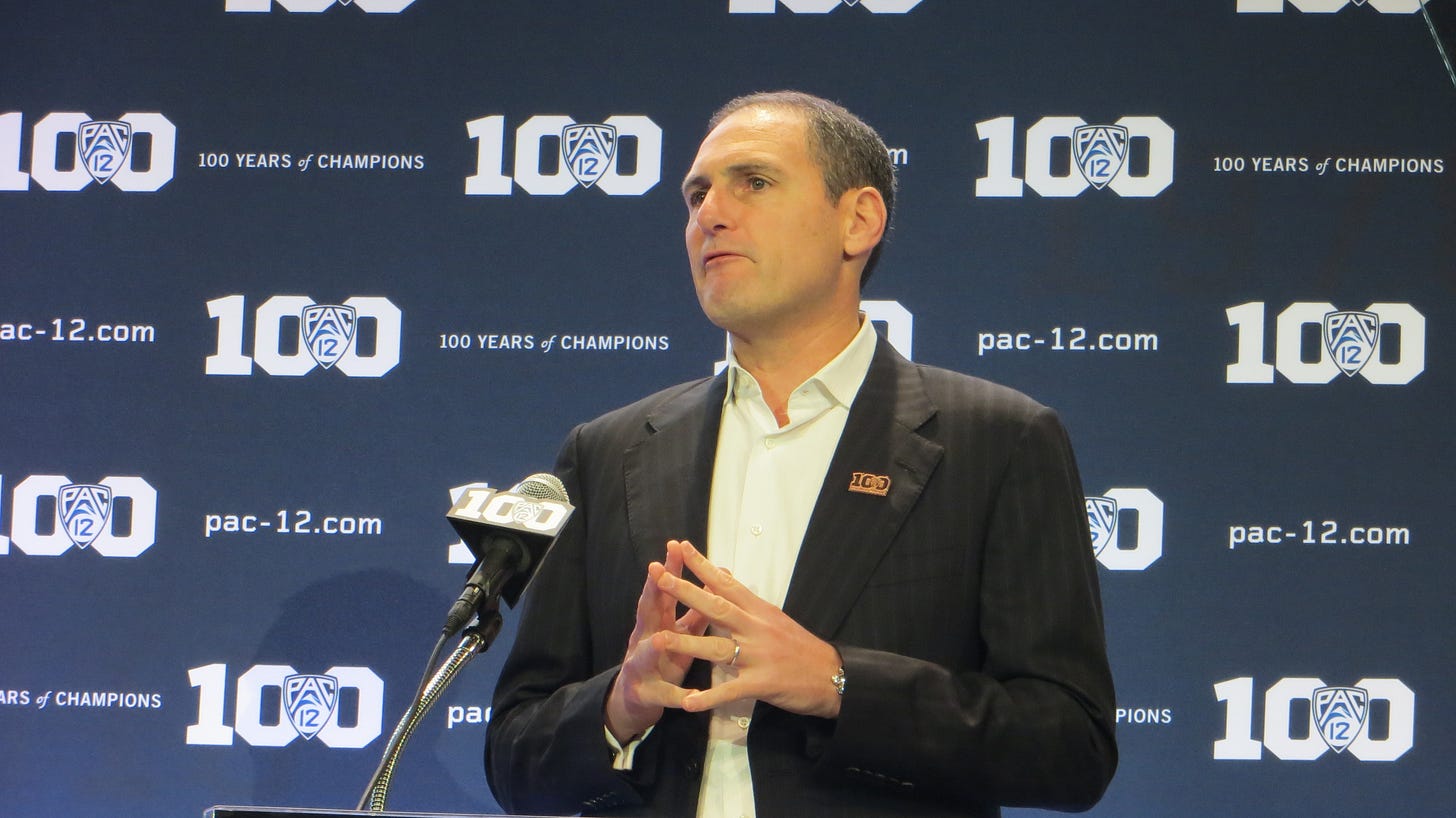 Pac-12 Commissioner Larry Scott (Photo Credit: Joe Piechowski)
---
The last time the New Mexico State Aggies played UCLA at the Rose Bowl, it was the Bruins' first home game after Nick Pasquale passed away tragically. That was 2013.
The Aggies were scheduled to return this season to open the 2020 season. Until today.
That's because the Pac-12 Conference has decided to follow the lead of the Big Ten and play a conference-only schedule in 2020.
UCLA made an official announcement today which included a brief statement from new Athletic Director Martin Jarmond. Jarmond said:
UCLA fully supports today's decision by the Pac-12 CEO Group to delay the start of mandatory athletic activities and to limit fall seasons for several sports to conference-only competition. The health and safety of our student-athletes, staff and fans is paramount, and this move affords us the greatest level of flexibility to adapt and evolve in real time, in the midst of a very fluid situation.

We thank you for your patience and understanding as we continue to operate out of an abundance of caution during this pandemic. Go Bruins!
In the release, Pac-12 Commissioner Larry Scott said:
The health and safety of our student-athletes and all those connected to Pac-12 sports continues to be our number one priority. Our decisions have and will be guided by science and data, and based upon the trends and indicators over the past days, it has become clear that we need to provide ourselves with maximum flexibility to schedule, and to delay any movement to the next phase of return-to-play activities.
The release indicates that the details of the conference-only schedule "will be announced no later than July 31."
Then, this evening, the school sent out an email to Bruin fans from the new Athletic Director.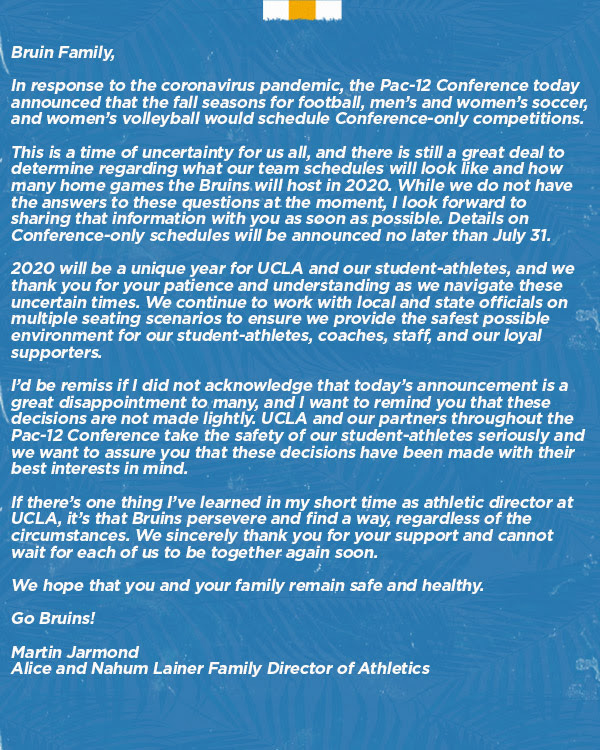 What the schedules will look like won't be known for a few more weeks. But it means that schools will play either nine, ten or eleven football games this year. If the conference schedule is expanded to eleven games, it would be the first time since the Pac-10 became the Pac-12 that teams will play every other school in the conference.
It also means that the football schedule may just have gotten significantly harder for the Bruins because UCLA was not scheduled to play Washington or Oregon this season and an eleven-game schedule would add the Huskies and Ducks to the schedule.
While the schedules for the other fall sports had not yet been announced, the change looks to hurt the men's soccer team the most. Last season, the team earned four of its six wins in non-conference play and only won two conference matches.
The women's soccer team will be hurt by the change as well, but not because they had a tough time with Pac-12 opponents last year. These ladies played about equally well against both non-conference and Pac-12 opponents in 2019. But, the team will not gain the experience they have gained in the past by facing some of the best teams in the country in non-conference play.
The same could be said about the women's volleyball team, though, last year's young team didn't fare that well against non-conference opponents, going just 6-5.
Of course, this could all become moot in the weeks to come. Personally, I don't think college sports will happen this Fall. The Ivy League cancelled all Fall sports this year. I think the only reason Power Five conferences haven't followed the Ivy League's lead is because the Power Five schools are doing everything they possibly can to avoid cancelling completely at this point — and there's one reason why: money.
It would be extremely costly for the Pac-12, or any Power Five conference for that matter, to cancel football. Football is the sport which drives revenue at these schools and it is football which essentially pays for most other sports.
Heck, the fact that Stanford announced this week that the school will drop eleven sports may very well be one of the best indicators we've seen as to whether or not football, or any college sport, will be played this Fall. Stanford admitted that they can't afford to keep fielding teams in these eleven sports any more. Where do you think the money was coming from before for these teams? Of course, football!
It's hard to field so many teams if there is no revenue coming in from football and that's what Stanford essentially admitted this week.
Will there actually be a 2020 college football season? Will it be played in Spring 2021 instead? We'll probably have a better idea in a few weeks, but, if I were heading to Vegas, I'd probably put some money on no.


Go Bruins!!!
---
Thanks again for supporting The Mighty Bruin. Your paid subscriptions make this site possible. Questions, comments, story ideas, angry missives and more can be sent to  to @TheMightyBruin on Twitter.