Discover more from The Mighty Bruin
Blog Of The Bruins, By The Bruins, For The Bruins
Over 1,000 subscribers
Spaulding Report: UCLA Focused on the "Ecosystem", Defensive Communication
Plus we get a glimpse of the starting offensive line, with a potential surprise in the group.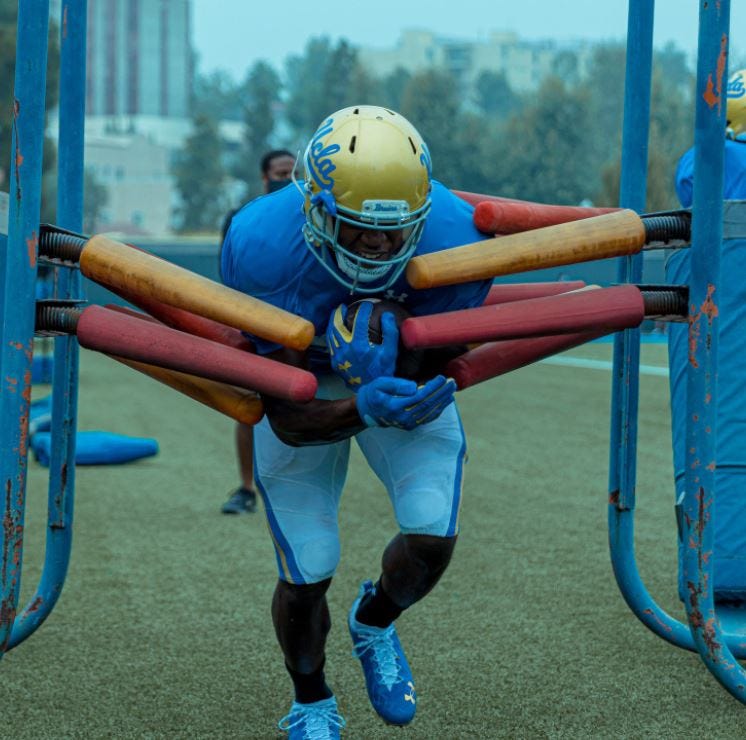 ---
Alright, let's get you caught up on another week of practice interviews, because that's as close as we're going to get to actual practice reports for the time being.
Let's start, as usual, with head coach Chip Kelly, who met with the media in his usual Friday spot. The beginning of his media session had reporters asking about the news that UCLA would be sticking with Under Armour for this upcoming football season. Of course, there really isn't much to this story - UCLA was never going to find a new apparel deal in time for the season without taking on ridiculously-bad terms, and UA was still providing the equipment for this coming season - and Kelly treated it as such, including being quick to shoot down any attempt by reporters to try and link UCLA to Nike due to his past connections.
After a section where Kelly answered questions regarding various players being out of practice - Martell Irby is day-to-day but should return soon, Steven Mason is in quarantine after coming in contact with someone who tested positive, and Collin Flinntoff is out for the year after undergoing surgery (that he only took when it looked like UCLA would play in the winter rather than fall) - a reporter asked how the "ecosystem" at UCLA worked in regards to the virus. I'm going to put Kelly's answer in full here because I find it fairly interesting.
And then on the second question, is that our players have done a really good job in protecting their ecosystem because if they want to play on November 7, we have to make sure that we keep COVID out, not only them, individually, but the team, collectively, because obviously you can see what's going on throughout the country. This disease doesn't discriminate. This disease is real and you can't let your guard down. Your responsibility on being on a team is to protect your own personal ecosystem, and the team, and not put yourself in situations where you're exposed to people that you don't have to be. You're trying to somehow create a small bubble for yourself. It's not like the NBA bubble where there's no one allowed on our campus. There's going to be opportunities that there are people that have been affected, that you may come in contact with but you got to be really conscious about what you're doing and how you're handling things and I think our players for the most part, they do a good job, but it's not one of those things that you should be patting yourself on the back because I can come in tomorrow morning and find out that we have 10 kids got infected. And it happens throughout the country there's so many examples of other sports, teams that look like everything's moving along great and then all of a sudden, you hear someone telling me, "Hey, we haven't had a case in a certain amount of days and then the next day, they've got 10." So, we all have our fingers crossed and we have to practice. Wear a mask. We have to practice washing our hands. When we really have to be really sharp with the social distancing aspect of things.
Frankly, I'm rather happy that Chip Kelly is saying these kinds of things, and not trying to tout any success the program has had in limiting exposure. We've seen plenty of cases in college football about programs trumpeting their success, only to immediately see a spike in cases (most recently with the Florida Gators), so Kelly's comments about remaining constantly vigilant and doing all the right things is an excellent concept to repeat. Plus, a bunch of players throughout these interviews reference taking care of the ecosystem, so it's clearly a message that is getting through to the team.
Let's move into player interviews. As with last week, all videos are courtesy of UCLA Athletics.
First up is a highlight of the defensive backs, with Stephan Blaylock and Carl Jones.
This was always going to be one of the more illuminating interview sessions, as the defensive backs would have had the most time with new coach Brian Norwood, so naturally reporters had plenty of questions regarding the new defensive coach. Blaylock mentioned that Norwood had the team working on press coverage more, which is a good sign for the defense. UCLA's secondary was very good at giving up efficient yardage in part because they played so much soft coverage, so playing more press is a good shift in philosophy. Jones similarly mentioned that Norwood wasn't necessarily bringing in a change in scheme, but that he has helped the defense become much more aggressive at the point of attack.
Another theme in both interviews was communication. Both Blaylock and Jones mentioned that the defense recognized that they needed to improve their communication at all three levels in order to be more successful. This echos statements made by Bo Calvert from last week, so it seems to be a big point of emphasis for the defense.
One last bit before I move on. Carl Jones mentioned that he had moved back into the linebacker room for positional meetings, so the "nickel" position (I put it in quotes because Jones kept emphasizing that it was more complex than just a standard nickel spot) is being considered a linebacker spot in the 4-2-5. It's not a huge deal, but it is an interesting shift compared to traditional nickel backs who are essentially just a 5th defensive back on the field.
Friday was our first chance to hear from members of the wide receiver group, thus we got probable starters Kyle Philips and Jaylen Erwin.
If I am being honest up front, these aren't especially illuminating interviews, in part because this group is fairly established and, more importantly, stocked with actual talent. Erwin, Philips, and Cota make for one of the better receiver trios in the conference, and they even added more talent this last recruiting class. If anything, the amount of praise Philips heaps on incoming freshman Logan Loya in his interview is a pretty good sign that we can expect to see him contribute this season.
If there's anything to really take away here, it's that both Philips and Erwin sounded excited about gaining another year of eligibility. Erwin especially seemed excited that his UCLA career won't be ending this year, and unprompted stated that the extra eligibility is a good thing for the unit as it allows them to develop and really set a high standard going forward.
Our Sunday interview slot went to UCLA's two new grad transfer defensive backs, and Qwuantrezz Knight and Obi Edoh had media sessions.
Knight's interview is great, in part because he has such a good head on his shoulders. Knight repeatedly mentioned that his main role with the team is to provide leadership for the group, and to be a role model for the younger players. At no point does he state that he transferred in for playing time, but instead saw a chance to help grow the program. He states that Coach Norwood was a big part of his decision to come to Westwood, and that the nickel position is as much about "controlled chaos" as anything else, which fits into the prior interviews about being more aggressive on defense.
Edoh's interview is equally good, if a bit more revealing, as Edoh gave long answers to each question asked. Edoh mentioned in his interview that he's been practicing at all the cornerback positions in order to provide depth in case of a COVID outbreak, which fits into a Chip Kelly quote from this week stating that the team is cross-training positions to provide emergency depth. Edoh also mentioned that he likely has an unfair advantage of possessing multiple years of experience against Pac-12 foes, including years of actual game experience against UCLA's receivers, so he's able to bring that wealth of experience into film sessions and pick up on opponent tendencies quickly.
Monday's interview session featured the tight end position, with Greg Dulcich and Mike Martinez stepping in front of the media.
The tight end group was always going to be one of the more interesting groups to watch because this is the second year in a row that they've lost a starter to the NFL. Last year Devin Asiasi was a more-than-capable replacement for Caleb Wilson, and earned himself a 3rd round selection as a result. Dulcich and Martinez (and newly-eligible Evidence Njoku) have some rather big shoes to fill, and they seem to recognize it. Dulcich actually got a shout-out in Kyle Philips interview as being poised to have a big year, and Dulcich stated that he added 20 pounds of muscle in order to step into a bigger role. Martinez mentioned that he felt the game was starting to slow down for him, something that happens for a lot of guys after their first season at the college level when things start to click. Evidence Njoku actually got shout-outs in both Dulcich and Martinez's interviews, and I would honestly expect him to have a bigger role than expected.
We're finishing up these interviews with the offensive line, as this week we get Alec Anderson and Duke Clemens.
With Jake Burton's transfer, the plan always seemed to be moving Alec Anderson from a guard spot to right tackle, and he confirmed that's where he's taking most of his reps right now. Anderson gave the media the first statement about the starting line, stating that Sean Rhyan, Jon Gaines, Sam Marrazzo, Duke Clemens, and himself are running as the ones, with grad transfer Paul Grattan subbing in as well. Some of these names were obvious - Rhyan and Clemens started most of last year, with Anderson as a swing man - and Marrazzo locking down the center spot makes sense when looking at UCLA's depth chart, as he's the only one with any sort of experience at the position. The big question was going to be who would take the other guard spot opposite Clemens, and for now it looks like Gaines and Grattan are battling for the spot. Hearing Anderson announce Gaines in the starting five was a good indication that he's being given the first crack at locking down the spot, and if he can provide solid play at the position then it's a good sign for UCLA's line development going forward (for reference, Gaines was an unheralded 3-star prospect who committed out of nowhere on Signing Day in 2018).
The new offensive line's cohesion was mentioned as well, and Clemens mentioned that everyone on the line has a year of playing together under their belt. While the focus has (probably rightly) been on the lack of experience on the line, it has to be said that Clemens, Marrazzo, Gaines, and Anderson all got time together on the 2s during practice, and three of those guys saw game action with Rhyan last season. Plus they're all incredibly young - Marrazzo is the "old man" of the group, and he's only a redshirt sophomore. Especially with the extra year of eligibility granted, this group has the ability to grow into a quality unit over the course of the year, and set UCLA up for sustained success for years to come.
Two more Saturdays to go. Game week is almost here!
Go Bruins!