Discover more from The Mighty Bruin
Blog Of The Bruins, By The Bruins, For The Bruins
Over 1,000 subscribers
Spaulding Report: New Defensive Scheme the Focus at UCLA Football
Plus, the offense talks about their growth in Year Three of Chip Kelly's system.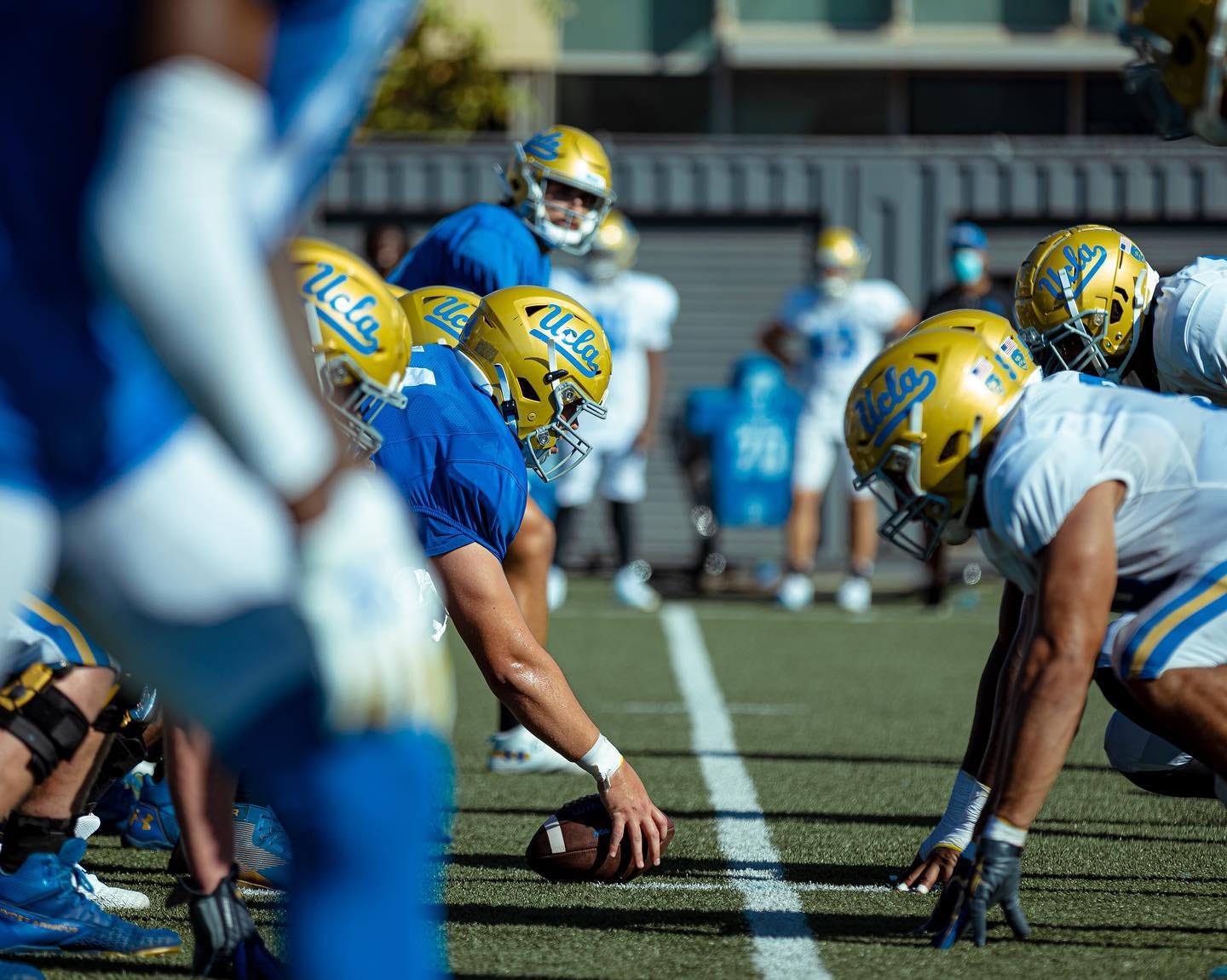 ---
UCLA has been practicing since last Friday, but without actual practice reports due to COVID-19 precautions, it's been hard to gauge how the practices have been going. It's made trying to get information together for these Spaulding Reports a bit harder, and we're stuck trying to piece things together via media availabilities.
The new defensive scheme seemed to be a big focus for the team. Let's start with head coach Chip Kelly, using transcripts from BruinReportOnline.
Media: What went into, the players have been talking about it, you've switched to what is pretty much a 4-2-5 on defense and how big of a role does [DB coach] Brian Norwood in the conception of that scheme?

Kelly: That's our nickel package so it's just an adjustment in our nickel package, so we still have the base package and the nickel package. So we haven't really changed. I think, Brian changed, some of the techniques, how you teach us things, and some of the terminology, on how we teach systems so you know [former DB coach] Paul [Rhoads] may call it black and Brian calls it red because that's what Brian understands it as, so I allow our coaches flexibility like that. Same thing with Coach [Johnny] Nansen. Johnny's added some stuff from what he's done. Really the 4-2-5 spacing is nickel spacing, which we ran, actually, I think we were a nickel more than were in base because in this league right now, there's more spread offenses. so you face more 10 and 11 personnel then you do more 21 and 12 personnel. So it's still dictated by what the other team is going to present to you. If we're going to play like a Stanford and they're going to be in 21 and 22 personnel than we would be in bigger base personnel with three down linemen readout and four linebackers and four DBs. So, really it's what the offenses that we're going to face and how they position themself. But when you go back to our breakdown on a year ago, we were actually in four-down, nickel, more than we were in base just because of the teams we played.
It's an interesting approach to the question from Coach Kelly. On the one hand, he's right. The switch to a 4-2-5 is not a huge change for this defense, as much as it is a shift to a nickel scheme on a more permanent basis. But it does seem that Kelly is dodging the question a bit, as the media member asked what went into the shift to the base defense being 4-2-5. The answer is that the defense under defensive coordinator Jerry Azzinaro has underperformed for two years and new DB coach Brian Norwood was brought in, in part, to help fix the issues plaguing the defense. Norwood primarily ran a 4-2-5 defense, which helps explain the shift more than Kelly's response that it better fits the conference.
The arrival of Norwood and, to a lesser extent, new defensive line coach Johnny Nansen and the resultant shift in defensive philosophy was one of the focuses for the first round of player interviews on the defensive side. On Saturday, defensive lineman Osa Odighizuwa mentioned that the shift in defensive style allowed him to get more vertical in the rush game, which was a positive, and said that Coach Norwood brings a lot of good energy to the defense, creating an atmosphere where there is a better understanding of what is needed from the defense. In a similar vein, defensive lineman Tyler Manoa highlighted the energy Coach Nansen brings to the unit. Here is their interview. All interviews are courtesy of UCLA Athletics.
The next day featured Leni Toailoa and Bo Calvert. The two linebackers were essentially the only returning players with any UCLA experience at the linebacker spots, especially with Carl Jones being more of a nickel back in this "new" system. Toailoa's interview focused on how he is stepping up into a leadership role, while Calvert's interview had more focus on the new defensive scheme. I really enjoyed Calvert's interview because he gets into the nitty-gritty of the scheme and the jump linebackers make from high school to college as far as play recognition. Just going off of how he is able to break things down, I would expect Calvert to make a leap this season.
Shifting over to the offensive side, it makes sense that the first media availability of the season went to quarterback Dorian Thompson-Robinson. DTR is entering a crucial third season as the starting quarterback and went into his process of working on his game during the downtime. Thompson-Robinson mentions that he was flying to Dallas to work with a quarterback coach every other week. He also spent time in Westwood working with the receivers and is confident about his conditioning heading into the season. I think the most interesting answer came when he responded to a question of how he's different in his third year by saying that he's more focused than he may have been in the past. He tried to qualify his answer by saying that he had focused in prior years as well, but I do think it speaks to his growing maturity and leadership that he recognizes how he needed to grow to become a better quarterback and locker room leader.
Moving on, the offensive line took center stage on Tuesday with Sam Marrazzo and Sean Rhyan meeting with the media. A good amount of the questions for both guys focused on new grad transfer Paul Grattan from Villanova and how he's fitting into the unit. Marrazzo got more questions on this aspect because he's actually rooming with Grattan. But, perhaps, the biggest theme in both interviews was that the offensive line still seems to be in some sort of flux with all of the losses this offseason. Rhyan mentions that Alec Anderson has stepped into the right tackle spot, as expected, but Marrazzo mentioned that there's a lot of rotations and no one is really locked into a starter spot (outside of, I assume, Rhyan at left tackle), and it makes sense. Marrazzo, for example, has a lot of experience at both center and guard, and the Bruins have a need at both spots. So, it makes sense that Marrazzo could be rotating to find the best combination of offensive linemen for this group.
The running back group got the spotlight on Wednesday with presumptive starter Demetric Felton and redshirt freshman Keegan Jones taking the podium. Felton stated that his main goal is to make plays and he doesn't care if that keeps him in the backfield or flexed out in the slot. That's a great perspective to take, especially because Felton was most effective when he was moved around the field as a threat to both run and catch. Just from his interview, you can tell he's one of the major team leaders.
Keegan Jones being the other interview from the running backs group is a surprise, in part, because he did not play last year. Felton mentioned that Jones has been the most impressive running back in practice so far, and various rumblings have mentioned Jones opening eyes with his play, but to see him get the interview slot is a sign that he could be in line for a major role now that Joshua Kelley is with the Chargers. It does feel like the media members in attendance weren't necessarily expecting Jones, as most of his questions sit on the more generic end of "How did you stay in shape this offseason?" to "How does Demetric Felton look?". Still, Jones gives some honest answers and it's a solid interview.
We've got three more Saturdays to get through until we have UCLA football again.


Go Bruins!
---
Thanks again for supporting The Mighty Bruin. Your paid subscriptions make this site possible. Questions, comments, story ideas, angry missives and more can be sent to  to @TheMightyBruin on Twitter.