Martin Jarmond is the Right Choice for UCLA's Next AD
After 18 years of having Dan Guerrero running the UCLA Athletic Department, Bruin fans should rejoice in Jarmond's hiring.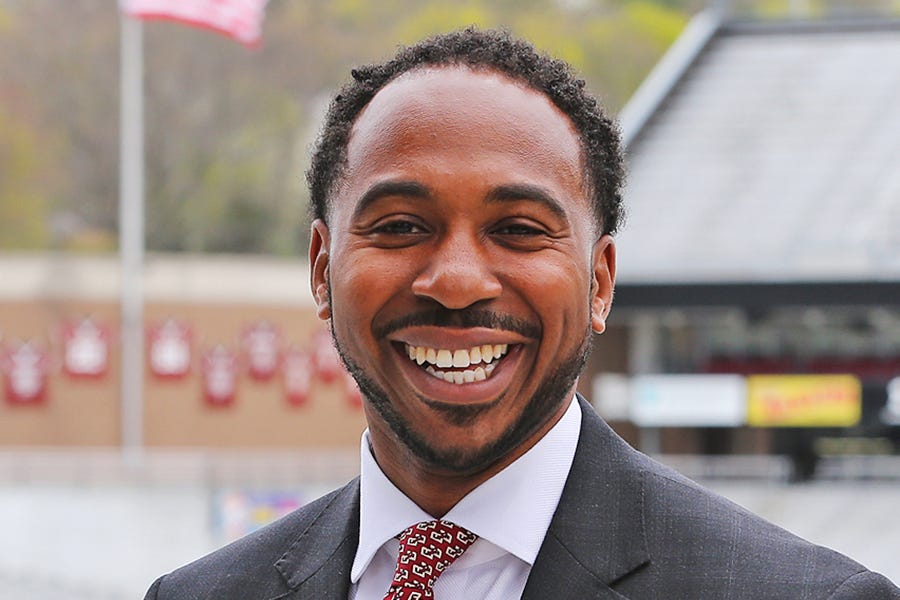 (Photo credit: Boston College Athletics)
---
OK, we can all now take a collective breath.
The hiring process for Dan Guerrero's replacement has been completed — and, more importantly, it's been completed without the bungling that UCLA is known for in hiring searches.
Sure, it seemed like things were headed that way.
It seemed like the wrong search firm was hired. It seemed like internal candidates were initially preferred choices. The names being bandied about for months were less than exciting.
But, in the end, it sure looks like UCLA has gotten an excellent candidate. He checks off the boxes I think most Bruin fans who have been paying attention were hoping for.
Let's take a closer look at what Jarmond will be bringing to Westwood.
First, he's a guy who has previously worked at Power Five schools known for top football and basketball programs. In another words, unlike Guerrero when he was hired, Jarmond brings experience working in athletic departments with excellent football and basketball programs. He even has a Twitter account!
Think about that for a second.
Jarmond has worked at both Ohio State and Michigan State. At Ohio State, Jarmond worked as the lead administrator for football. This is a guy who knows that football drives an athletic department. That's important because, as respected Pac-12 writer Jon Wilner wrote, the "Bruins…have to win their way out" of the huge budget problem that Dan Guerrero, the "good financial manager," has left him with.
Second, he's a young guy. Again, Jarmond is the antithesis of Guerrero. This is a guy who — gasp! — engages fans and students! It seems like every time UCLA has had a coaching search under Guerrero there have been some fans who want to hire a proven winner, hoping they will re-create the magic they had elsewhere and there are others who want to hire an up-and-coming young guy. Jarmond certainly qualifies as an up-and-coming guy while also having helmed a Power Five program for the past three years. So, in that respect, he really checks off both boxes.
As Dimitri pointed out in his article earlier today, the biggest question mark surrounding Jarmond is his ability to hire coaches. But, let's look at this a little more.
Jarmond fired Steve Addazio in December after seven mediocres seasons. Given that Jarmond had only been at BC for three of those seasons, that tends to show that he won't settle for an underperforming football program.
But there is something that is concerning.
In 2018, Jarmond extended Addazio's contract by two years while he still had two years remaining on his contract. That's concerning because it's the most Guerrero-esque thing he may have done at Boston College, especially considering that just a year later Addazio was fired. Hopefully, Jarmond has learned from his experience with Addazio that extensions need to be earned on the field with a winning program and not just for the sake of an agent wanting an extension for his client.
There has been speculation that Jarmond may have encountered resistance from the BC administration when it came to firing men's basketball coach Jim Christian, who has been under fire for several years, and that situation may have been what ultimately resulted in Jarmond deciding to leave the school for UCLA. If that's the case, Addazio's extension may have also been caused by the BC administration, but that's just speculation on my part.
While he is known as being a prolific fundraiser, ultimately, Jarmond is walking into a situation where he may face donor fatigue from years of UCLA asking for more and more money from donors without the kind of success which has been expected.
So, how can Jarmond solve the budget problems UCLA Athletics has?
I'll look at that next time.


Go Bruins!!!
---
Thanks again for supporting The Mighty Bruin. Your paid subscriptions make this site possible. Questions, comments, story ideas, angry missives and more can be sent to joe@themightybruin.com, or to @TheMightyBruin on Twitter.