Flashback Friday: UCLA's Improbable Comeback vs Texas A&M in 2017
Join us for a watch-along of a fantastic game.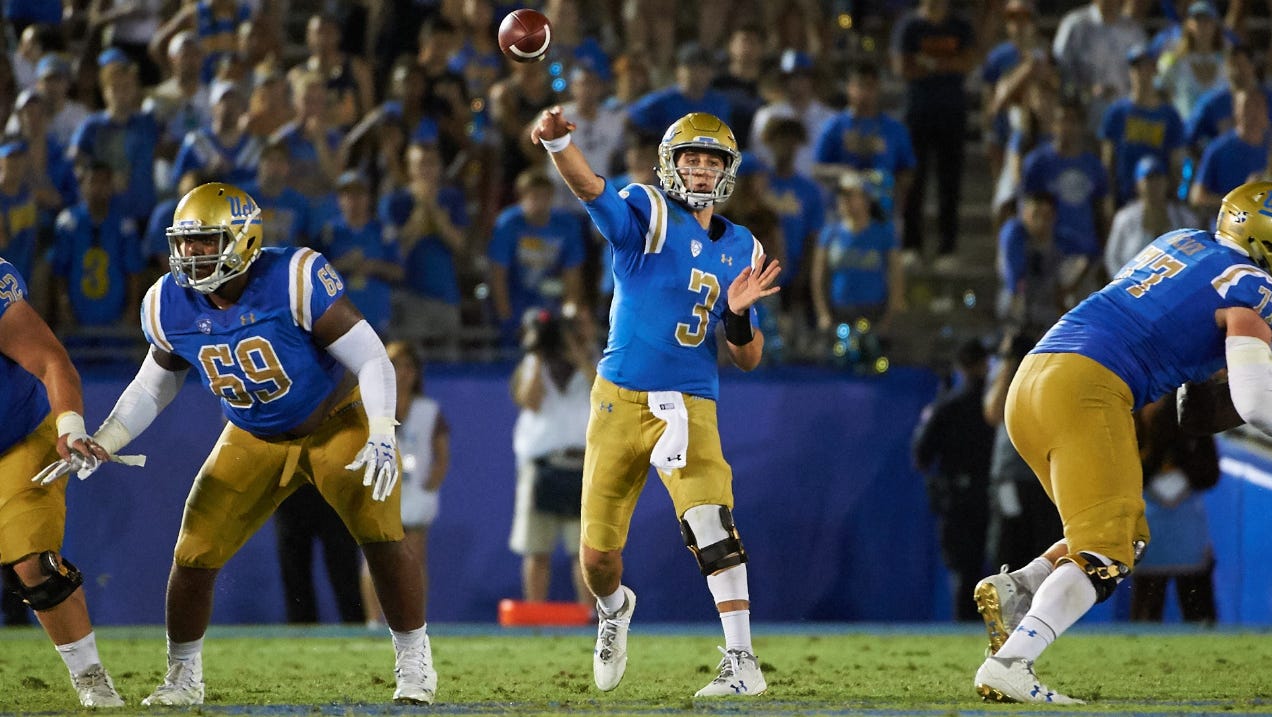 (Photo credit: Don Liebig/UCLA Photography)
---
With the sports world being shut down thanks to COVID-19, it leaves us in a bit of a pickle, because there aren't any active sports to talk about. Sure, we are keeping up with what little recruiting news there is, but we don't even have spring football to kick around. We're honestly at the point where I briefly considered doing recaps of MTV's The Challenge: Total Madness (which I almost want to do, the show remains one of the best things on television). But I do have an article concept that can work pretty well going forward: Flashback Friday.
Here's how this will work. Every Friday I'll write about a game from UCLA's past that is easily accessible via Youtube/Vimeo/ESPN. This doesn't have to be the two big sports; honestly, I'd love for there to be some full games or matches from something that isn't football or men's basketball, but I have a feeling those two sports will dominate the proceedings. Once a game is selected, I'll post the game here so you too can watch along. And if you have a game you'd like to see me write about, leave a link to a full video in the comments!
I'm always going to leave my comments as something of a running journal. I'll mention a timestamp of the video for anything in particular I want to point out, but this will definitely be a bit free-flowing in nature.
With that said, let's get to the first game, one I was at and still have no idea how it happened: UCLA hosting the Texas A&M Aggies to start the 2017 football season.
FIRST HALF
I chose this game in part because I had just rewatched it last week when FS1 put it up for replay. The Sweet 16 game against Gonzaga is also probably going to happen soon for a similar reason.

The pregame video from Fox is a good reminder that this was a really big game! Both head coaches were on the hot seat heading into the season thanks to a disappointing 2016, and UCLA was trying to prove that all the money they had poured into the program (most significantly showcased through the newly-opened Wasserman Football Center) would pay off. Oh, and this was Josh Rosen's return game after missing half of the previous season to injury, and he needed to quiet some naysayers.

Oh yeah, I also forgot this game was on a Sunday! It was literally the big showcase game that day! And for two programs that really should not have been in that position! The announcers (I'll get to them in a bit) also mentioned this was the year UCLA had switched sidelines, which coincidentally was the year I switched sides of the Rose Bowl.

(7:48) This is the first time Rosen had to throw in this game, and for some reason on a 3rd and 9, the Aggies chose to only rush three and send the rest back into coverage. Rosen was just too good of a quarterback to be given that kind of time to work, and if you're looking for signs, the first catch went to Jordan Lasley, who became an absolute force for the Bruins this season.

At the time, I thought UCLA's inability to finish their opening drive would be a sign of things to come. Oh to be so naive.

Boss Tagaloa was a starting defensive lineman in this game, if you're wondering how far in the past this was.

(19:34) Oh hey, the first personal foul of the game! I really do not miss this aspect of the Jim Mora era.

The Aggies were clinical on this opening drive, and if you were a UCLA fan at the time, I imagine you weren't super thrilled by the sight. It's hard to remember, but UCLA's defense was not the weak link of the last few years of the Mora era (until this year, of course), and if anything had done their darndest to keep the Bruins in games in 2016. But in some aspects, this was a sign of how the 2017 season was going to go: the UCLA defense was going to burst into a sieve, and it would take a herculean effort from Rosen to give the Bruins a chance to win.

You can see in the early going that new offensive coordinator Jedd Fisch was seeing what he could do with the UCLA offense. On some level, I think he knew he couldn't return to the power offense Kennedy Polamalu had tried to instill the year prior, but Fisch also knew he couldn't risk Rosen getting hit too much, so there were a lot of quick throws to the outside. Watching Fisch figure out what worked and what didn't is one of the more fascinating plotlines to watch in this game.

(24:48) John Chavis, the Texas A&M defensive coordinator, clearly learns from his mistakes, because this time on a third and long, he sends a blitz, and UCLA's poor offensive line couldn't handle it. Rosen gets stripped of the ball trying to make a play, and the Aggies are in business. And to add insult to injury, the hit Rosen takes is a pretty big one.

(26:35) Honestly, this is pretty good coverage by true freshman Darnay Holmes on a fade route. Holmes uses the sideline as an extra defender and makes it impossible for the Aggie receiver to catch the ball and be inbounds. Holmes was not great last year, but I think you could cut up some impressive tape from his first few years and see why he could be drafted within the top three rounds.

You'll never believe it, but Noel Mazzone got too cute inside the 10-yard line and the Aggies were forced to kick a field goal. I have to imagine a sizeable portion of the UCLA fans in the Rose Bowl were twitching involuntarily while this mini-drive was taking place.

(30:24) Hahaha this first quarter is such a train wreck for UCLA.

(40:40) The first half has a lot of back-breaking plays, but giving up a 3rd and 13 conversion on a simple inside zone read while having the Aggies pinned inside their own five-yard line has to rank up there. The craziest part is that UCLA's safeties are just nowhere to be seen on the play, which makes it very easy on the pulling Texas A&M center to just make one simple block on Kenny Young and free up his running back for a huge gain.

(44:16) It's interesting that Jedd Fisch has seemingly given up on a traditional run game by the end of the first quarter. UCLA is still trying to do something with its ground attack, but the first two plays are a toss to the outside and a jet sweep.

(46:38) Speaking of back-breaking plays/drives….The Aggies start this drive from their own one-yard line.

When Texas A&M went up 24-3, they were leading the total yardage battle 230 to 52. I know total yardage isn't a great measure of an offense, but yowza.

(55:01) Kellen Mond is going to take over at quarterback for this series for Nick Starkel. It isn't permanent yet, but something to keep an eye on.

What's amazing about this second Kellen Mond drive is that at no point did it really appear that the Aggies wanted Mond to throw the ball. The touchdown drive is almost completely done on the ground, as UCLA just had no answer for the run. From what I remember, that became a theme for the defense in 2017.

(1:09:52) You can really hear the very-sarcastic cheer from the UCLA faithful after the Bruins pick up a 1st down for the first time since the opening drive.

(1:10:00) And then Rosen follows that up with an absolute bomb. Maybe this was a sign of things to come, but Rosen to Lasley deep became something of a calling card for the UCLA offense as the season progressed.

(1:14:19) You have to hand it to the UCLA defense in 2017 - they knew exactly how to ruin any good mood you might have been experiencing.

(1:14:45) I don't subscribe to the "This moment of disrespect changed the game" theory that sometimes happens in sports, and I don't think it really happened in this game (there are a few bigger factors that lead into the turnaround) but Trayveon Williams's walk with the cane really did become one of sports' biggest "pride comes before the fall" moments, huh?

(1:15:06) JERRY NO GET OUT OF THERE COME HOME THIS INSTANT!

(1:22:00) This was the final cherry on what is maybe one of the most disappointing opening halves of football in UCLA history. The UCLA defense looks nonexistent, and the offense again can't protect Josh Rosen to save their lives. Even on rewatch, it is still crazy that UCLA comes back in this game considering what I've watched so far.
SECOND HALF
(1:31:57) Austin Roberts subs into the play late here, lines up on the outside of the line, and just gets absolutely worked on a blitz. It allows a free rusher on Rosen who gets a strip-sack, and the second half is, in many ways, starting similarly to the first. To add insult to injury, Roberts had the first crack at the loose ball and just whiffs on the ball.

(1:35:54) There are a lot of plays that one could point to as being the big shift in the game, but for my money, this is the biggest one right here. The play itself is not much to look at - Nick Starkel is forced out of the pocket and eventually sacked to force a 4th down field goal attempt - but it's the aftermath of the play that really turns the game, as Starkel is injured on the play and would not return. Texas A&M was forced to play Kellen Mond the rest of the game, and Mond was not much of a threat to throw the ball, so it allowed UCLA to key in on the run and start getting defensive stops. Rosen's heroics mean nothing if this does not happen.

(1:47:54) Here it is, the last Texas A&M points of the game. The drive that led to them was full of little things that UCLA would eventually clue into on defense, especially Mond's shaky arm, as he missed on more than a few easy throws.

(1:49:32) I remember this game being Caleb Wilson's coming out party, and you can see why. He's such a mismatch for the poor linebackers trying to guard him, and he's deceptively quick for a tight end.

Because UCLA is down 44-10, the announce team takes to talking about Rosen's offseason comments about the NCAA not doing enough to take care of student-athletes. Joel Klatt takes to trying to defend the NCAA here, but two years later, with the NCAA being forced to figure out a new path forward for image and likeness rights, Rosen's comments really start to look prescient.

(1:52:58) One of the more surprising aspects of this game was that Soso Jamabo looked like a much better running back option than Bolu Olorunfunmi. Jamabo had the quickness that Bolu lacked, and he was very decisive when given the opportunity, something that had not been the case to this point in his UCLA career. In this play, he sees he has a shot to the outside and is fast enough to take advantage for the walk-in score. It's simple, but simplicity was extremely lacking in the UCLA run game throughout this game.

(1:57:11) I'm highlighting this because it is something we just do not see a lot of under Jerry Azzinaro's defense, but this is a 3rd and 4, and the defensive backs are playing right at the line of scrimmage, with safety help over the top. This is a common-sense defense as it gives the defensive backs the opportunity to break up a quick conversion pass (as Jaleel Wadood does here) while protecting against a deep pass. The defense also has the run game covered - while the four Bruin rushers do get pressure pretty quickly, Kenny Young is acting as a spy on the play and is athletic enough to run down Mond should he choose to run. For as bad as the UCLA defense was in 2017, you could at least see that the defensive staff knew what they were doing schematically - they just could not coach up the players to be consistently good.

(2:01:29) UCLA has almost completely abandoned the run game at this point, but Texas A&M is still respecting it despite how the previous three quarters have gone. That leads to this play where the linebackers bite completely on a play-action, allowing Caleb Wilson to slip behind them for a 20 yard gain. Then on the next play, Rosen uses a little pump fake to freeze the safety long enough to get Wilson another 20+ yard gain. The impressive part is that Wilson is routinely beating Armani Watts, who was supposed to be the best defensive player for the Aggies.

There's a train of thought in football circles that big leads are given up in part because a defense will go prevent, but watching the game again, Texas A&M is still running their base defense. The biggest difference is that the front four is just not getting the same amount of pressure they had been in the first three quarters. That is allowing Rosen to get set in the pocket, and for the receivers to run their routes downfield. The offensive line steps up down the stretch, and it is going to directly lead to a victory.

(2:04:29) "Stranger things have happened." Ok, finally time to shout out Gus Johnson, who was phenomenal in this game. Joel Klatt as well may be my favorite color analyst in college football, with how attentive he is to details and explaining the small things that create big moments.

(2:13:55) I have watched this play countless times, and I still have no idea how that ball gets to Darren Andrews. First off, Rosen does not step into this throw at all - it's just pure arm strength. If he steps into it, the ball gets to Andrews easily, as he's just completely beaten his man deep. And then again, the ball goes right through the hands of the Aggie defender. Sometimes it's better to be lucky than good.

You have to feel sorry for Trayveon Williams and Keith Ford. They had an outstanding game, and the fourth quarter is going to make everyone forget about that.

(2:16:53) Boy, I also really didn't miss the unsportsmanlike conduct penalty issues either.

(2:20:08) Another play that could have decided the game, but Kellen Mond stepped out of bounds after turning the corner. Again, sometimes it's better to be lucky than good.

(2:22:25) Remember how I said the switch to Mond from Starkel would be a big factor in this comeback? Well, here's Mond committing a true freshman mistake by not throwing the ball away and taking a 10 yard sack. This directly leads to a blocked FG attempt that could have iced the game. Lucky > good.

(2:25:58) This is a surprisingly gutsy play call on aa 4th and 3. Conventional wisdom is that you run a quick slant of some kind to pick up the first down, but with Texas A&M sticking with their base defense instead of sending a blitz, it lets Wilson once-again pick on a linebacker, and Rosen is given the time in the pocket to deliver another fantastic pass. And of course, you add a 15 yard penalty on top of it for a huge gain.

(2:28:25) Haha what an insane throw by Rosen. Dude is on his back foot and throws a pass that has no business even getting to the end zone. On slow-motion replay, it becomes evident that Theo Howard was really the only player who could make a play on the ball on either team, as Texas A&M had inadvertently set a pick on themselves, freeing Howard up for the ball.

(2:32:57) I have no idea why Noel Mazzone, with a lead and a rushing attack that has been incredibly successful all game, calls for his shaky true freshman quarterback to throw a quick slant route on a 2nd and 8. Forget that the ball is nearly picked because it's a bad throw; UCLA only had two timeouts going into the drive, so even if they stop you on three straight run plays (not a given) you still end up giving Josh Rosen the ball with no timeouts and maybe a 1:45 left on the clock. That's a much better situation than what eventually happens.

(2:38:33) One last time: lucky > good. Jamabo misses the blitz completely, Rosen throws the ball to avoid a sack, and everyone is lucky Texas A&M doesn't pick the ball off.

(2:41:27) What a gutsy play call against the blitz. Rosen takes just enough time to let the blitz get to him before dumping it off over the top to Jamabo, and Jamabo does what he needs to in order to pick up the first and get out of bounds.

(2:41:50) I. Love. The fake spike play. It's so good because the clock was stopped thanks to Jamabo going out of bounds on the prior play, yet Texas A&M bites anyway. And of course, the throw is to Lasley, who had just dropped a sure conversion two plays prior. The pass is just perfectly placed, and Gus Johnson is perfect on the call.

Josh Rosen's final stat line in this game: 35/59, 491 yards, 4 touchdowns. Insane. And if anyone ever tells you Rosen does not care about football, just show them this entire game, as he got the hell beat out of him for most of it and still put up those numbers.

The final Aggie drive is just a culmination of all the problems that popped up in the second half. UCLA showed absolutely no respect for Mond as a passer, bracketed Christian Kirk with two defenders, and just sent guys into the backfield. Even the last failed 4th down attempt relied more on Mond just trying to run for it than picking it up with his arm.

The part that always gets me at the end is Rosen's expression when he realizes Texas A&M isn't going to call a timeout, and that the game is over. He just collapses to the ground with a smile on his face, like some kind of mythological warrior whose task is complete.
EPILOGUE
I don't think I'll do this section as often, but I kept thinking about what this game ultimately meant, and the end result is: not much. By the end of this season, both the Bruins and Aggies had limped to a bowl game and had fired their head coaches. Texas A&M would go on to pay a ridiculous amount of money to Jimbo Fisher just so he could do the same exact thing Kevin Sumlin was doing, while UCLA is paying Chip Kelly to destroy his reputation.

For Josh Rosen, this was perhaps the high point of his football career. For the rest of 2017, he'd get beaten up and forced to put on brilliant performances just to give his team a shot to win, and then he'd get drafted by the Arizona Cardinals and put into a position that was even worse than the one he'd see at UCLA. A year later he'd be sent to the Miami Dolphins, where he's now in limbo as the Dolphins are expected to take a quarterback in the upcoming NFL draft. Rosen's entire football career has seen him put in bad situations, and it's a damn shame considering how much talent he has.
Give me some suggestions/videos for future Friday Flashbacks in the comments!