Flashback Friday: UCLA Walks into Rupp Arena and Shocks Kentucky
AKA: Lonzo Ball and the 2016-2017 Bruins announced their presence.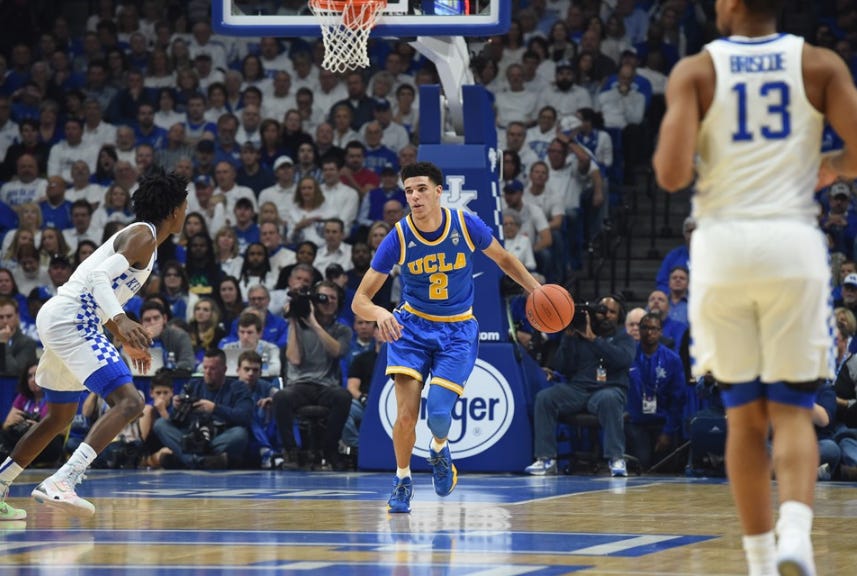 (Photo Credit: Greg Turk/UCLA Athletics)
---
Hey gang, welcome back to Flashback Friday! It's a weekly column so popular that cheap knock-offs have already started to appear! If that's not a sign of a good concept, then I don't know what is.
Just a reminder of how this works: Every Friday, I'll write about a game from UCLA's past that is easily accessible via Youtube/Vimeo/ESPN. This doesn't have to be the two big sports; honestly, I'd love for there to be some full games or matches from something that isn't football or men's basketball, but I have a feeling those two sports will dominate the proceedings. Once a game is selected, I'll post the game here so you too can watch along. And if you have a game you'd like to see me write about, leave a link to a full video in the comments!
For this week, I'm going to personally antagonize friend of the site Cameron Newton and take us back to the simpler days of 2016, when Lonzo Ball led the UCLA Bruins into the storied Rupp Arena and announced their presence to the rest of the college basketball world. It's really one of the more awe-inspiring team performances of the entire Steve Alford era, featuring a host of the standbys of the era, such as Thomas Welsh being unstoppable from the baseline, defense being optional for both teams, and GG Goloman being the clear best player on the court. Let's just jump into it.
First Half
So right off the bat, we should note all the talent on the court. The matchup between Lonzo Ball and De'Aaron Fox at the point guard spot obviously stood out at the time, but this game also features future NBA talents in Aaron Holiday, TJ Leaf, Thomas Welsh, and Malik Monk, to say nothing of Bam Adebayo, who at the moment has really turned in the best NBA career of anyone in this game.

(0:52) I don't think we ever truly appreciated the chemistry between Ball and Leaf. The two just worked off of each other perfectly, shown on this backdoor cut.

(1:03) And on the flip side, this defensive possession is fascinating for two reasons. For one, Ball is completely sagging off of Fox, and UCLA's defensive gameplan in part rests on not respecting Fox's ability to shoot. On the flip side, this is the third straight time down the court that player being guarded by Bryce Alford has taken the shot for Kentucky. Attacking Bryce was clearly the gameplan for the Wildcats, and you can't blame them since Bryce was very much the weakest defender on the court for the Bruins.

This early game is just so breakneck that it makes doing any sort of recap difficult, but I can't help but love watching De'Aaron Fox on defense. He's just so athletically gifted that he can make defensive gambles and still recover fast enough to take away driving lanes. Ball was and is still the better NBA prospect but you can absolutely see why one would make the case for Fox.

And also, it is only 16:12 into the first half and only two shots have come against non-Bryce UCLA defenders. It is almost comical at this point how much the Wildcats are targeting Bryce, and equally comical how much it is working.

The early game has turned into the De'Aaron Fox show. UCLA did not have a great defense (my main takeaway was that Lonzo was able to cover up a lot of the defensive issues just with his uncanny ability to always make the right defensive play) but Fox is really cooking whoever comes near him, and he's throwing in some excellent defense on Ball to go with it.

It also highlights that the UCLA defensive plan boiled down to hoping Ball could contain Fox enough. Every time that he fails, Kentucky is able to get an easy basket.

At the 12 minute mark, the Bruins had more turnovers (7) than made baskets (5). Honestly, it is a small wonder that they eventually take over this game and win fairly comfortably despite what the final score may lead you to believe.

(14:12) Alright, shut up everyone, GG's in the game!

(15:22) Talk about a momentum-swinging trip down the court. With the Bruins down 23-14, a Lonzo drive leads to open Bryce three-pointer. But GG Goloman also gets fouled while the shot is in the air, so the Bruins get an extra possession that ends in an Isaac Hamilton runner. Suddenly it's 23-19.

This also seems to be as good a time as any to talk about Bryce Alford, since the announce team is doing it. I agree with them to an extent, which is that Bryce truly did get a lot unfairly thrown at him from the fanbase. That said, Bryce became a target of ire because he was the poster child for everything wrong with the program at that point: the lack of any defensive ability, a shoot-first attitude, and a lack of any accountability. That all lies at the feet of his coach, and the fact that his coach was also his father exacerbated matters. If you're a coach with a son who has the opportunity to play for you, the only two times you should take him is if he's clearly going to be your best player, or if his ceiling is as a bench player. Anywhere else is just asking for trouble. In Bryce's case, he was never the best player on any UCLA team he played for but had enough talent to be a solid rotation piece. But that didn't seem to matter to Steve Alford, who played his son as if he was at the same foundational level as Lonzo Ball despite having a better player on the bench in Aaron Holiday. If Holiday and Bryce had switched roles on this team, I believe you would have seen a lot less anger thrown towards Bryce.

Ok, enough of that, let's get back to the game.

To let the veil drop a bit, yes GG Goloman does not play well in this game, which isn't that surprising considering he was basically the 4th post player in the rotation at this point, but one of the reasons I love GG is that he always worked hard and improved over his UCLA career, to the point where he was an integral part of the team the following year. He's just easy to root for, really.

Aaron Holiday has effectively taken over the game for the Bruins, and it couldn't come at a better time. He gave the Bruins a different look offensively, as he has the ability to drive on defenders that not even Ball really had, and he is showing off an ability to draw contact that helped him become a solid rotation piece with the Indiana Pacers.

There's also an interesting think piece I've been kicking around involving Holiday/Ball as Steve Alford's version of Howland's Westbrook/Collison decision versus Memphis (ironically also against John Calipari). Ball was clearly hobbled going into the Sweet 16 matchup, and Holiday was really the only Bruin who could keep up with De'Aaron Fox defensively. It's something that I've really started to think about while watching this game.

(29:17) And hey, it appears Steve Alford was at least aware of this fact. Holiday picks up Fox on this possession while Ball slides down to guard Weynen Gabriel.

(32:25) Aaron Holiday is a bad, bad man. This all starts with him ripping a rebound away from Gabriel, then pushing the ball upcourt, and finishing with him draining a three-pointer with Fox's hand in his face to give the Bruins the lead. Just an amazing display of individual ability.

(39:50) I think this is the first time the nation truly saw what would eventually become Lonzo Ball's UCLA calling card, which is the end of possession step-back three from the logo. He'd hit a more-famous one against Oregon a few months later, but to do this on the road at Kentucky was a big moment in the growing mythology of Lonzo.

Oh yeah, and UCLA somehow goes into the half up by 4. I'm still not quite sure how it happened beyond Kentucky's poor outside shooters falling in love with the outside shot. Unsurprisingly, Calipari would get that sorted out for the second meeting.
Second Half
(43:55) This play was so emblematic of the season for the Bruins. TJ Leaf was the first option, and when the Wildcats shut him down, he kicked the ball out to a wide-open Lonzo Ball. Instead of shooting, Ball then made the correct extra pass to an even-more open Isaac Hamilton, who drained a three from the corner. The offense could get into trouble with turnovers at times (like in the first half) but when they were on, they were pretty fantastic to watch.

(46:07) Everything about this offensive possession is amazing. Lonzo's initial drive gives Leaf the opportunity to blow past his defender on a close-out, then the Bruins get their first offensive rebound thanks to hustle from Ike Anigbogu. Ball secures the rebound, and instead of putting up an open shot from the key, he kicks out to Hamilton who once-again finds himself open from distance. Again Anigbogu grabs the offensive rebound, and the Bruins run a series of drives and kicks against a scrambling Kentucky defense that ends in a Leaf slam dunk. Just phenomenal stuff, and it was surprising that John Calipari did not immediately call a timeout to bring De'Aaron Fox back in.

If I remember correctly, this game was really Ike Anigbogu's coming out party. The third member UCLA's vaunted recruiting class, Anigbogu's start to the year was slowed thanks to a previous knee injury, and he was rather limited up to this point. Anigbogu did not really have a great year and was wildly inconsistent at times, but this was the game that made you realize he had some NBA potential. It's just a shame his knee injuries have really hampered his chances at the next level.

(50:47) Truly one of the greatest ad segues of all time. I can imagine Brad Nessler was just sitting there, waiting to make this joke all game. Bill Raftery loved it so much he referenced it again a few minutes later.

One of the more interesting subplots of this game was that Thomas Welsh was limited due to foul trouble. You can't blame him in some respects - even in college, Bam Adebayo was an absolute terror - but Welsh was an important cog in the offense, as he could clear out the lane with his shooting ability, allowing for more open drives for Ball, Leaf, and Hamilton. Anigbogu is an excellent rebounder but his offensive game was very limited, which meant Kentucky had more defensive options.

By the 10 minute mark, UCLA had figured out the Kentucky defense and was doing whatever they wanted to on offense. You could see the frustration on the faces of the Kentucky fans in attendance because the Wildcats are throwing everything at the Bruins and nothing is really working. Even Fox, who has been the best defender for Kentucky, is getting neutralized by UCLA just going away from him.

But on the flip side, at the 10:19 mark, Anigbogu picked up his 4th foul. So the Bruins were forced into either playing GG Goloman big minutes (which is the correct decision forever) or try going small. Alford would choose to start with the Goloman option.

UCLA has gotten away with the chicken arm a lot in this game. It's almost funny, really.

(1:06:00) I've reached the point where I want to start highlighting all the smart things Calipari does as a coach, simply because I don't think he gets enough respect in this regard. Take this moment, for instance: Calipari knows there are 21 seconds until the next TV timeout can be called, and with the game slowing down and becoming more physical, he assumes it will occur rather quickly once they hit that eight-minute mark. So he takes Adebayo out of the game to give him some rest, maximizing his rest time while minimizing the amount of in-game time he will miss. Even though the Wildcats lose this game, you can see Calipari doing the things that will set his team up for success later in the season.

(1:07:32) No joke, I still have this screenshot on my phone. It's a great reaction shot. Someone make a .gif of this guy for me, thanks.

Malik Monk has finally shown up to the game. His career is something I occasionally think about because he was an excellent college player who has completely disappeared at the next level, similar to TJ Leaf. Going back to this game is fascinating just on who has truly made it to the NBA out of this group, where you clearly have Ball, Fox, and Adebayo, with Holiday carving out a good role as well, while Malik Monk really just exists down in Charlotte.

(1:10:24) I forgot that the iconic image of this game, of Ball draining a three and then turning to shush the crowd, came with 5:19 left in the game. That's a sign of just how confident Ball is as a player, and how confident the Bruins were that they could close out this game.

(1:14:33) Supreme confidence moment: UCLA literally runs the same play for Thomas Welsh on two straight trips, and each play ends with the signature Thomas Welsh 15-foot layup. The first time is just an excellently-run play; the second time is bullying.

(1:18:40) This play really sealed the game and is a perfect example of using tendencies to set up your opponent. All game long, Ball had driven in only to kick out, so when Ball drives here, Kentucky's defenders all stay home. It leaves Ball with an easy layup.

Isaiah Briscoe really had a nightmare game here, didn't he? He steps out on the baseline three different times, including a crucial one late. Throw in some really poor shooting, and you could make the case that Briscoe is the difference between Kentucky winning and losing this game. In the second matchup, Briscoe scores less, but he takes half as many shots and crucially doesn't turn the ball over.

With 30.7 seconds left, UCLA goes up 94-83. As I said, the final score doesn't really show how comfortably the Bruins ended up winning this game.

I said that, and still, UCLA really did try to throw this game away. Especially with Bryce Alford doing that weird thing where he starts missing free throws late despite being a great free throw shooter. The Bruins in general were sloppy in those final moments, which didn't help either.
Epilogue
UCLA and Kentucky would meet again in the Sweet 16. Kentucky had done that thing where they improved as the season progressed, while UCLA had done that thing where they were essentially still the same team as they were at the start. Kentucky ran away with the second matchup.
For UCLA, this season was the high point of the Steve Alford era, but also laid bare the problems that would end his tenure two years later. The Bruins never seemed to improve over the course of a season, were dreadful defensively, and relied too much on hero ball on offense. It was a recipe for disaster, and disaster is exactly what the Bruins got, especially once a generational talent like Lonzo Ball wasn't around to bail Alford out.
There is, of course, the fun alternate reality where John Calipari isn't using UCLA for leverage to get a better contract from Kentucky and instead chooses to come to Westwood. I'm extremely happy with Cronin after his first year but there's no denying that Calipari would have found a high level of success with the Bruins, having first pick of the elite west coast talent on a yearly basis.
As for the players, Bam Adebayo really comes out of this game as the best current NBA player, as he made the All Star team this past year. Lonzo Ball became the heralded #2 overall pick by the Los Angeles Lakers and would be traded away two years later to land Anthony Davis.
Go Bruins!