Discover more from The Mighty Bruin
Blog Of The Bruins, By The Bruins, For The Bruins
Over 1,000 subscribers
Fixing UCLA Athletics Begins Today
It does very little good to look back on the past 18 years of Dan Guerrero's tenure. Instead, let's look to the future.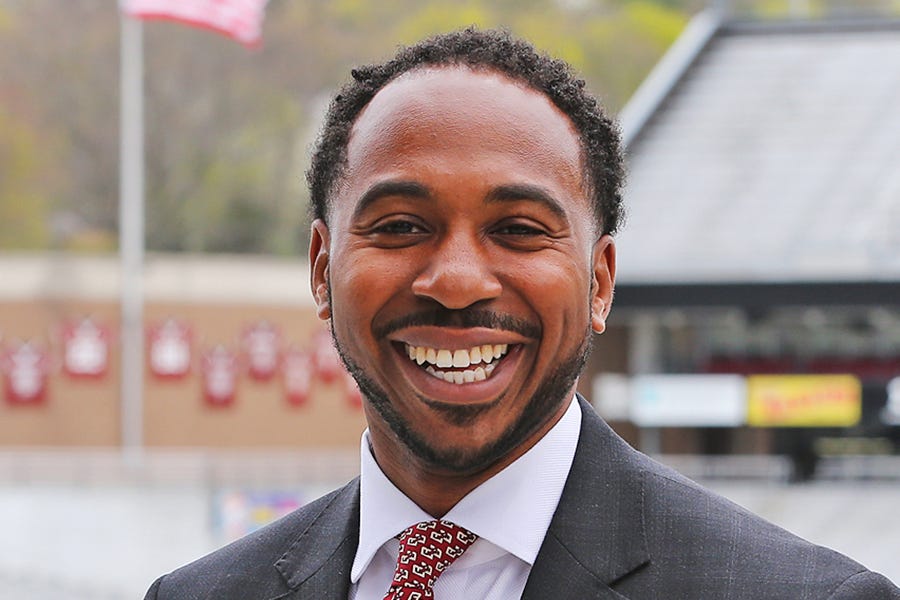 (Photo credit: Boston College Athletics)
---
It's a great day to be a Bruin!
It has been a long 18 years with Dan Guerrero at the helm of UCLA Athletics, but his tenure is officially over. I know I've written plenty in the past about why this day was necessary, but I don't want to spend much time rehashing old stuff.
As much as some may expect me to be celebrating this day, I'm not particularly overjoyed at the moment. Why? It's probably got more to do with the fact that I'm concerned.
I'm concerned because we appear to have been witnessing the unraveling of many of the good things that Guerrero and the Athletic Department have accomplished recently.
The first thing is the continued unraveling of the football program. To be fair, the football program started unraveling when Bob Toledo was fired and maybe even before then. You could even argue that it began when an officials in Miami decided that Brad Melsby was not down and it has never fully recovered.
More recently, when the players requested a third-party monitor to protect their health, it demonstrated that they don't really seem to trust the coaching staff to look out for their best interests, despite Dorian Thompson-Robinson's denial of that.
Over the weekend, we watched the UnderArmour deal get terminated. It's almost certainly due to the Force Majeure clause of the contract given the timing of UA's letter to UCLA.
But, it's gotten even worse.
On Monday, respected Pac-12 columnist Jon Wilner wrote that Learfield/IMG College is attempting to renegotiate their contract with UCLA which could cost the department even more money.
Of course, all this is happening at a time when UCLA's budget is an absolute mess after running a deficit for the second year in a row.
The saving grace of Guerrero's tenure has always been Gene Block's claim that Guerrero is a good financial manager. I think the current situation may just finally prove otherwise.
The bright side to all this is simple. Dan Guerrero won't be the guy in charge trying to fix all this.
And, that's a good thing because I don't think anyone outside the Athletic Department would believe that he could get it all fixed. At the very least, I think it would be hard to find anyone who would be very confident that he could get it done.
Today, Martin Jarmond officially inherits a department which appears to be in an even worse mess than when he applied for the job.
It's important that Bruin fans maintain some semblance of patience as Jarmond takes over.
I have some experience taking over a ship that was heading in the wrong direction and, frankly, it is going to take Jarmond some time to get everything moving the way it should. I expect him to come in and make some changes over the next six months or so which fans can see and some they will not see as he starts to change the culture of UCLA Athletics.
Hopefully, the bureaucracy that is UCLA reacts well to Jarmond's changes. While I'm not sure what changes Jarmond may implement, right now, he has my full support because I know how hard his job is going to be over the next year in particular.
It may take even longer than that to get the department back moving in the right direction. One thing is certain. Nothing is going to get fixed overnight.
Will he be apply to right the ship and get UCLA Athletics back to where it should be?
Honestly, I'm not sure, but I'm sure as hell rooting for him to get the job done. Bruin fans everywhere should be doing the same.
UCLA needs him to be successful.
The process of fixing the problems facing the UCLA Athletic Department begins today.
It's a great day to be a Bruin, indeed!


Go Bruins!!!
---
Thanks again for supporting The Mighty Bruin. Your paid subscriptions make this site possible. Questions, comments, story ideas, angry missives and more can be sent to joe@themightybruin.com, or to @TheMightyBruin on Twitter.