Daishen Nix Decommits from UCLA to Enter G-League
It's a huge blow to Mick Cronin's rebuild, but it says more about the state of college basketball.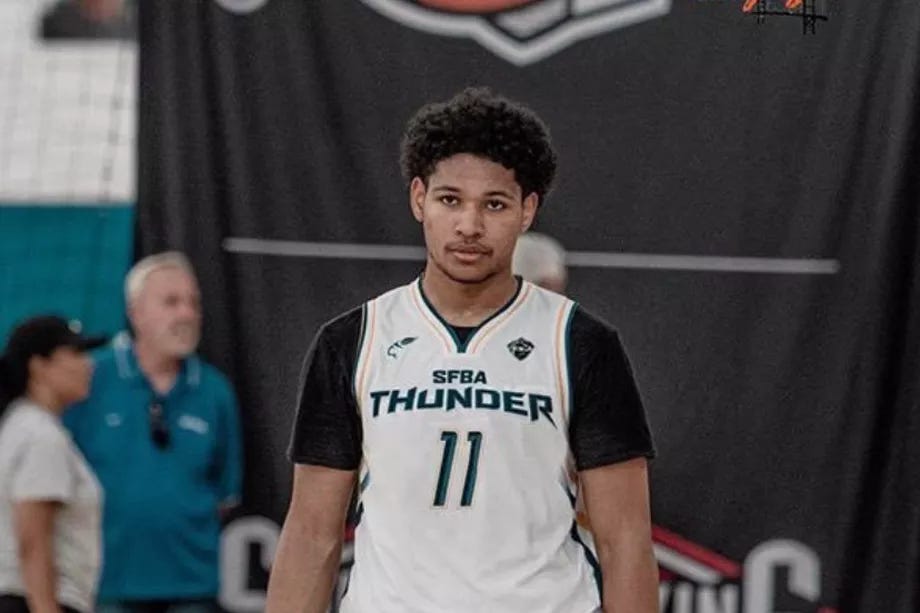 ---
Well, this is certainly not the kind of news you'd like to be writing about.
On Tuesday morning, reports broke that UCLA-committed point guard Daishen Nix was decommitting from UCLA to sign up for the G-League.
Nix was the crown jewel of Mick Cronin's first full recruiting class at UCLA, being the #1 point guard prospect in the 2020 class and a sure-fire one-and-done prospect with the potential to turbo-charge UCLA's offense. The 6' 5" prospect out of Las Vegas is of the same mold as former UCLA Bruin Lonzo Ball - a big point-guard who could dazzle you with his passing while impressing you with his strong defensive ability.
There are a lot of different angles to take in here, and since this is a UCLA Bruins site we should start by talking about the Bruins going forward. Obviously losing Nix is a huge loss for the Bruins, especially this late in the recruiting cycle. As stated, Nix had the ability to take UCLA's existing offense and turn it into a strength, which would have made the Bruins easy Pac-12 title contenders and allow them to make noise nationally. From a macro recruiting standpoint, Nix's departure highlights the problems with the decision to sign with Under Armour, as while the deal is lucrative for the school, it is not helping the Bruins when it comes to bringing in talent, which is especially difficult for basketball where the shoe companies run most of the elite high school programs. Nix leaving does free up another scholarship, but UCLA already had one available already, and with Nix being a one-and-done, I can't imagine UCLA would offer that scholarship to anyone except a potential grad transfer target.
It's not all doom and gloom, however. After all, UCLA did finish 2nd in the Pac-12 last season without Nix, and with a first year head coach implementing a new system. The rest of the Bruin players showed they can play winning basketball, and consistently, as the season went on. Chris Smith's return is still up in the air, but there are enough pieces at UCLA that the Bruins can still make plenty of noise in a Pac-12 lacking in truly-elite teams. So next year should still be fine, if not as great as we once imagined it to be. On top of that, Coach Mick Cronin does not seem like the type who will wallow in self-pity over the news, but will redouble his efforts going forward.
For Daishen Nix, I honestly think this is a smart move. There's no guarantee that Nix would be developed at UCLA; there's no guarantee that UCLA even has a season next year. And while there is no guarantee that Nix will develop in the G-League program either, at least he is getting paid while there, and his $300,000 salary gives him enough money to turn around and go to college afterwards if things don't work out. Being in the G-League also allows Nix to focus entirely on basketball, instead of having to balance basketball with school, and with top prospect Jalen Green already in the program as well, Nix will get every opportunity to succeed.
The biggest piece of this puzzle has to do with the NCAA and NBA. Clearly, the NBA is looking to get rid of the one-and-done rule, and the G-League program is one way for them to get around it while the NBAPA continues to hold the line. The program allows the NBA to get players into their system and evaluate them away from the college system, while putting them on relatively cheap deals.
On the flip side, the NCAA has to look at this as a shot across the bow. For years, the NCAA has gone along with the one-and-done system because it gave them a year of play from elite basketball talent, and the NCAA system relies on utilizing underpaid labor to make a profit, no matter how much it erodes the brand. After all, who cares if the general quality of play is dropping as long as the next Zion Williamson is here to dunk the basketball (this is sarcastic, for those wondering). In this world, the decisions of Daishen Nix and Jalen Green are an existential crisis for the NCAA, as they are choosing not to be exploited by the NCAA system and are instead finding the best deal for themselves.
The worst part for the NCAA is that they should have seen this coming. There have been rumblings for years about the NBA wanting to get rid of the one-and-done rule, so the NCAA should have had some plans in place for moving forward. The fact that the NCAA is still dragging its feet regarding NIL rights, in spite of pleas from coaches and a flurry of laws at the state level, is exhibit A for the case that the NCAA will refuse to act until the choice to act is taken from them. In this case, Nix has taken the choice of profiting off of his name and likeness away from the NCAA.
In any case, this has been rough news for UCLA fans.
Go Bruins.