College Football Viewing Guide, Week 6: Clemson and Miami Take Center Stage
Plus, why are injuries down in college football compared to the pros?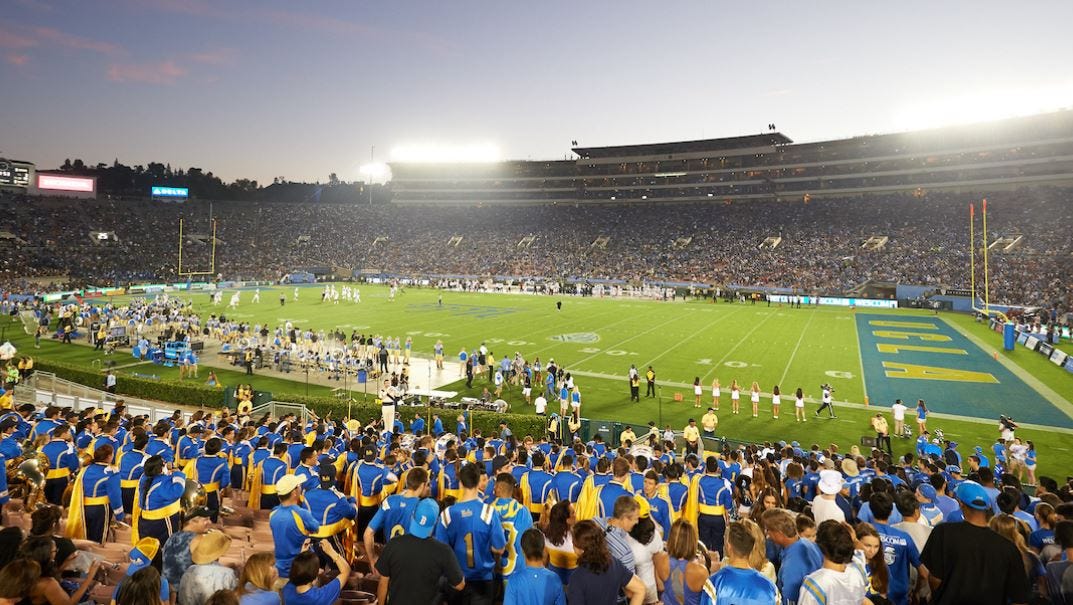 ---
When it comes to sports, I'm a person who is more interested by the various trends that take place in a given season. Things like home run numbers spiking, the loss of the midrange shot in basketball, and rise of spread concepts in the pro game are all interesting storylines to me. This season in college football has not had much in the way of trends (except for the Big 12 collapsing, which is more funny than anything) but there is a trend that I have noticed, especially in comparison to the NFL.
See, the early weeks in the NFL have had a few surprise teams, but the biggest story has been injuries. Yes, there are injuries every year in the NFL, but this year has seemed particularly grim, and has already led writers and teams to wonder aloud what the cause of it might be. The general consensus seems to be that the lack of a true preseason has had an effect, but the lack of preseason games is the biggest culprit, mostly because a lot of the injuries we're seeing now would have traditionally occurred during those games.
Still, I look at the NFL and compare it to college football, which has not had nearly the injury problems that the pros have had, and I wonder why that is the case. Certainly the quality of play is a factor - NFL players are the best athletes in the world, and there are going to be more injuries when that caliber of player clash against each other than when Clemson faces Duke. And it can't be discounted that college players are younger and can more-easily bounce back from injury than older professional players. But I would make a guess that the general quality of practices between the two sports is a factor here.
The NFL has done a fairly good job of trying to limit COVID-19 exposure, with only one game being outright postponed so far (with another rescheduled by a day), but that focus on limiting exposure has had an effect on practices, from limited contact to the elimination of preseason games. It puts more onus on the players to stay in game shape, which makes sense since these are paid professionals, but still ends up with knock-on effects down the line. In college, there has generally been weaker standards in place, which has led to more cancelled games, but has also allowed the players to have more practice and preparation time.
I am not trying to say that one system is more right or wrong than the other, or even if the injury plague in the NFL is actually a serious issue at the moment. But those trends do exist, and they're an interesting story to follow.
---
Before we get to the games, I'd like to pour one out for Campbell, who are now done with their fall season. You will be missed here on the Viewing Guide.
Let's get to the games.
THURSDAY
Game to watch: Tulane @ Houston (4:30 PM PT, ESPN)
This is the only game on Thursday so it gets the top slot, but I do think this is a fascinating game specifically because it is Houston's first game of the season. No seriously - Tulane has gotten to play three games so far while Houston has had three games postponed. I don't know how that will effect things, because while Houston will be the healthiest they'll be all season, they haven't had the live game experience that would theoretically allow Tulane to work through some issues. Either way, baseball is the only other option, so there's a decent shot you turn to this one if things get out of hand.
FRIDAY
Game to watch: Louisville @ Georgia Tech (4:00 PM PT, ESPN)
Again, only game on the schedule here, but I will be really honest and say I don't really care about this game. Louisville already got the tar beaten out of them by Miami, while Georgia Tech showed their victory over Florida State had more to do with the Seminoles being a dumpster fire than anything else. Plus the Lakers are looking to clinch the NBA Finals, so I have to imagine there's a healthy subset of our readership that will just be sitting around waiting for that game to start.
EARLY SATURDAY
Game to watch: #19 Virginia Tech @ #8 North Carolina (9:00 AM PT, ABC)
This is the biggest test of the year so far for a North Carolina team that I'm still not convinced is a legitimate top 10 team still. It probably doesn't help that they had to hold on against Boston College last week, but I have to assume the Tar Heels are getting a big Mack Brown bump at the moment. Virginia Tech can run the ball well, and they've generally looked better against the better teams on their schedule, so this should be a good indicator of where North Carolina really is. This game is one of four matchups between top 25 teams this weekend, and they're all spread out throughout the day, which is helpful for viewing.
Keep an eye on: #22 Texas @ Oklahoma (9:00 AM PT, Fox)
I know there's another ranked matchup happening in this time slot, but come on, it's the Red River Shootout. These are always entertaining, and will be especially entertaining this year when both teams are desperate for a win. Texas needs to win this in order to justify keeping Tom Herman around, while Oklahoma needs the win to provide any chance at turning their season around following two straight losses. This game should also be entertaining because the offenses should still be really good - Sam Ehlinger and Spencer Rattler has been phenomenal at quarterback for their respective teams - while the defenses have been a constant disappointment. That's a recipe for a classic Big 12 shoot-out.
MIDDAY SATURDAY
Game to watch: #14 Tennessee @ #3 Georgia (12:30 PM PT, CBS)
I did not see Georgia's performance last week coming, but in hindsight it makes sense. Georgia has been one of the best recruiting teams in the country the past few years, and there are only a few teams in the country that can hope to match the talent they can put on the field. It was a bit jarring to see Auburn get out-talented like that, but that can happen when a talent gap exists. In that lens, I don't think Tennessee really has a shot to win this game, but it will be a good test to see where the Volunteers are in Jeremy Pruitt's rebuild.
Keep an eye on: Arkansas @ #13 Auburn (1:00 PM PT, ESPN)
Speaking of Auburn, this game is suddenly not the easy win it looked to be before the season. Sam Pittman led the Razorbacks to their first SEC win in two years last week when they upset Mississippi State on the road (Bulldogs fans, welcome to the Mike Leach Experience!) and they have a quarterback with high-level SEC experience in Felipe Franks. Now, Franks would not fit the traditional definition of a good quarterback, but he can get hot and beat you. Auburn has some questions it needs to answer, particularly on its offensive line, which was an absolute sieve against Georgia, and is making it hard for Bo Nix to actually carry this team.
LATE SATURDAY
Game to watch: #7 Miami @ #1 Clemson (4:30 PM PT, ABC)
Well, here we are. Time to finally figure out if Miami is legit or not. Based on how this tends to go every other year, I am expecting Miami to put up a good fight in the first half before utterly faceplanting in the second half. I've talked a lot about how the talent gap decided Georgia/Auburn, and I see a similar thing happening here. This is especially true on offense, where Miami has good skill position players, but Clemson just has much better ones at each spot. Throw in the traditionally-ridiculous Tigers defensive line, and I can't see Miami sticking around. But who knows?
Melsby was down.
Keep an eye on: #2 Alabama @ Ole Miss (4:30 PM PT, ESPN)
Hey, it's Lane Kiffin's first game against Nick Saban since he was the Crimson Tide's offensive coordinator! Plus Kiffin's Ole Miss team has looked better than anticipated through two weeks of play. They're not at the point where you can reasonably say they'll be competitive, but they could pull an upset if things bounce their way, and they're a good threat to cover the spread. It probably helps that there's a huge threat of Alabama looking past this game to next week, when they host Georgia. Crazier things have happened already this season.