College Football Viewing Guide Week 4: The SEC Begins Their Season
Also a check-in on how Joshua Kelley is doing with the Chargers.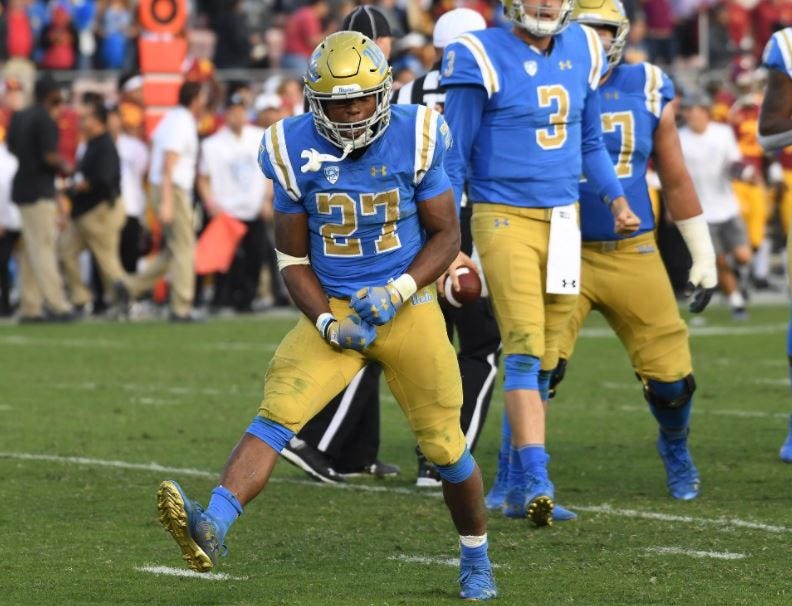 (Photo credit: Richard Mackson-USA TODAY Sports via
UCLABruins.com
)
---
There are times when writing something for this opening is difficult. This is one of those times, because I don't want to use this space to talk about the Pac-12 most likely returning to football, and I already talked about UCLA's specific role in this process yesterday. Plus I write this section last, and I already talked a good amount about the various interesting games in the previews down below, which you should definitely read, though I will say don't use me as a source if you plan on betting on these games.
So instead I'm going to talk about Joshua Kelley. Because I can and because Kelley is great.
I don't think it would shock people to learn I'm a Chargers fan. A lot of it has to do with them possessing the best uniforms in the NFL, but over the years I've started to think it's because I'm a masochist (I'm also an Angels fan, so yeah). That said, I was extremely excited when the Chargers grabbed Kelley with their 4th round pick this year, for a multitude of reasons. For one, Kelley may be my favorite UCLA football player of the past decade (give or take a Josh Rosen or Myles Jack). Kelley's story is well-worn territory for Bruin fans, and his game against Southern Cal in 2018 will go down in UCLA lore. But as a Chargers fan, I was excited because Kelley was going to get a legitimate shot at cracking the running back rotation. The Chargers let Melvin Gordon leave in free agency this offseason, and while Austin Ekeler was poised to take over as the main running back, the door was open for Kelley to grab a spot as the complementary back. That door opened even wider after Week 1 when Justin Jackson got injured.
Kelley has seen a higher workload than I assume many anticipated, and he has performed admirably. Through two games, he's averaging 3.5 YPC, which is a decent rate for a backup, but his real strength has been allowing the Chargers to run split-back sets, which unlocks Ekeler to be a huge threat as both a runner and pass-catcher out of the backfield. The combination of Ekeler and Kellley in the backfield had even Tony Romo proclaiming that the Chargers had the best running back tandem in the NFL, which is high praise indeed.
It feels weird to be optimistic about the Chargers' future, but that's where I'm suddenly at. The offensive line is still a mess (in fairness, part of this is due to injuries), but the skill positions look fairly set, especially with Justin Herbert actually looking like a solid NFL quarterback in his first outing, and the Charger defense has continued to be great with a ton of fantastic talent. Maybe consider checking out their game against Carolina this week, if only to watch Joshua Kelley continue one of the most improbable stories of football success in recent memory.
---
Oh hey, time for another quick site update!
First off, thanks to the subscribers for posting and providing feedback on our practice game threads the past few weeks. There will be one more "game thread" this week for subscribers, but it will be more a place for everyone to provide any last feedback before we do some tests with the entire TMB community. Look for that to just go up early in the morning on Saturday.
Second, as is obvious, football should be ramping up soon (the Pac-12 CEOs are meeting as I'm finishing this up) so expect the site itself to start ramping up as well. I know we're just as excited to talk about actual UCLA sports as the rest of you are to read it, and I want to once-again thank you all for your continued support.
As part of the ramp up, I'd really encourage you to spread the word about the site if possible. We repost our articles over at our Facebook and Twitter, and with actual sports returning soon those will become more active, so we encourage you to give them a follow and retweet/share things there as well. I'd like for us to be able to build our readership base now that UCLA athletics is returning, as launching a new site right when the sports world shut down may not have been the best strategic decision (though our hand was a bit forced there).
Once again, thank you guys for your continued support, and here's hoping there's actually a good season to talk about.
Go Bruins!
---
Alright, let's get to the games.
THURSDAY
Game to watch: UAB @ South Alabama (4:30 PM PT, ESPN)
This is the only game on Thursday, so it gets the slot, but it feels like the air was let out of this game two weeks ago, when UAB and South Alabama lost to Miami and Tulane respectively. There's no shame in that (especially, somehow, losing to Miami) but it prevented both teams from entering this game 2-0. It also doesn't help that this is a non-conference game, so there isn't any intrigue on that front to help either. The best thing I can say about this is that it will at least tide you over until the NFL or Lakers game starts.
FRIDAY
Game to watch: Middle Tennessee State @ UTSA (5:00 PM PT, CBSSN)
It says a lot about this game that it's being buried on CBSSN instead of anywhere else, especially in these lean sports times. Still, at least it's something, and UTSA has been surprisingly competent to start this year, so a win here could set the Roadrunners up for a fascinating meeting with UAB next week. Middle Tennessee has lost by at least 33 points in both of their games, so if this game is close, it will say a lot about UTSA.
EARLY SATURDAY
Game to watch: #23 Kentucky @ #8 Auburn (9:00 AM PT, SEC Network)
The early slate is pretty loaded this week, but the top spot goes to the game that is probably the best game of the week.
Let's start with Auburn. The Tigers should see improved play from sophomore quarterback Bo Nix this year, which is why there is a lot of optimism around this team. Nix was raw yet talented last season, and you could see him becoming an excellent quarterback by the time he leaves Auburn. Auburn fans are hoping this will lead to a better performance from their offense, which has one of the best collections of skill players in the country. On the other side, the Auburn defense has been consistently good for a few years now, and I don't foresee that changing anytime soon, though this game will be dicey as the Tigers break in some new faces on the defensive line.
Moving to Kentucky, this is a fascinating team. They are a ground-and-pound offense, and the return of QB Terry Wilson should allow them to find enough success in the passing game to keep opposing defenses honest. The Wildcat defense is also no slouch, featuring an imposing defensive front that can cause trouble against an inexperienced Auburn front.
This game has been a popular upset pick for awhile now, and I could easily see it, though I'm always wary of teams that run a style with so little margin for error. If Kentucky can control the ball and disrupt what Auburn wants to do on offense, they can create a situation where Nix starts pressing and makes mistakes. Auburn has more horses, but Kentucky has more experience, and that could be the difference.
Keep an eye on: Kansas State @ #3 Oklahoma (9:00 AM PT, FOX)
Like I said, the early slate is loaded. I could have gone with #5 Florida opening their season on the road against a new-look Ole Miss, or another ranked matchup between #24 Louisville and #21 Pittsburgh. I could have even featured Campbell, just to keep the streak alive.
But honestly I picked this game specifically for Oklahoma, because this is the first time the general public will get to watch new Sooner quarterback Spencer Rattler in action (their first game was on PPV, and there was no way I was spending actual money to watch the Sooners pick apart an outmatched Missouri State team). Rattler, unlike the past three starting Sooner quarterbacks, actually committed to Oklahoma out of high school, and he was the #1 ranked pro-style quarterback in the 2019 class according to 247Sports' Composite rankings. Rattler redshirted behind Jalen Hurts last season, but it's his team now, and he was dynamic in his first game, going 14-17 for 290 yards and four touchdowns. Now, obviously Kansas State will provide more of a challenge than Missouri State did (though this team did start the season by losing to Arkansas State at home, so maybe take that with a grain of salt), but you're not watching this game for a potential upset. You're watching to see Oklahoma be ridiculous on offense.
MIDDAY SATURDAY
Game to watch: #22 Army @ #14 Cincinnati (12:30 PM PT, ESPN)
UCF grabbed the early spotlight as the Group of 5 team best positioned to try and gate crash the College Football Playoffs, but one spot under them in the AP rankings is their conference-mate Cincinnati. These two teams (and Memphis) will be jockeying for supremacy in the AAC, but Cincinnati could have the best resume of those three teams. That's why winning this game against a very good Army team is so important - a loss wouldn't matter as far as winning the AAC, but Cincy has their sights set higher, and cannot afford a loss on their resume.
But don't count out Army. The Black Knights are 2-0 on the season, with both wins coming convincingly. I don't think an undefeated Army would have the resume to make a case for inclusion in the playoffs, but this is the last big roadblock for them. Also fun to think about: if BYU also goes undefeated this year, how quickly do these two teams get together and reschedule their postponed game from last week for that December 19 weekend to give the committee one last thing to think about before playoff selections are made on December 20? Army could keep that door open with a win here.
Keep an eye on: Mississippi State @ #6 LSU (12:30 PM PT, CBS)
I'm paying homage to the defending champions here, but this game is interesting specifically because of all the production LSU lost since that national championship game.
Last year's LSU squad had a case for being one of the best football teams of all time, and it wasn't shocking to see a number of losses to the NFL. Some were obviously going to be big blows, like the loss of Heisman winner and #1 overall pick Joe Burrow, but the Tigers were down 20 players from their 2019 roster regardless, with 14 of them being draft picks. But come August, more defections came, with the Tigers losing their best wide receiver (Ja'Marr Chase) and interior defensive lineman (Tyler Shelvin) on the same day. Both Chase and Shelvin are projected first-round talents, and decided not to play the season and instead focus on the upcoming draft. That was just the start, and by the time LSU started their fall camp, they had lost 34 players from their 2019 championship roster.
That's a lot of turnover! The player-turnover numbers are almost Chip Kelly-esque, though I guess I should at least point out that LSU lost the majority of those players to the NFL Draft/graduation, unlike players just choosing to player anywhere but Westwood. And of course I should point out that LSU has recruited well enough that they can potentially weather this storm (though only having 70 scholarship players seems less-than-ideal). But that's why this game is grabbing this spot: how will LSU look after a national championship and defections led to a revamped roster?
LATE SATURDAY
Game to watch: #16 Tennessee @ South Carolina (4:30 PM PT, SEC Network)
There are some more interesting games on the late slate, but since I can guarantee I'll talk about Alabama and Texas A&M next week when they face each other, let's highlight Tennessee, which is continuing their rebuild under Jeremy Pruitt and starts their year ranked (mostly because the Big Ten and Pac-12 were removed from the rankings for the moment but still). I don't know that this is necessarily a make-or-break year for Pruitt, especially with Georgia and Florida both looking impressive in the SEC East and Tennessee coming off an 8-5 year, but a poor 2020 could make his seat hotter going into year 4, which is an uncomfortable position to be in.
Oh yeah, and South Carolina is here too, which means this will be exactly the kind of stupid rock fight of a football game that Tennessee can absolutely lose. Good luck Volunteers!
Keep an eye on: Troy @ #18 BYU (7:15 PM PT, ESPN)
BYU had an impressive victory during Week 1, absolutely obliterating Navy 55-3. They haven't played a game since then, with their lone scheduled game against Army getting postponed. So they've had two weeks to prepare for Troy, who got to open their season last week by blasting Middle Tennessee State 47-14. This isn't the easiest game in the world for BYU, and with this being the only game in the #Pac12AfterDark timeslot, the capacity for shenanigans is present.