Chris Smith Is Officially Back and UCLA Is Officially Ready to Make Noise
Smith's return makes the Bruins potential favorites in a possible 2020 basketball season.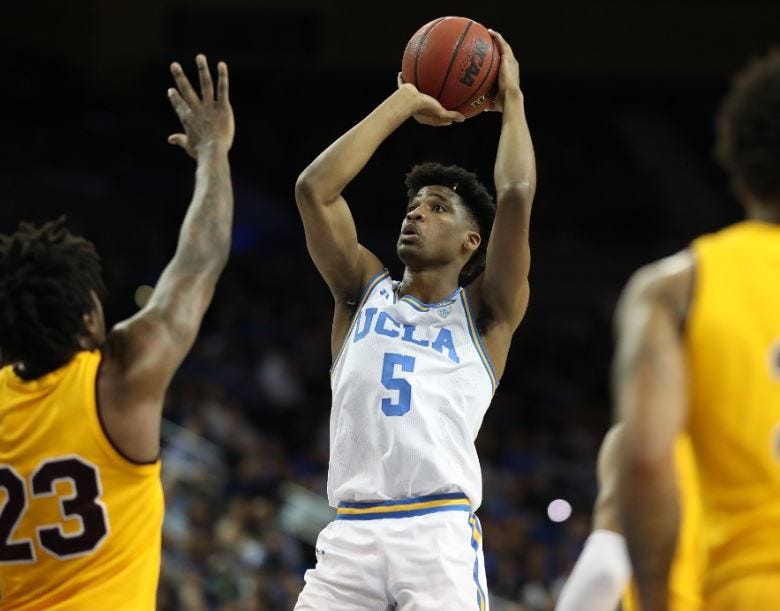 Chris Smith rises for a shot against Arizona State. (Photo Credit: UCLA Athletics/
uclabruins.com
)
---
UCLA Bruins basketball fans can finally exhale.
August 3rd was the deadline for college basketball players to declare their intention to return to school and be eligible for the upcoming basketball season, which meant it was the last possible day that UCLA wing Chris Smith could decide to return to school. He made his decision official today via the UCLA basketball Twitter.
This is an undeniably good result for the Bruins. Chris Smith's return means that UCLA will return nine scholarship athletes from a team that surged down the stretch and finally seemed to buy in to new coach Mick Cronin's system. Smith was the leading scorer on last year's squad and was First Team All-Pac-12, while also winning Most Improved Player. With the departure of Jaylen Hands and Kris Wilkes, Smith was looked at to raise his game, and he more than lived up to those expectations.
Once UCLA lost Daishen Nix to the G-League, bringing Chris Smith back became paramount to the Bruins competing for the Pac-12 Championship and, now that he's returned, it's hard not to look at the Bruins as early favorites in the conference. Every major contributor from UCLA's stretch run is back, minus spot play from departing seniors Prince Ali and Alex Olesinski and the team will add Kentucky transfer Johnny Juzang and incoming freshman Jaylen Clark to bolster the rotation. That level of continuity is huge in college basketball as Bruin fans can attest to after last season.
On a personnel level, Smith allows Mick Cronin to do a lot of different things on both sides of the ball. On defense, Smith is a versatile defender who can switch 1-4 fairly comfortably, which gives Cronin all sorts of options. Offensively, Smith is a capable ball handler and is the best returning player at manufacturing his own shot. That's an indispensable talent for an offense that can sometimes get bogged down. UCLA does not have a player on the roster who could realistically provide a replacement for what Smith brings (though 2021 will bring in Peyton Watson), yet it also feels disingenuous to call Smith an X-factor when he is very clearly one of the leaders on this team.
I should also note that part of Smith's goal with returning to campus is to finish off his UCLA degree. That's always a welcome sign from a player and shows an understanding of the uncertainty that the current pandemic is creating. Though I will say that the phrase "unfinished business" did give me pause, as UCLA fans are well aware of what the end result of that phrase can become.
With Chris Smith returning, UCLA should be primed to make a run at the conference championship next season. The Bruins already made an improbable attempt near the end of last season, but this team is more prepared to start strong at the beginning of the year. Of course, all of this still depends on a season actually happening, but this is a team that could make some noise at the national level if everything goes well.
Welcome back Chris!

Go Bruins!
---
Thanks again for supporting The Mighty Bruin. Your paid subscriptions make this site possible. Questions, comments, story ideas, angry missives and more can be sent to  to @TheMightyBruin on Twitter.