Discover more from The Mighty Bruin
Blog Of The Bruins, By The Bruins, For The Bruins
Over 1,000 subscribers
2020 UCLA Football Fall Preview: Rebranding the Offensive Line
The UCLA offensive line will be a young group with plenty of potential for growth in the coming season.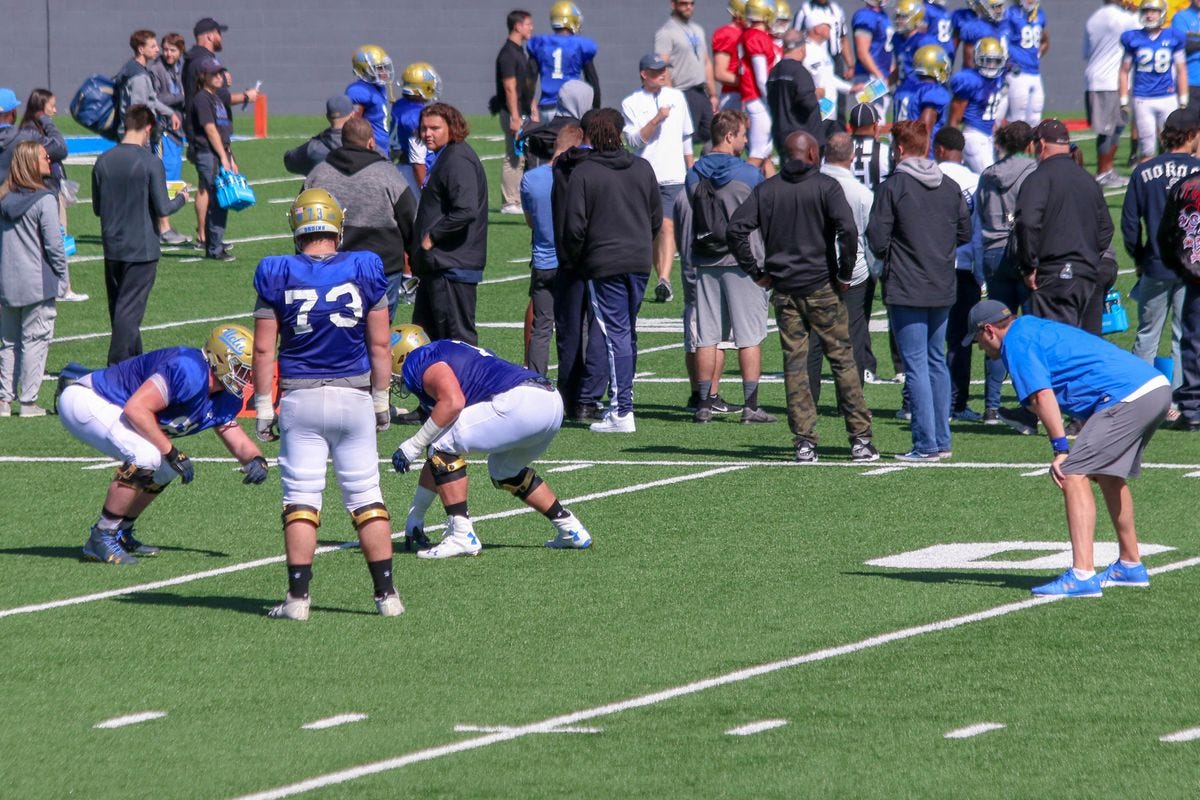 UCLA Offensive Coordinator and OL Coach Justin Frye oversees offensive line drills. (Photo Credit: Joe Piechowski)
---
When UCLA football returns to the field each year, the same question always seems to hang in the air: can the offensive line protect the quarterback? Last year, senior center Boss Tagaloa was the anchoring force in the middle, providing experience and leadership for an extremely young group. But who will be the new face of this group? What will be their style of play and can they make it known that no one will push around the Bruin offense? Let's take a look at how this young group has changed since last season.
Who's Gone
The UCLA Front Five faced several key losses in the offseason. Tagaloa's graduation, as well as the transfer of guard Chris Murray to Oklahoma and tackle Jake Burton to Baylor will definitely leave a void up front.
Burton is now looking at the possibility of an NFL career, and with the PAC 12 season in limbo, a transfer for him was probably the best way to go. But the loss of a starter at tackle is going to hurt the Bruins this year. In addition to Burton's skill, UCLA really could have used his leadership as a veteran player.
Murray was a four-star recruit out of high school and while he may have lacked a little in size, his ability to block the run and stay quick on his feet was excellent. His productivity needed development, and he'll probably get exactly what he needs as a Sooner. Additionally, UCLA saw the loss of junior Michael Alves as he took a medical retirement in the off season.
Who's Back
The nice part about having such a young 2019 offensive line is that a majority of the group is returning, but there will be no upperclassmen in the starting lineup. Sophomore Sean Rhyan also had a solid 2019 season at left tackle, with 12 starts and was named to the 2019 USA Today Freshman All-American team, The Athletic 2019 Freshman All-American team and the national All-Freshman team by Pro Football Focus. He is the strongest returning member of the line, bulking up to 330 pounds in the offseason, and will have a huge impact on its success. Sophomore Alec Anderson, who had a few starts in 2019 while Alves was out, will be filling the right tackle position.
At the guard position redshirt sophomore Jon Gaines II is the likely starter on the left, with starts in the 2019 season to cover for Alves. UCLA also got a transfer from Villanova with the addition of three-year starter Paul Grattan, so he may get some playing time behind Gaines. In addition to guard, Grattan is also qualified to play center. Redshirt freshman Duke Clemens started the final eight games of the season at guard, so he will take the right side. Junior Atonio Mafi is a new man in the competition, moving over to the offensive line in the offseason. Redshirt freshman Siale Liku is also going to be in the mix, so there is a little room for play at this position. Holding the line at center, will be redshirt junior Sam Marrazzo.
Redshirt freshmen Beau Taylor and Josh Carlin will also be returning but saw no game action in 2019.
Who's New
UCLA got two three-star additions to the offensive line in the 2020 class. Bruno Fina at the guard position out of Arizona and Patrick Selna from Oakland at tackle. Both will face stiff competition and could redshirt due to the youth and depth of this line. With Fina at 240 and Selna at 270, they would be advised to use the time off to bulk up and increase strength to have a competitive edge. Paul Grattan joins the team as a graduate transfer from Villanova.
Projected Depth Chart
At this point, the UCLA offensive line has some of room for play, but also offers opportunity for guys to step up and prove they are worth the nod. The scariest part is the lack of a backup for center, although Grattan is capable in a pinch.

Again, there is a lot of room for movement here, and the only position that is pretty much guaranteed is Rhyan's. Mafi is a bit of an unknown and could easily unseat a starter based on his work ethic and how he produces on this side of the ball, and with the addition of Grattan, UCLA has another versatile option. Bruin fans are more than likely tired of hearing how young this team is, and the offensive line is no exception.


Go Bruins!
---
Thanks again for supporting The Mighty Bruin. Your paid subscriptions make this site possible. Questions, comments, story ideas, angry missives and more can be sent to  to @TheMightyBruin on Twitter.