Discover more from The Mighty Bruin
Blog Of The Bruins, By The Bruins, For The Bruins
Over 1,000 subscribers
UCLA RB Joshua Kelley Selected by Chargers in the Fourth Round of NFL Draft
The Chargers needed a running back after Melvin Gordon signed with Denver.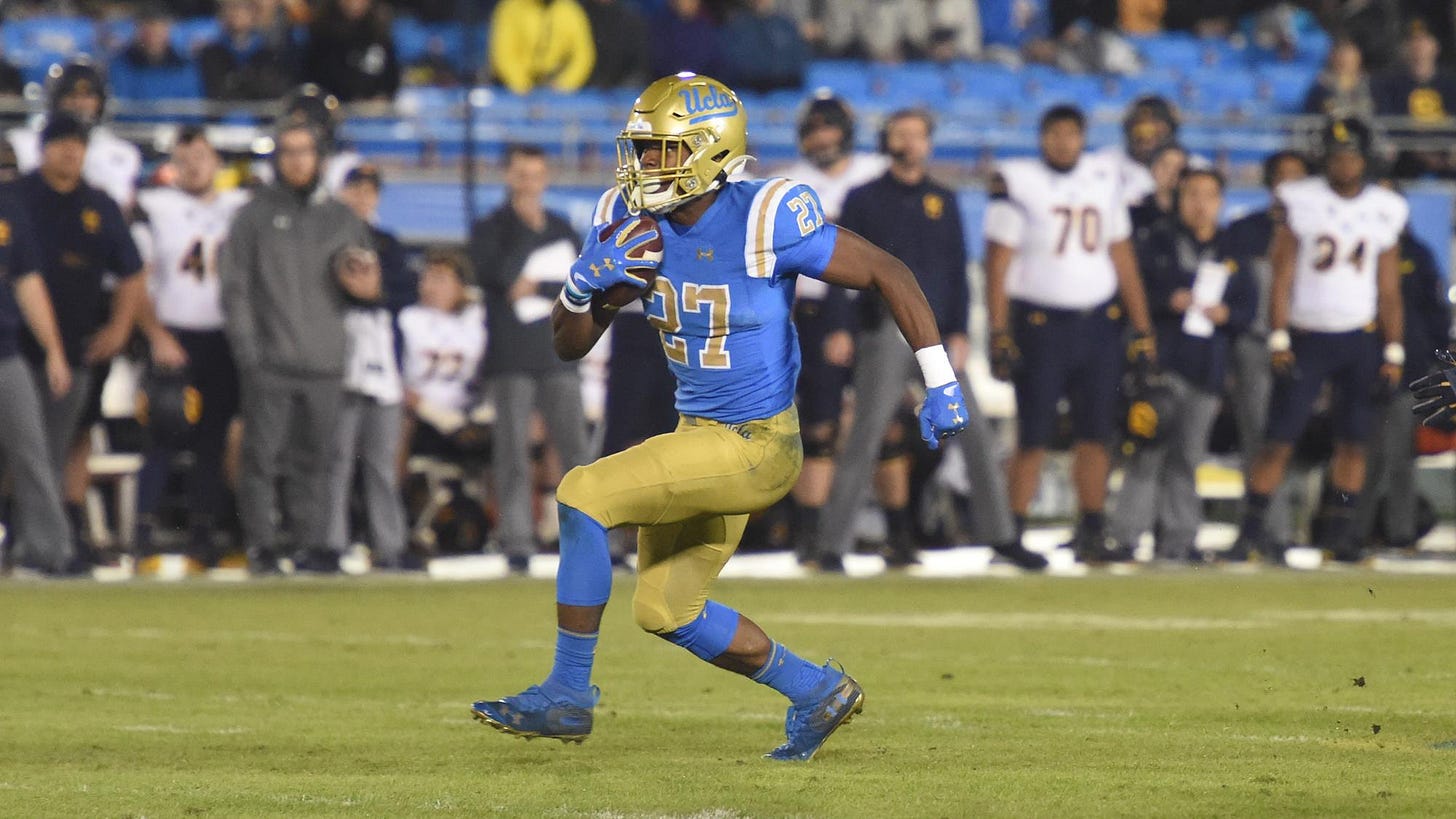 (Photo Credit: Greg Turk/UCLA Athletics)
---
With the 112th pick of the 2020 NFL Draft, the Los Angeles Chargers have selected UCLA running back Joshua Kelley.
Yes, that's right. Josh Kelley will be wearing familiar colors when he joins his new NFL team and he will be moving just down the 405 from Westwood.
This pick is a good one for the Bolts. They needed a running back after Melvin Gordon signed with the Denver Broncos last month.
When the Chargers' fourth round pick came up, they had a few good options. La'Michal Perine from Florida State was still available as was Arizona State's Eno Benjamin. But, in the end, the Chargers opted for a local kid who wasn't recruited out of high school, went to UC Davis initially and, then, literally clawed his way into a walk-on spot on UCLA's roster before finally earning a scholarship and putting together consecutive 1,000-yard rushing seasons.
And he did all that while with a infectious smile across his face and one of the most positive attitudes you will find.
That's what the Chargers are getting with Joshua Kelley.
Congratulations, Josh!
Go Bruins!!!
---
Thanks again for supporting The Mighty Bruin. Your paid subscriptions make this site possible. Questions, comments, story ideas, angry missives and more can be sent to joe@themightybruin.com, or to @JPiechowski on Twitter. (Unfortunately, the Twitter account for The Mighty Bruin remains in Twitter jail after I made the mistake of trying to set the TMB launch date as the account's birthday. We hope to have this resolved soon.)