Discover more from The Mighty Bruin
Blog Of The Bruins, By The Bruins, For The Bruins
Over 1,000 subscribers
UCLA Football: TE Devin Asiasi NFL Draft Profile
The Wolverine-turned-Bruin is in an interesting spot heading into the draft.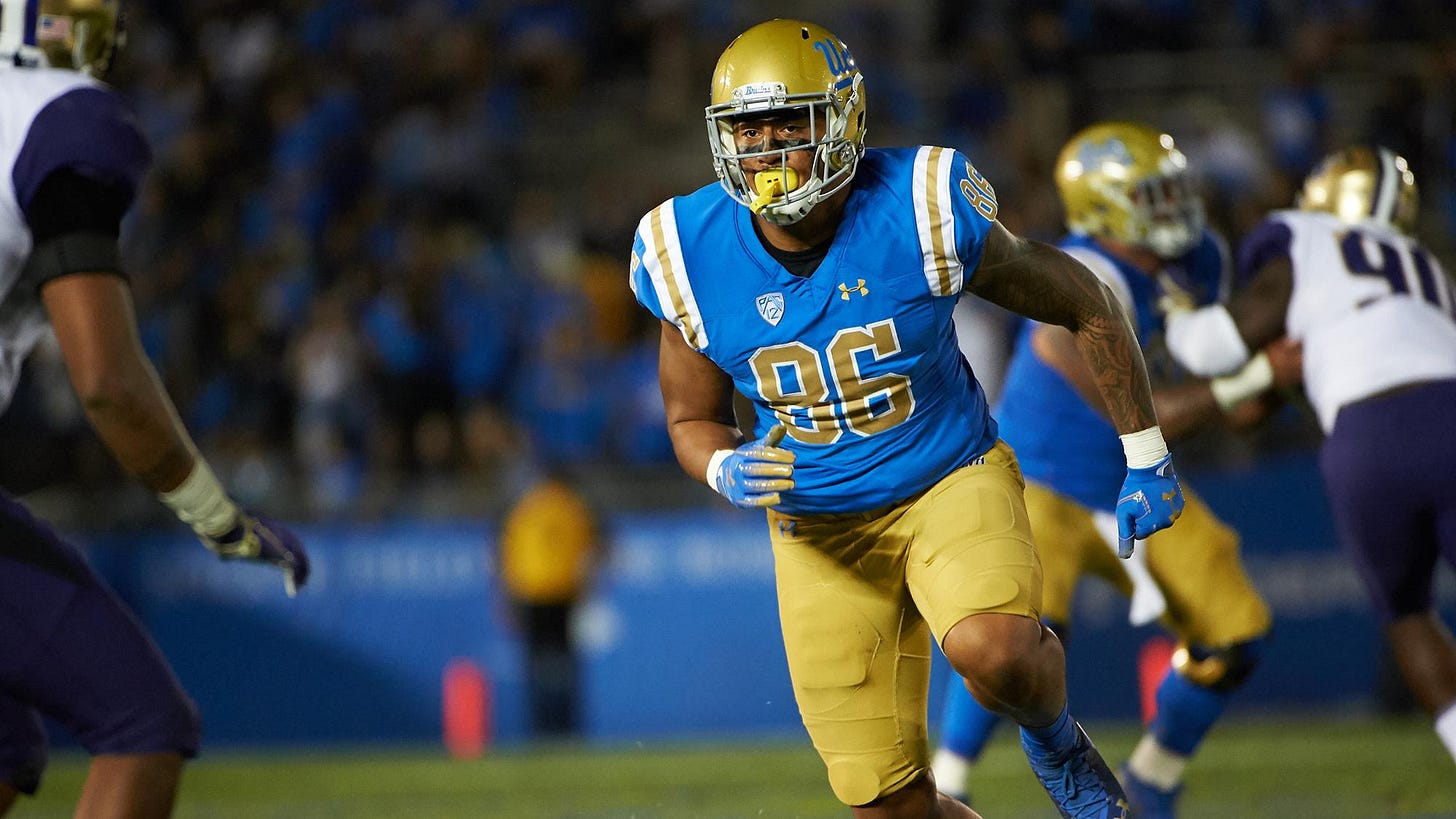 (Photo credit: Don Liebig/UCLA Athletics)
---
Yes, NFL draft season is fully upon us. Starting tonight, hundreds of college football players will be sitting in front of their television screens, hoping to hear a lifelong dream fulfilled by having their name called. Today, we continue our series of draft profiles by talking about tight end Devin Asiasi.
Devin has had a fascinating collegiate career. He came out of De La Salle High School, playing alongside friend Boss Tagaloa, but on Signing Day in 2016, he chose to head off to Michigan. After one year in Ann Arbor, where he played in all 13 games for the Wolverines, Asiasi decided he wanted to return home, and transferred to UCLA. After sitting out in 2017, Asiasi claimed the second TE spot behind Caleb Wilson in 2018, and when Wilson went off to the NFL, Asiasi stepped up into the leading TE role. Last year Asiasi caught 44 passes for 641 yards and 4 touchdowns, and while he wasn't the receiving threat that Wilson had proved to be, Asiasi showed to be a well-rounded tight end that could succeed at the next level.
Asiasi is in a different position than Darnay Holmes is. Holmes had an injury-plagued final season that may have hurt him in the draft process, while Asiasi is, in many respects, leaving on a high note, as he had a good year prior to leaving the school and has a solid amount good tape for NFL evaluators to go off. If anything, Asiasi has found himself a late riser on some draft boards.
So, with all of that said, let's take a look at Devin Asiasi's strengths and weaknesses.
Strengths
One of Devin's biggest strengths is his size - he played some defensive end in high school and still has the physical look and size of the position in many aspects. Combine that with excellent speed for a tight end, and Asiasi is a matchup nightmare for opponents. He has soft hands as well, which combines with his size to make him difficult to take down in the open field. In the leading role, Asiasi showed a knack for finding the open spots in the defense, and he really came into his own as the season progressed. Finally, on the blocking front, while he isn't the best blocker in the world, he showed solid effort and has the potential to be good in that aspect at the next level.
Weaknesses
There's going to be talk of Asiasi only having one season of excellent production, but it's hard to really fault him here; he lost one year to transfer and sat behind more established, elite producers in two others. Once he got a chance, he clearly shone, so I wouldn't put too much into this. I'm also unsure how to take the reported weakness of mid-season weight fluctuations that seem to begin any discussion of Asiasi's flaws, as it seems like something that most professional organizations should be able to handle pretty easily.
Now, there are some real flaws. Despite having a big body, Asiasi does seem to struggle with using that body to make catches, instead being more passive and letting the ball get to him. That's something he really can't get away with at the next level. And again, he's not the best blocker in the tight end class, as while he shows good effort, he does lack a lot of the technique required to be successful at the next level. That's something that can be fixed, but it will require an NFL team to invest a few years into his development, which isn't something you see that often in this sport.
Projection
Lance Zierlein of NFL.com projects Asiasi to be drafted in the 4th round. Interestingly enough, Zierlein also projects that Asiasi will be a solid backup who has the potential to become a solid NFL starter down the line. Similarly, David Latham of Last Word on Pro Football has him as a 3rd round pick and believes he could end up as the best tight end in this draft class.
It will be fascinating to watch where Asiasi ends up. There are a lot of tight ends available in this draft class, but the general consensus is that the group is relatively weak. That gives more weight to how individual teams rate each tight end's ability, which could cause some weird fluctuations. Asiasi has the potential to go as high as the 2nd round; he could also slip all the way into the 5th or 6th round. I think 3rd-4th sounds reasonable enough for a draft spot, but again, this will be interesting to watch.
---
Thanks again for supporting The Mighty Bruin. Your paid subscriptions make this site possible. Questions, comments, story ideas, angry missives and more can be sent to joe@themightybruin.com, or to @JPiechowski on Twitter. (Unfortunately, the Twitter account for The Mighty Bruin remains in Twitter jail after Joe made the mistake of trying to set the TMB launch date as the account's birthday. We hope to have this resolved soon.)