UCLA Football Recruiting: OT Garrett DiGiorgio Commits to the Bruins
UCLA has added another offensive lineman to the 2021 recruiting class.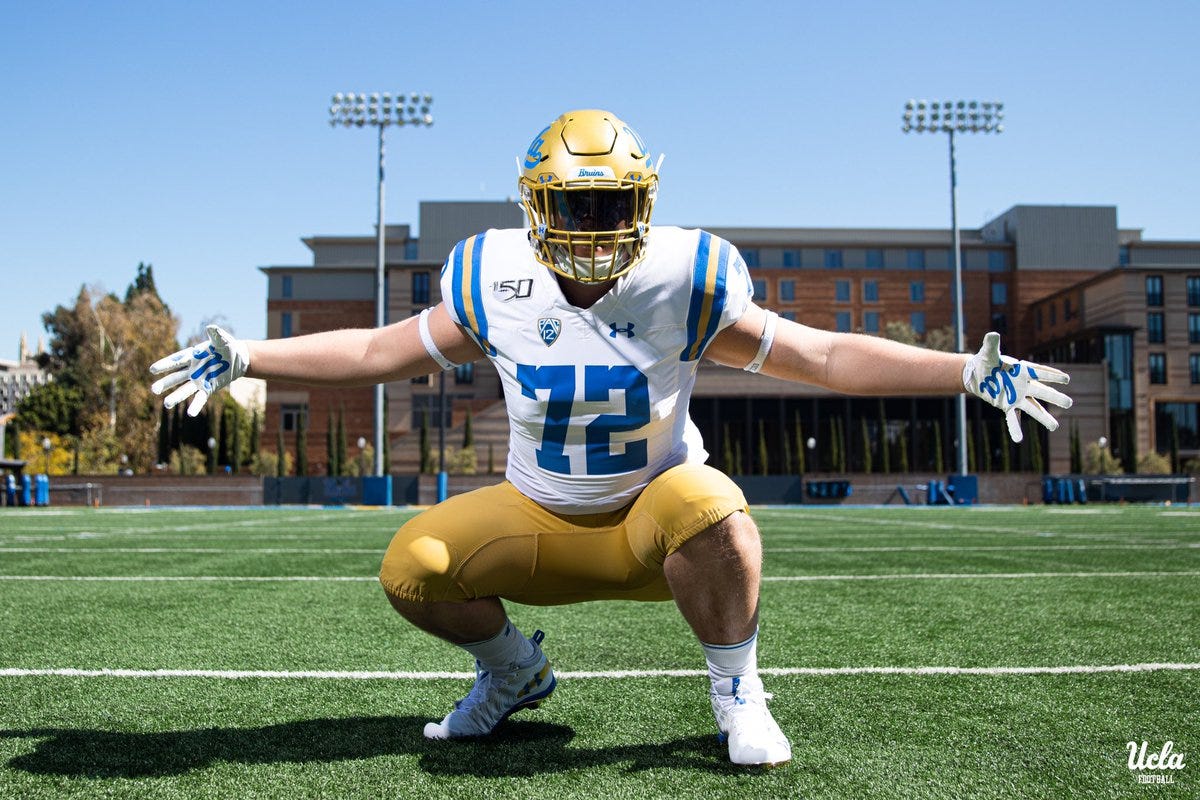 ---
UCLA football's 2021 recruiting grew again this morning when three-star offensive tackle Garrett DiGiorgio from Serrano High School in Phelan, California committed to the Bruins.
DiGiorgio is the eleventh recruit to commit to the Bruins and the third offensive lineman in the class of 2021. He joins Benjamin Roy and Thomas Cole who are the other offensive linemen which have committed to UCLA.
Like Cole, DiGiorgio is 6'7" tall, but he weighs in at 295 pounds, which is forty pounds heavier than Cole. So, DiGiorgio is closer to being big enough to play for the Bruins than Cole is, even if he still needs to add some more weight.
After watching DiGiorgio's junior year highlight video on Hudl.com, DiGiorgio looks to be the poster boy for Chip Kelly's addage about big people beating up little people. Admittedly, I'm not overly impressed by the video. DiGiorgio appears to be slow and it seems like he is using his size to simply overpower his opponents. Those are things which he won't be able to get away with at the next level where he will need to be quicker and improve his technique to be able to move guys who are closer to his own size.
Since taking over the program at UCLA, Kelly has shown a tendency to play incoming freshman, especially offensive linemen, immediately but, at some point, he is going to need to start redshirting these guys to give them an opportunity to get bigger, stronger and faster. This is even more important when you are recruiting nothing but three-star talent like Kelly has been doing. But, that's a discussion for another day.
One particular bright side of DiGiorgio's commitment is his work in the classroom. From the looks of things, he is another smart kid. He recently tweeted his grades and they were stellar.
I do think that there is a lot to be said for having intelligent offensive linemen. Having smart guys upfront makes it easier to implement an offensive scheme and it can also allow a coach to implement a more complicated scheme.
So, DiGiorgio's intelligence is a huge plus for the Bruins.
Of course, his addition will build more much-needed depth on the offensive line, which is another huge plus. And, with a hat tip to the Declaration of Independence, we here at The Mighty Bruin, on this 4th of July, hold this truth to be self-evident: "Line wins games."
Welcome to Westwood, Garrett!


Go Bruins!!!
---
Thanks again for supporting The Mighty Bruin. Your paid subscriptions make this site possible. Questions, comments, story ideas, angry missives and more can be sent to  to @TheMightyBruin on Twitter.