UCLA Football Recruiting: DE Tyler Kiehne Commits to the Bruins
The three-star recruit from New Mexico announced his commitment late yesterday.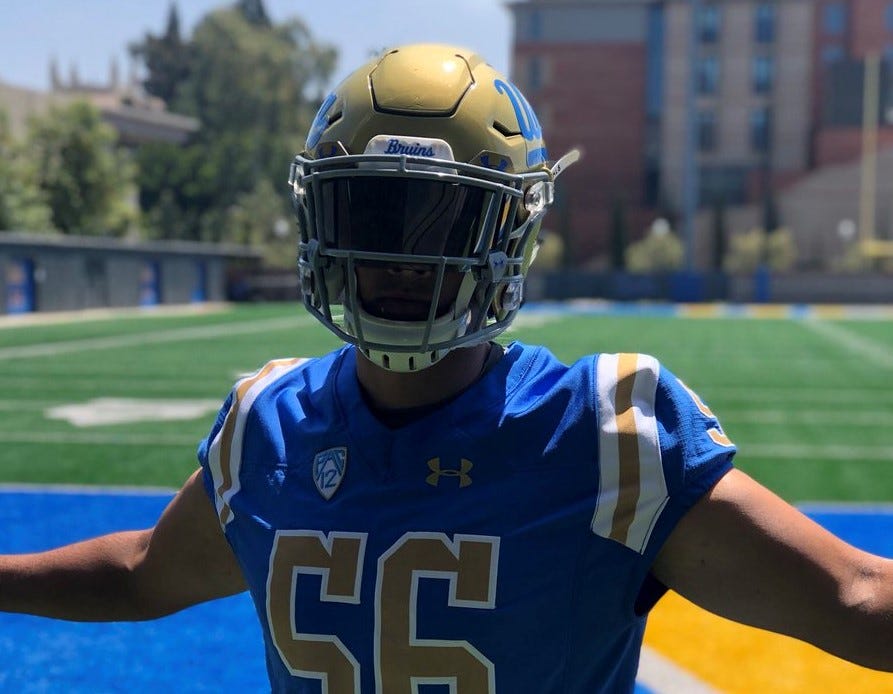 ---
The 2021 UCLA football recruiting class grew again yesterday when three-star defensive end Tyler Kiehne from Los Lunas High School in Los Lunes, New Mexico committed to the Bruins yesterday.
Kiehne is already a big guy. According to his Hudl.com profile, he's 6' 4" tall and weighs in at 250 pounds.
Watching his junior year highlights from Hudl, the thing which stands out about Kiehne is his quickness. Even though he's big, he's also very quick. He shows an ability to rush the passer that UCLA has been missing since Takk McKinley went to the NFL. Throughout the duration of the video, Kiehne is consistently blowing past opposing offensive tackles.
At this point, UCLA has beaten out Wisconsin, Utah, Kansas State, Washington State, Boise State, Arizona, Kansas, and UC Berkeley, among others, to land Kiehne. I say "At this point," only because Tracy Pierson of BruinReportOnline notes that "UCLA probably benefited from the lockdown a bit, being the only one of Kiehne's finalists (UCLA, Wisconsin, Utah, Kansas State) he unofficially visited before it went into effect." Of course, we all know how frequently some players have changed their minds in the recent past. Hopefully, that doesn't happen here.
After all, Kiehne also excels in the classroom. His Twitter profile indicates that he has a 3.8 GPA. So, it doesn't look like he will have any issue getting admitted to UCLA.

Welcome to Westwood, Tyler!


Go Bruins!!!
---
Thanks again for supporting The Mighty Bruin. Your paid subscriptions make this site possible. Questions, comments, story ideas, angry missives and more can be sent to joe@themightybruin.com, or to @TheMightyBruin on Twitter.