Discover more from The Mighty Bruin
Blog Of The Bruins, By The Bruins, For The Bruins
Over 1,000 subscribers
UCLA Football: PK JJ Molson NFL Draft Profile
JJ Molson had an up and down career at UCLA which could affect his draft stock.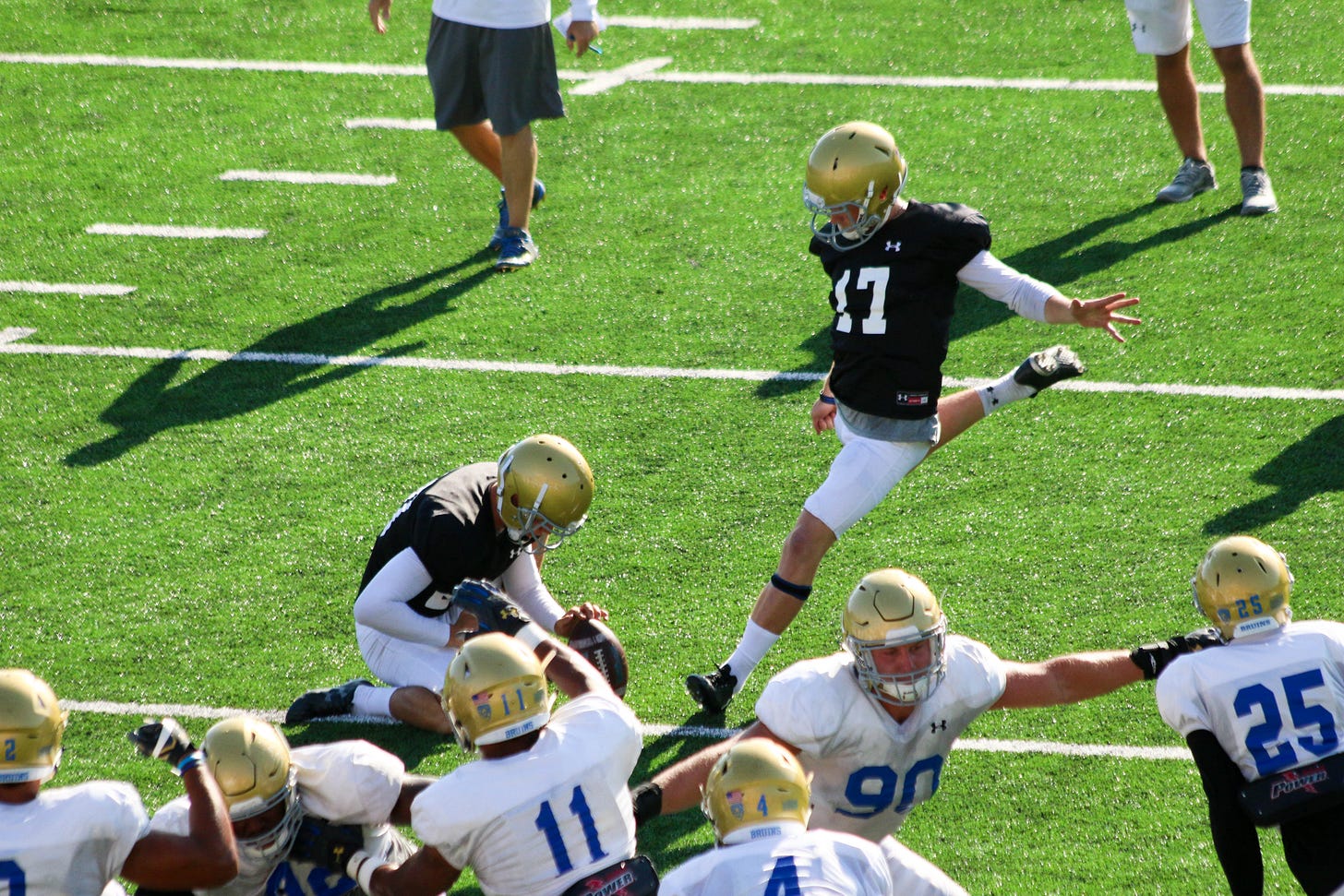 (Photo Credit: Joe Piechowski)
---
JJ Molson was a Jim Mora recruit that turned down Nick Saban for the blue and gold and here he is staring down the possibility of an NFL career. In his four years at UCLA, he only missed one extra point and that was way back in 2017. After his sophomore season, he was poised to be one of the best kickers in UCLA program history. That year, his field goal percentage jumped from 60% his freshman year to 81% and he hit the 100-point mark by the end of the season. This was after working with Hall of Fame kicker Morten Andersen, not just on mechanics, but also the mental aspect of kicking. The work definitely paid off.
Fast forward to the end of his junior year and the first year of the Chip Kelly regime. His field goal attempts dropped to 73% in 2018 then to just 57.1% in 2019. During his senior season, the coaching staff had changed his long snapper, but early on Molson said that did not have an affect on his game. On September 28, 2019, the game was riding on a field goal attempt and Molson missed. He said, for the first time in his career, the game came down to a field goal he wasn't able to make.
Whether it was mental or technical, it was apparent Molson was not meeting his potential. As the top kicker coming out of Canada in 2016, fans were really hoping he'd replace kickers like Ka'imi Fairbairn and Kai Forbath, both past Lou Groza Award winners.
When Molson went to the NFL Combine back in February, he opted not to participate in the physical tests as most kickers do. He was the smallest kicker in attendance. It is not often that kickers are actually called in the draft and, according to NFL.com, Molson is expected to be a priority free agent. He is likely to make the end of a roster or even a practice squad and, given what he produced in the 2019 season, he may need the time to work on his skills to get back to where he was two years ago to make a permanent roster.
Strengths
Molson has the potential to be extremely accurate and can definitely boot the ball. Over the last two season, 72% of his kickoffs were touchbacks and he has the arc and hang time that the NFL expects. He also has the experience of starting all four years and the mental toughness to shake off a bad kick and make the next one.
Weaknesses
Unfortunately, there was a pretty big drop in his production over the last two seasons. He is often wide right and, while he was nearly 100% on extra points over his four years at UCLA, he didn't make a single field goal attempts over 50 yards during his senior year. Could this drop in production be a result of bad coaching and a change in structure?
There is no doubt that Molson has the potential to be a successful NFL kicker if he can right the wrongs of the last two years. With his potential and the proper coaching, Molson should be playing on Sundays in the near future.

Go Bruins!
---
Thanks again for supporting The Mighty Bruin. Your paid subscriptions make this site possible. Questions, comments, story ideas, angry missives and more can be sent to joe@themightybruin.com, or to @JPiechowski on Twitter. (Unfortunately, the Twitter account for The Mighty Bruin remains in Twitter jail after Joe made the mistake of trying to set the TMB launch date as the account's birthday. We hope to have this resolved soon.)