Discover more from The Mighty Bruin
Blog Of The Bruins, By The Bruins, For The Bruins
Over 1,000 subscribers
To Fix UCLA, Martin Jarmond Needs to Fix the Pac-12
Jarmond may need to make an unlikely ally to fix the problems in the conference.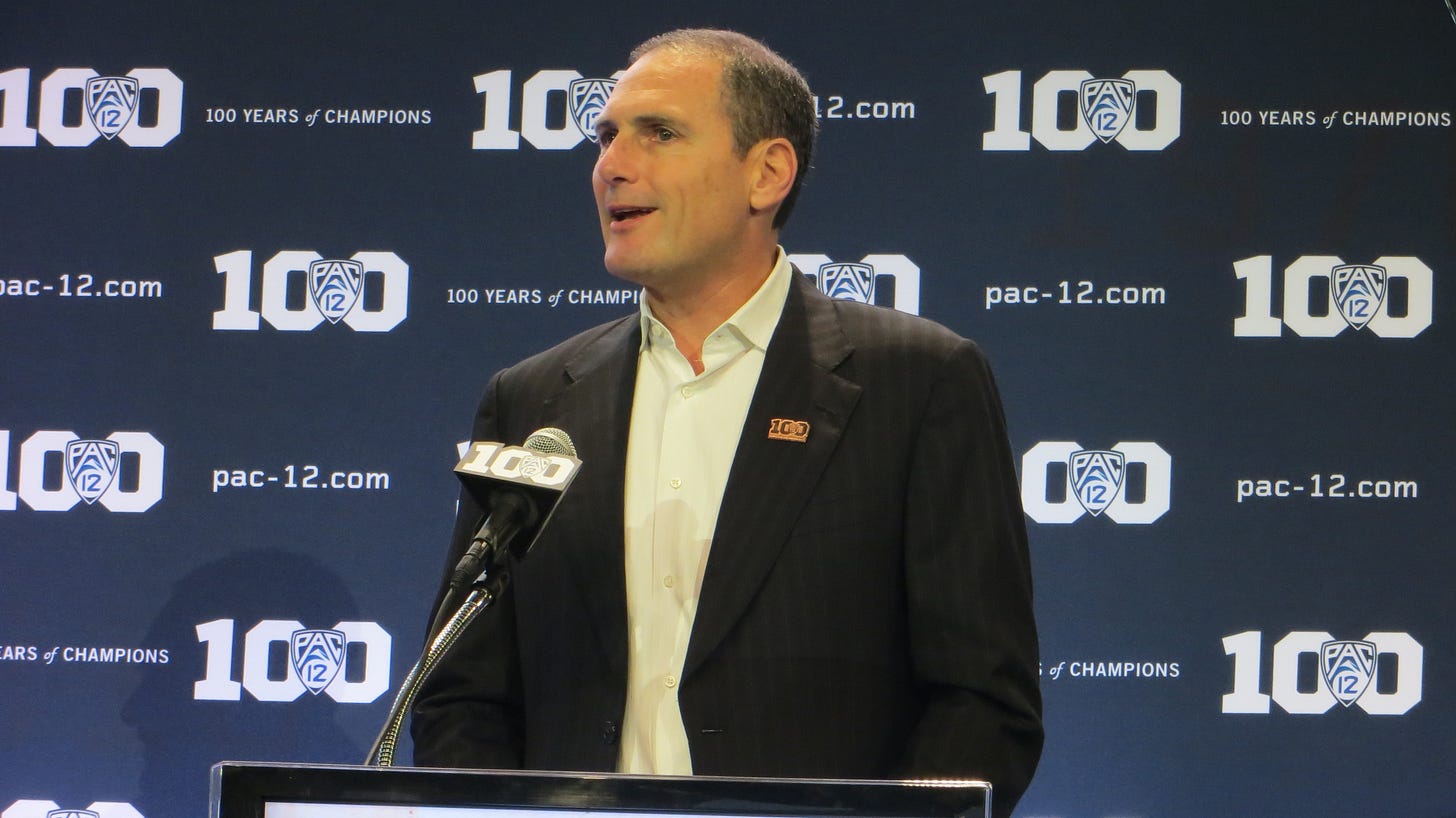 (Photo credit: Joe Piechowski)
---
New UCLA athletic director Martin Jarmond is coming to UCLA with a host of problems he needs to solve. The current state of UCLA football is obviously on the mind of many UCLA fans, but maybe more pressing is the $18.9 million deficit the athletic department ran in the 2019 fiscal year, which could easily double after another year that saw middling attendance and ended with the current COVID-19 pandemic shutting down spring sports. It's a daunting hole that could take Jarmond years to fix.
That said, he could cut some of that time out if he turns his attention to a broken Pac-12 Conference.
Now, to be clear, I am not saying that Jarmond needs to fix every school in the conference. Rather, he needs to find a way to enact positive change in the larger Pac-12 structure in order to get UCLA and other Pac-12 schools up to the revenue levels of other Power 5 schools.
Let's start by taking a look at where things currently stand. As Jon Wilner reported back in February, Pac-12 schools were set to earn approximately $33 million for the 2019 fiscal year. That's all well and good, but compare those numbers to other Power-5 conferences:
Big 12: $38.8 million (not including bonus money Texas receives from Longhorn Network)
SEC: $44.6 million
Big 10: $55 million
Those are some startling differences and doesn't even include things like the SEC coming to terms on a new deal to move their Game of the Week from CBS to ESPN for a reported $300 million a year. That deal by itself will equal what Pac-12 schools receive from their Tier 1 media rights (essentially ESPN and Fox). The current strategy being employed by Pac-12 Commissioner Larry Scott is to wait out the current media contracts so that he can come to the negotiating table with the full slate of football and men's basketball available, but that won't happen until 2024. By that point, Big 10 schools will have accumulated an extra $100+ million from their own rights revenues, which will help them move further ahead of their Pac-12 counterparts.
Or, to put it in clearer terms, if UCLA was getting revenues equal to what the Big 10 is, they would be able to cover the deficit in the athletic department budget.
UCLA is starting to flex its considerable financial muscle. The Bruins signed Chip Kelly to a five-year, $23.3 million deal in 2017, then followed that up by signing Mick Cronin to a six-year, $24 million deal last year. Both deals put the Bruins in the upper echelon regarding coaching salaries, and this doesn't include recent renovations like the Wasserman Football Center and the Ostin Basketball Center. But it is hard to operate like a big-time athletics program when it can't bring in big-time revenue. Yes, some of this is the fault of bad deals by outgoing athletic director Dan Guerrero, but the extra $20 million that Big 10 teams bring in would have allowed UCLA to gamble more on high ceiling choices, or at the very least make moving on from failed ventures less of a financial burden.
Pac-12 revenue is not the only issue that exists. Consider:
The Pac-12 Network, which stands as a testament to Larry Scott's hubris as commissioner. Having your own network isn't the problem - the SEC and Big 10 also have their own networks, while the ACC and Big 12 have quasi-networks - but having one with low distribution numbers is. The inability for Larry Scott to get the network on DirecTV has always stood out, especially so now that AT&T was able to come to terms to get SportsNet on their service. In 2019, the Pac-12 Network was reported to barely turn a profit, and John Canzano reported back in January on how the Network was going to go remote for the vast majority of its spring sports, an especially jarring announcement considering that included 11 of 12 spring football games to go with national championship contenders in a variety of sports like baseball and softball. And it doesn't help that the Network (and Pac-12 Conference itself) pays $6.9 million to rent out two floors in the middle of San Fransisco while its compatriots in the SEC and Big 10 pay $318,000 and $1.5 million respectively. The entire operation needs a complete overhaul.

The conference lacks national visibility and scheduling issues. Part of this has to do with a lack of true national powers, with the traditional powers (UCLA in basketball, Southern Cal in football) trying to claw their way out of disappointing eras of play, but the Pac-12 has never figured out a good answer to the timezone problem that exists. Teams won't sign up for 9:00 AM PT kickoffs, while the 7:10 PM kickoffs end up being too late for East Coast viewers, including many national media pundits who shape public perception. And it doesn't help when other games are scheduled at bizarre times; UCLA and Southern Cal should never host a weeknight game, but that has happened multiple times in recent years. The end result was a national audience watching bad football in empty stadiums, furthering the negative perception of the league.

Officiating is still a disaster. The fiasco surrounding the Washington State-Southern Cal game from 2018 still stands out in this regard and the conference still has a long way to go to win back fan trust in this regard. It certainly does not help that the man at the center of that failure, Woodie Dixon, stuck around as director of football operations until late July of last year and that the conference leadership structure went out of its way to support him instead of recognizing their mistakes. Perhaps the best news for the Pac-12 in this regard was that the Pac-12 crew for the national championship game got high marks for showing a baseline competency, something that has not been commonplace in recent years.
At the center of all these issues is Larry Scott. Scott makes $5.3 million a year, which puts him in a close second to the Big 10's Jim Delany ($5.5 million) for the highest-paid conference commissioner, and when you compare the accomplishments of both commissioners, you begin to realize that Scott is vastly overpaid. It is even worse when you compare him to the SEC's Greg Sankey, who makes around $2 million a year. The commissioner has had an increasing amount of pressure to make good on that salary in recent years, and John Canzano's examination of the conference's woes in 2018 paints the picture of an increasingly-combative Scott failing to answer for the lavish extravagance of his executive group.
Change is needed in the Pac-12, and Martin Jarmond is going to need to tackle it on two fronts. First, he needs to build a good rapport with UCLA president Gene Block. Block clearly has some level of faith in Jarmond - his six-year contract starts him at $1.2 million, which pays him more than Dan Guerrero is making in the final year of a 17-year tenure, and puts him in the upper echelon of athletic director salaries. But as Canzano reported, Block is one of the main roadblocks keeping Larry Scott firmly in power. Jarmond may need to convince his new boss that change at the conference level is in order, and his prior experience in the Big 10 and ACC could help him in that regard.
The other path Jarmond will need to take is to form a partnership with new Southern Cal athletic director Mike Bohn. This is going to sound crazy to UCLA fans, but hear me out. Bohn already made waves back in February when he made comments about the Trojans considering going independent that he had to walk back a day later. Let's be honest for a second and recognize that the Trojans are the flagship football brand in the conference, similar to how UCLA is the flagship basketball brand. In most other conferences, the flagship brands tend to be catered to, because their success helps to buoy the rest of the conference. I'm sure Purdue fans are annoyed by the constant success Ohio State gets, but that constant success provided them with the money to make Jeff Brohm the 8th highest-paid coach in the country.
Let's throw on there that these two flagship programs also happen to be embedded in the second-largest media market in the country. Combine that with the Bay Area schools (#6 media market) and the Pac-12 should be doing much better. But it's not, and Bohn seems to recognize the fact that Southern Cal is suffering by proxy. Jarmond should realize that UCLA is in the same boat and that if he creates a strategic partnership with Bohn, the two schools could have some serious leverage with the rest of the conference. Going independent would be extremely difficult, but if they made noise about exploring conference options, you have to imagine the Big 12 would jump at the opportunity to massively strengthen their conference. It may go against principles, but a strategic partnership with Southern Cal could be exactly what UCLA needs to fix their financial issues.
Realistically, I don't think this will be Martin Jarmond's top priority upon officially arriving in June. He'll want to get the athletic department set up with people he trusts first. But fixing the Pac-12 is definitely an option he will need to consider going forward.
Go Bruins!