Revised 2020 UCLA Football Schedule Released
Along with UCLA's revised schedule, the Athletic Department announced an extended deferment for season ticket holders.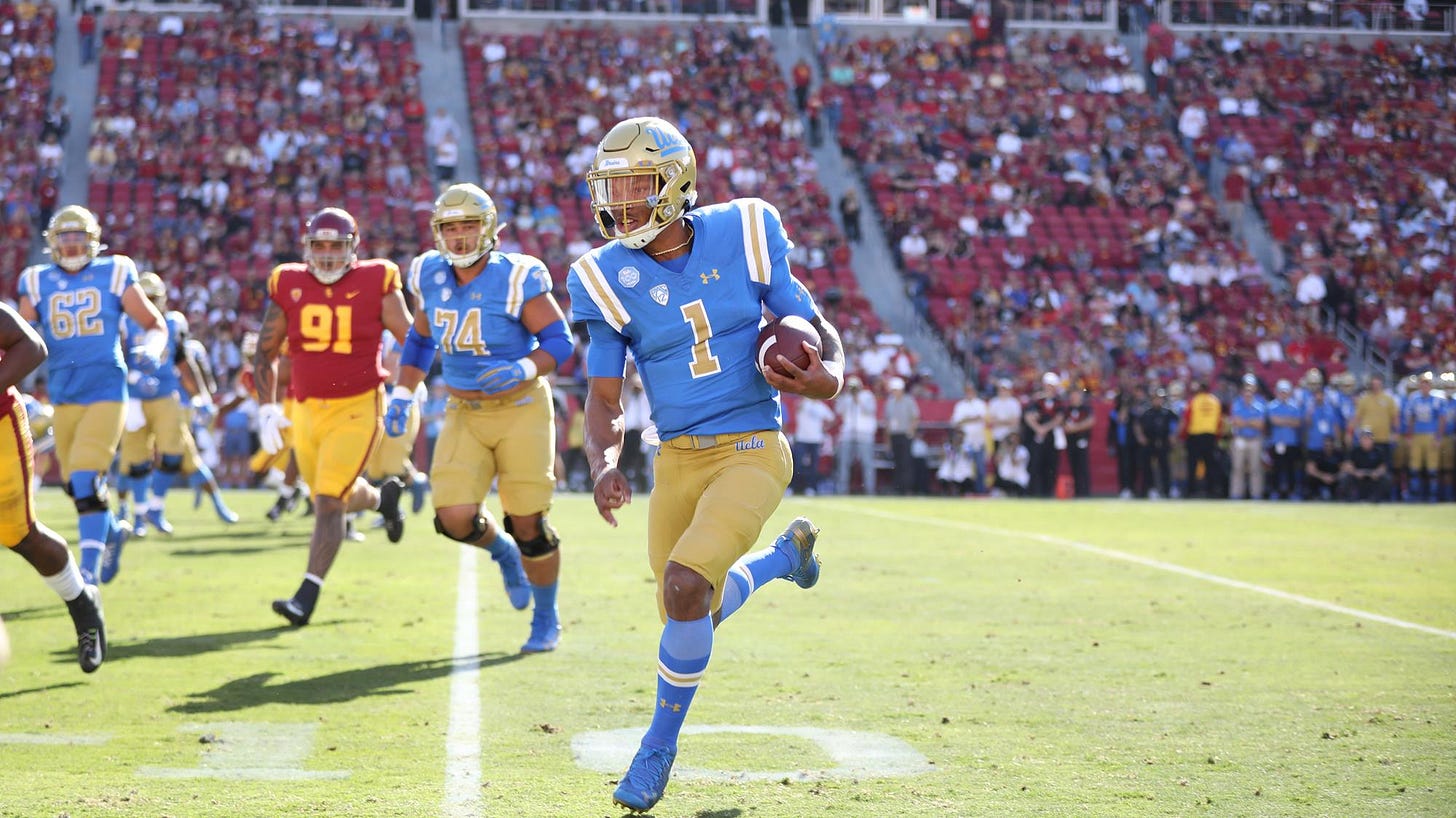 UCLA quarterback Dorian Thompson-Robinson runs the ball against Southern Cal in 2019. (Photo Credit: UCLA Athletics/
uclabruins.com
)
---
Today, the Pac-12 officially announced the revised 2020 conference-only football schedule. UCLA's schedule features 10 games with five at home and five away including two Friday night games.
Though, to most Bruin fans, if only one game gets played all season, the first week may just be enough.
That's because, as was rumored, the Bruins will open the season against Southern Cal on September 26th at the Rose Bowl. After that, the team heads to Corvallis to face Oregon State. UCLA will then host Washington State on October 10th before hosting Utah on Friday night October 16th.
That's takes a tough game against the Utes and makes it tougher. At least, it's not in Utah in November.
The Bruins play three of their next four games on the road. After travelling to Tempe to face the Sun Devils, UCLA hosts Stanford on November 7th. The Bruins follow with road games against Colorado and Washington before closing the home schedule on Thanksgiving weekend against Arizona. The season is set to conclude, if it gets that far, with a road game against UC Berkeley in Strawberry Canyon on Friday, December 4th.
In what may be even better news, UCLA also announced another change to the deferred payment deadline. This means that, if you renewed your season tickets at the start of the month, your credit card now will not be charged until August 31st.
I have to give the UCLA Athletic Department a lot of credit here. It would have been super easy for a department with the financial mess UCLA has to still charge everyone's credit cards tomorrow and start collecting interest on the money. But, instead, in a fan-friendly move, UCLA's new deferred payment date is now set for August 31st and the athletic department deserves credit for opting for flexibility on this.
It's a move that makes sense logistically.
No one knows yet whether fans will be allowed to attend. The fact that UCLA is in Los Angeles County, which has been one of the counties hardest hit by COVID-19, doesn't make the prospect of fans attending games any easier.
Personally, I wouldn't be surprised to see attendance at the Rose Bowl limited to only about 20,000 if any are allowed in the first place and, ultimately, the State of California, the County of Los Angeles and the City of Pasadena will all have a say in whether anyone can attend.
And, let's be real for a moment.
If Chip Kelly cannot find a way to defeat Southern Cal on September 26th, does the rest of the season even matter?
Here's the full week-by-week schedule (home games in bold):
Sept. 26 - Southern Cal at UCLA
Oct. 3 - UCLA at Oregon State
Oct. 10 - Washington State at UCLA
Oct. 16 (Friday) - Utah at UCLA
Oct. 24 - UCLA at Arizona State
Nov. 7 - Stanford at UCLA
Nov. 14 - UCLA at Colorado
Nov. 21 - UCLA at Washington
Nov. 28 - Arizona at UCLA
Dec. 4 (Friday) - UCLA at UC Berkeley
Go Bruins!!! Beat $c!!
---
Thanks again for supporting The Mighty Bruin. Your paid subscriptions make this site possible. Questions, comments, story ideas, angry missives and more can be sent to  to @TheMightyBruin on Twitter.