Discover more from The Mighty Bruin
Blog Of The Bruins, By The Bruins, For The Bruins
Over 1,000 subscribers
Remembering Former UCLA Quarterback Jim Bonds
Bonds played for the Bruins from 1986 through 1991.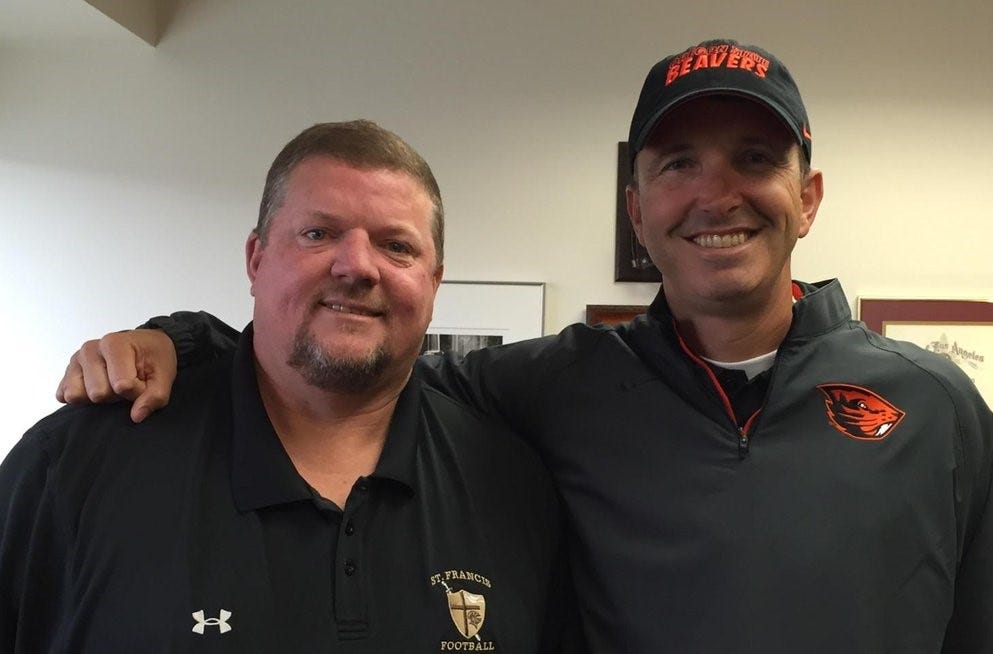 Jim Bonds and former UCLA WR and current San Jose State Head Coach Brent Brennan (Photo Credit:
@sfbonds7
)
---
I saw the very sad news in the LA Times that former Bruin QB and standout high school coach Jim Bonds died Wednesday morning at U.C.L.A. Medical Center from cancer. He was only 51 and that is much too young. There is some measure of comfort that he passed peacefully, surrounded by family.
Jim attended U.C.L.A. from '86-'91, the same years I was there, but he had the relative misfortune of being stuck behind some transfer QB from Oklahoma, and then he got caught up in the chaos of the awful '89 and '90 seasons when freshman Tommy Maddox finally emerged as the new Bruin hero. Bonds also played baseball in Westwood alongside Dave Roberts who this week won a World Series after paying tribute to his former teammate prior to Game 3.
After graduating, Bonds went on to be a very successful and highly regarded high school football coach, spending the last 20 years as head coach at La Cañada St Francis.
I see more and more stories of former Bruins passing as time goes by. It's an unfortunate side effect of getting older, but this one struck a particular chord. We often amplify those distant connections to people who go on to some degree of fame and success, and that applies here for me. Jimmy Bonds was my age and my year and I played against him in high school when he was the best QB in Southern California. He led his Hart HS Indians to the CIF Southern Section championship our senior year, a season that included Hart handing a pretty severe drubbing to my Quartz Hill team. I was named the defensive player of the week for that particular game, but it was a pyrrhic award as we lost something like 33-9, and it's hard to revel in your standout defensive performance when you lose by 3 touchdowns.
But my most enduring Jim Bonds connection came the summer before our senior seasons. We played Hart at a summer passing league tourney which Quartz Hill hosted at Antelope Valley JC back before it became 7on7 and a really big deal. Despite being a smaller cornerback, I could run and was a pretty decent cover guy for high school, especially when I knew a pass play was coming, which was conveniently every single play in passing league. But I still remember this one specific play against Hart and Bonds. I was lined up wide right against some 6-2 receiver with one of those funny broad shaped torsos and overly reddened/tanned skin that all Hart players had which meant he'd probably been outside lifting weights for several hours every day all summer. So this guy had a 3 inches and probably 30 lbs on me, but I knew it was a pass play so I felt well prepared. Bonds took the snap and this guy took off as straight as could be, right up the field. No stutter step, no juke, no look inside, nothing. Just straight up the sideline. Well, ok. I turned and ran with this guy, pretty comfortable that I knew where this route was going, and I took a quick peek at the yardage numbers on the field as we ran. I knew that the ball was snapped at the 50, as there was another game being played at the far goal line, so when we ran past the 20 yard line, I figured I was in good shape. I was glued on the receiver's inside shoulder and the ball must have gone somewhere else, as the QB had to throw the ball within 2.5 secs or something like that. The whistle signaling the play was done would come any moment.
Yet my receiver was still trucking down the field, now past the 10 and still going. This seemed silly, but now I could faintly hear "Ball!" from back toward the line of scrimmage. So I turned my head and looked up and I noticed this small oblong dot way up in the sky. Weird. What's that? No way...Yes way. It's a gd football.
I was still running with the guy who got about 1 step on me while I was turned in amazement as that dot got bigger and closer and then dropped perfectly into the receiver's chest literally less than a foot past my own outstretched hand. But I also realized that we had crossed the long jump track and we were both almost 10 yards past of the back of the end zone when he caught it. I almost wondered if someone had actually punted the ball as that was about the hang time and trajectory that throw had.
A fairly long conference then ensued with the referees, Hart's coach, and my coach Jon Albee discussing whether that was a legal catch, with the crux of the argument being that no one had ever completed a pass that deep in passing league before and so no one knew if the back of the end zone was an actual boundary for our purposes. Albee sort of half-heartedly pointed out it would have been incomplete in a real game, but I think everyone else was so impressed that Bonds just went about 60 yards in the air into a thimble that they called it a legal catch and touchdown.
So, I had the unofficial distinction, and maybe I still do, of giving up the longest catch in Quartz Hill HS passing league history. Jimmy freakin' Bonds.
I can still see that ball today, just inches past my hand, as clearly as I did that summer day. As one of the many anonymous opponents he encountered over the years, I was better off for having played against him and for the necessary lessons that come from our successes and, especially from our failures, on a sports field.
I offer my heartfelt condolences to Jim's family, his friends, his staff, and all those countless other high school football players, then and now, who were made better by his presence. Rest in peace, Jim.


Go Bruins.