Discover more from The Mighty Bruin
Blog Of The Bruins, By The Bruins, For The Bruins
Over 1,000 subscribers
Pac-12 Announces Resumption of Football and Basketball Activities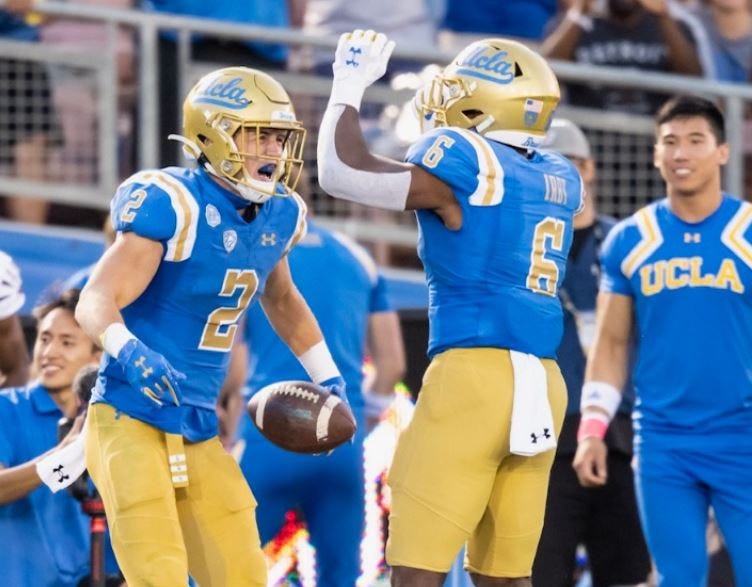 ---
Alright, let's try this again.
Thursday was increasingly seen as an inevitability, but the news is now official: the Pac-12 Conference is returning to the sports arena, announcing a return to play in football, basketball, and winter sports starting immediately. There is a lot of information to get to from the resulting press conference, so let's break it down.
GENERAL
The vote to return to play was unanimous. This isn't much of a surprise as the conference has placed an emphasis on doing things unanimously, but it does mean that enough was done to get holdouts like Stanford on board, or at least fine with proceeding.

Teams must still adhere to local health guidelines. This in particular affects Stanford, which has had to submit a return to action plan to Santa Clara County officials, and Colorado, which today issued a prohibition on college-age gatherings after a recent spike in COVID-19 cases.

To go with this, the conference has introduced daily antigen testing for athletes in a partnership with Quidel, and athletes will take one PCR test per week. This would give the conference the most testing among the major conferences.

The conference presidents left the door open to cancel the season should case numbers spike again.
FOOTBALL
The Pac-12 will play a seven-game schedule, with teams playing all five divisional opponents and one cross-divisional team. The 7th game will take place during championship weekend (Dec. 18-19) with the conference championship game surrounded by five other cross-divisional matchups.

The season is set to start on November 7. While some teams could have been ready for an October 31 start date, not all programs were able to do so, so the conference chose unanimity instead of a staggered start.

A schedule will not be released until next week.

The conference is still eligible for the College Football Playoffs. Commissioner Larry Scott indicated that the playoffs would not be expanded this year, and that conversations to do so did not get very serious.

It feels weird to write this, but Southern Cal AD Mike Bohn let slip that the letter to California Governor Newsom that was sent by Southern Cal players opened the door to conversations between California and the Pac-12. Prior to that, the commissioner's office had no contact with the governor. How much does Larry Scott make again?
BASKETBALL
Like football, basketball teams in the conference are now able to begin practicing immediately, pursuant to local guidelines.

Pac-12 basketball programs are eligible to begin their seasons on November 25. This would allow them to line up with the rest of the NCAA. There was a growing sense, even outside of football, that basketball would be allowed to start earlier regardless.

The league did not specify the number of conference games that will be in the season, but it is expected that number will increase from 18 to 20.

Larry Scott was adamant that, while teams will be allowed to schedule non-conference games, those opponents must adhere to the Pac-12's testing guidelines. This ruling, however, would potentially allow for Pac-12 teams to play in preseason tournaments, so UCLA's scheduled appearance in a stacked John Wooden Classic can happen again.
UCLA Athletic Director Martin Jarmond made the following statement following the announcement:
UCLA Athletics is pleased with today's decision by the Pac-12 to allow a return to competition as soon as is safely possible with the guidance of health experts and public health agencies. We've heard the voices of our student-athletes and are grateful for the leadership and guidance of the Pac-12 Covid-19 Medical Advisory Committee, which has methodically and thoughtfully helped navigate a path forward with daily, rapid testing on the horizon. We appreciate the collaboration and support from state and local health officials as we work with them on future plans to ramp back up and get ready to compete. The health and safety of our student-athletes, coaches and staff – as well as that of the entire Bruin community – will continue to be a top priority.
We will have more as this develops, but for now, it's time to get excited about a return for UCLA athletics.
Go Bruins!