Discover more from The Mighty Bruin
Blog Of The Bruins, By The Bruins, For The Bruins
Over 1,000 subscribers
Former UCLA Football Coach Pepper Rodgers Passes Away at 88
Rodgers led the Bruins for three seasons in the early 70s.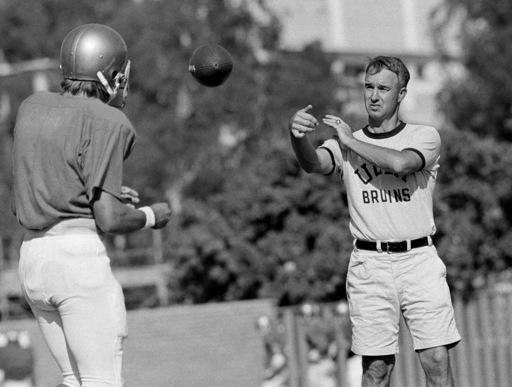 Former UCLA head football coach Pepper Rodgers tosses a football. (Photo Credit: @_CollegeNetwork)
---
Former UCLA football head coach Pepper Rodgers has passed away. Rodgers coached the Bruins for three seasons from 1971 to 1973. He was also an assistant for two seasons under Tommy Prothro in 1965 and 1966 before becoming the head coach at Kansas.
At Kansas, Rodgers led the Jayhawks to a 9-2 record in his second season. He remains the last coach at Kansas to win a conference title. Rodgers took over the UCLA football program in 1971 after Prothro departed to become the head coach of the LA Rams.
The Bruins finished with a disappointing 2-7-1 mark in his first season, but Rodgers turned the team around quickly by hiring new offensive coordinator Homer Smith in his first of three stints with the Bruins. The duo led UCLA to an 8-3 season in 1972 and a 9-2 record in 1973.
Following the 1973 season, Rodgers left Westwood to take over Georgia Tech, his alma mater. In six seasons with Georgia Tech, Rodgers could not replicate the success of his last two seasons with the Bruins.
He was out of football until 1984 when he was named the head coach of the Memphis Showboats of the USFL where he coached eventual football Hall of Famer Reggie White. After the USFL folded, Rodgers went ten years before coaching the Memphis Mad Dogs during the CFL's brief entry into the US.
In 2001, Rodgers was hired by the Washington Redskins as vice-president of football operations.
Rodgers recently suffered a fall in his home and passed away from complications due to that.
Rest in peace, Pepper.
---
Thanks again for supporting The Mighty Bruin. Your paid subscriptions make this site possible. Questions, comments, story ideas, angry missives and more can be sent to joe@themightybruin.com, or to @TheMightyBruin on Twitter.