Discover more from The Mighty Bruin
Blog Of The Bruins, By The Bruins, For The Bruins
Over 1,000 subscribers
Flashback Friday: UCLA Captures #11 Against Arkansas
Join us as we look back at UCLA's last national championship.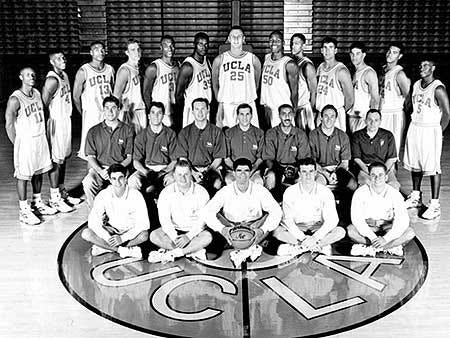 (Photo Credit: UCLA Athletics)
---
Well hi everyone! Welcome to the second installment of Flashback Friday, which is even releasing on time, something Joe can attest is something that does not happen often when I start a new weekly idea column.
Just a reminder of how this works: Every Friday, I'll write about a game from UCLA's past that is easily accessible via Youtube/Vimeo/ESPN. This doesn't have to be the two big sports; honestly, I'd love for there to be some full games or matches from something that isn't football or men's basketball, but I have a feeling those two sports will dominate the proceedings. Once a game is selected, I'll post the game here so you too can watch along. And if you have a game you'd like to see me write about, leave a link to a full video in the comments!
This week, I had a feeling I was going to do something basketball-related. Maybe this had something to do with the 30 minutes I spent trying to find a copy of UCLA vs UCI from 1988 at the behest of my mom (for those who don't know, UCLA lost the game thanks to a last-second coast-to-coast drive by the Anteaters in Jim Harrick's first season, which would serve as the inspiration for Tyus Edney's 4.8-second dash in this particular tournament). But searching for that led me to a copy of the national championship game in 1995 between UCLA and Arkansas. And once Crouching Bruin joined in the comments with a similar idea, I knew it was something I had to do.
So with that said, let's get to it!
PREGAME
I chose a version with the pregame mostly because I was very young when this all happened, and I wanted to get some better context for the game. And the first bit of context was that even back in 1995, Coach K was going to find a way to show up.

Another thing that helped me settle on this game? The Athletic ran a retrospective on this tournament run a few weeks ago that was very good. If you don't really care about the pregame show and have a subscription, take this time to go read that article.

Ok, in doing some research into Arkansas at the time, I guess I understand why Coach K is there. I knew they were the defending champions, but I didn't know they had beaten Duke for the championship in the year prior, and Duke had beaten Arkansas under Nolan Richardson in 1990.

Tyus Edney really was the story of this pregame, with him getting injured in the game prior and not coming out with the team for warmups.

Coach Wooden was such a treasure, and his pregame interview is just so good and entertaining.

Ok, the video I put in here cut out the audio for the pregame hype video, but good lord I want to find this whole thing by itself because mixing Lion King with basketball seems exactly like my jam.
FIRST HALF
Arkansas had a reputation for its press and "40 Minutes of Hell" so it's fascinating to watch UCLA's early attempts at breaking the press. Even with a hurt Edney, the Bruins pushed upcourt quickly and got easy shots due to that.

In the Athletic piece, Edney said he felt the Arkansas players were targeting his hurt wrist, and in these opening minutes, you can definitely see it.

Harrick did a good job of quickly realizing Edney wasn't going to last and going to Cameron Dollar as soon as possible. Dollar had the turnover on his first play, but he'd settle down rather quickly. Hilariously enough, the color commentator (Billy Packer) said that Arkansas was about to "go for the kill" and I couldn't believe how dumb of a thing to say in the first 4 minutes of a national championship game was.

Billy Packer has mentioned the strength of Arkansas's bench repeatedly so far, which was definitely a story going into the game, but this UCLA team went seven deep and had a group of stars in the starting lineup, so it really wasn't the big advantage Packer and others would make it out to be.

(41:33) The UCLA fast break is just so fun. The closest a UCLA team has been to this squad was the Lonzo Ball squad, but that team didn't have the two-headed hydra of the O'Bannon brothers causing turnovers and being so in-sync.

(46:45) And again, Ed O'Bannon gets a steal by just being an athletic, long-armed freak of nature. You have to feel sorry for Arkansas on some level because, for all their depth, they couldn't solve the human cheat code that was Ed.

Arkansas's Corliss Williamson was one of the best players in the country in 1995, and my only thought so far is that UCLA, especially Ed O'Bannon, has made him look completely ordinary. He's completely unable to do anything on offense, especially against UCLA's swarming length.

UCLA really played sloppy down the stretch, blowing an eight-point lead to go into the half only leading by one. More worrying was that UCLA looked tired down the stretch, which had to be playing in the back of most UCLA fans' minds at the time.

Truly amazing that Coach K was able to recover from a back injury that caused him to leave the Blue Devils midway through the season in time to do commentary for this game. And amazing that he keeps pulling this same shtick to this day.
SECOND HALF
Going into the second half, Michele Tafoya reported that Edney was not going to play in the second half, which essentially cut UCLA's rotation down to six, and meant that Cameron Dollar and Toby Bailey were going to need to play the entire second half (it went without saying that Ed O'Bannon would be doing similarly while the Bruins would try to sneak brother Charles O'Bannon a minute or two if possible). Not an ideal situation for a national championship game.

(1:15:41) Arkansas' 2-2-1 zone press has been one of the big plots through the game, but I'd say that UCLA just stopped considering it to be much of a threat at this point. Just look at how effortlessly they break the press and get downcourt for an easy two points. UCLA was repeatedly able to out-athlete the press, leading to moments like this one where Cameron Dollar was able to essentially run a 3-on-1 fast break once they had broken the press.

Scotty Thurman was the other big scorer for Arkansas, and he didn't score until the second half because UCLA kept sending Charles O'Bannon and his long arms to contest his shots. UCLA's team length is unreal.

(1:21:02) This really feels like the possession where UCLA announced they were not going to lose the game. Starting with a steal, the Bruins run their offense methodically, get multiple open looks, and end with Ed O'Bannon simply being the best player on the court.

(1:22:14) Wait, I take it back. THIS is the play where UCLA announced they were not going to lose the game. Ed O'Bannon just sends a rocket of a pass full court to Toby Bailey, who puts in a reverse slam dunk to give the Bruins a 10 point lead. All the talk about the Arkansas press and the Arkansas depth meant nothing when UCLA could just do that whenever it felt like it.

Of course Los Angeles institution Sandy Koufax is at this game.

(1:29:57) Another fascinating moment of the game. Jim Harrick is going to try and steal some minutes of game time for Cameron Dollar to rest, and go with Toby Bailey as the nominal point guard. Billy Packer on commentary thinks this is the moment Arkansas needs to strike with their press and turn the game around. So, of course, the Bruins break the press easily and Bailey is able to get an easy pull-up jumper. The benefit of running a small rotation is that those players are all really good, allowing Harrick the luxury to steal minutes of rest when possible without having to worry about the wheels falling off.

(1:33:07) Billy Packer has declared that the next two minutes of game time is the Razorbacks' opportunity to make a move. Packer has had a rough go of it, honestly - I don't think he believed UCLA would have such an easy time against the Arkansas press and has yet to adjust his insight to compensate. Fascinatingly, Arkansas started to back off of their press here, maybe realizing that UCLA was burning them too often to continue it.

"UCLA is starting to walk up the court, Jim!" Billy, Arkansas isn't pressing. Of course they're walking up the court. That's smart basketball my dude.

(1:40:52) Here's something you never see anymore. UCLA actually put a 4th player on the key so that only one Arkansas player would have the opportunity to box out the foul shooter.

Credit to Arkansas. They actually were able to get back into the game by not pressing, and instead focusing on their half-court defense and limiting fast-break opportunities. It took UCLA out of their rhythm long enough for the Razorbacks to hit a few shots and draw some fouls. Unfortunately for them, Ed O'Bannon was not going to lose this game.

Ed O'Bannon rightly gets the biggest accolades for carrying this team, but Toby Bailey was absolutely unconscious in this game. 26 points and nine rebounds, with four of them on the offensive glass leading to 2nd-chance points, is a ridiculous output that the Bruins desperately needed with Edney out.

(1:53:26) Great timeout by Jim Harrick with 1:26 remaining. He was able to focus the team to weather one last Arkansas push, and got to put in a great inbounds play knowing Arkansas would overcommit to the press. Charles O'Bannon gets hit streaking down the court for an easy slam that made it a 12-point lead and effectively iced the game.

I have to imagine Charles O'Bannon got some solid ribbing from his teammates for blowing that last-second dunk attempt.
Epilogue
Oh boy, I get to write another sad epilogue.
For UCLA, this was a high point they wouldn't get close to again until Ben Howland's run of three straight Final Fours over a decade later. Ed O'Bannon, Tyus Edney, and George Zidek would be gone after this game. The Bruins would get upset in the first round of the NCAA Tournament the following year before Jim Harrick would be fired for violations prior to the start of the 1996-1997 season. Steve Lavin, an assistant coach under Harrick at this time, would step in on an interim basis before being given the keys full time and UCLA would go through a run of competent but uninspiring play for the better part of the next decade.
It's more interesting to track what happened to the individuals, though. Let's start with Harrick. Winning the NCAA title was clearly the biggest moment of his career, as though he would find some level of success at Rhode Island and Georgia, his career in college was undone by another scandal that ended his Georgia tenure. He currently serves as an assistant at Cal State Northridge under his former assistant Mark Gottfried, who was also on the sidelines of this game. My favorite moment of his post-UCLA trek through the wilderness was going to the inaugural game of the NBA D-League Bakersfield Jam, of which Harrick was the first coach.
The rest of the coaching staff of this UCLA team still remains one of the most fascinating championship staffs in the past 25 years. As mentioned, Mark Gottfried is currently the head coach at Cal State Northridge, but this game would be his last at UCLA, as he would go on to take over at Murray State for a few years before jumping to Alabama in 1998 and NC State in 2011. Lorenzo Romar would depart a year later, with stops at Pepperdine and St. Louis before taking over at his alma mater Washington in 2002. And, of course, we know all about Steve Lavin.
Among the players, this was again the high point of their careers. Sure, the players who did not graduate would continue to have some success for the Bruins, with Toby Bailey getting first-team All-Pac 10 honors in the following three seasons standing out, but those UCLA teams never again reached the Final Four. Every player on the court for UCLA was drafted by the NBA, but none truly found success at that level, with most finding more success in European leagues or, in the case of J.R. Henderson (now Sakuragi), in Japan. Ironically, the player in this game who ended up with the best NBA career was Corliss Williamson, who was made to look mortal in this game but would go on to have a 12-year NBA career, winning Sixth Man of the Year in 2002 and an NBA title with the Detroit Pistons in 2004. Of course, the biggest irony is that the player who would have the most impact on the NBA would be UCLA's Bob Myers, who was a deep bench reserve on this team, but went on to become the President of Basketball Operations for the Golden State Warriors and put together the dynasty that dominated basketball in recent years.
---
Thanks again for supporting The Mighty Bruin. Your paid subscriptions make this site possible. Questions, comments, story ideas, angry missives and more can be sent to joe@themightybruin.com, or to @JPiechowski on Twitter. (Unfortunately, the Twitter account for The Mighty Bruin remains in Twitter jail after Joe made the mistake of trying to set the TMB launch date as the account's birthday. We hope to have this resolved soon.)