Discover more from The Mighty Bruin
Blog Of The Bruins, By The Bruins, For The Bruins
Over 1,000 subscribers
Could the Fall Postponement Help UCLA Basketball?
The Pac-12 Conference postponing all athletic competition till 2021 could make UCLA the team to beat in the conference.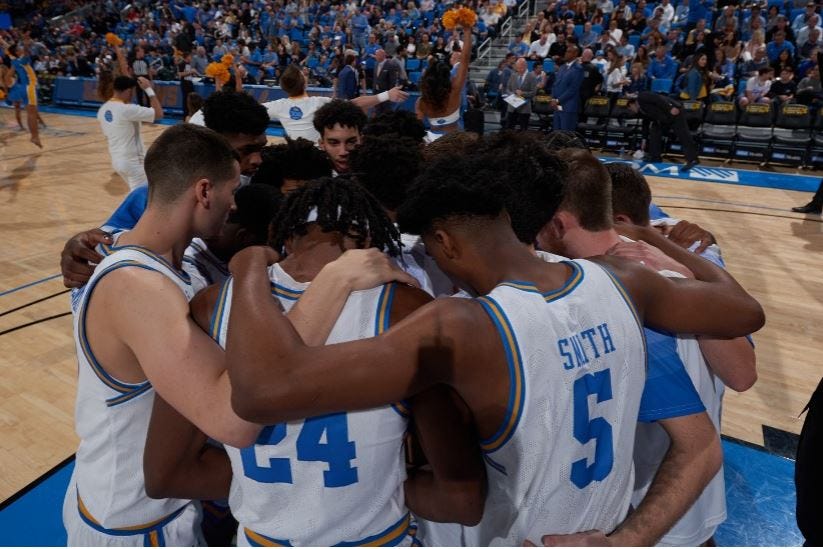 The Bruins could have the most cohesive team heading into the 2020-2021 season. (Photo credit:
Don Liebig/uclabruins.com
)
---
While the focus on the Pac-12's announcement to postpone all athletic competition till 2021 has, for many reasons, focused almost exclusively on football, but there are a host of sports affected. Volleyball, soccer, and cross-country are all seeing their seasons moved to the spring, but the decision also affects winter sports that would start competition early. That list includes basketball, which means that as of this moment, the earliest the UCLA men's basketball team could play a game would be January 1, 2021, which is traditionally around the point where conference play would get going.
All of which is to say: I think this could lead to an easier path to a Pac-12 title for UCLA?
Let's start with some basics. By cancelling all of the games prior to 2021, it means UCLA misses out on some marquee matchups, including what could have been another classic matchup with Kentucky at the CBS Sports Classic. It also removes UCLA from the Wooden Classic, where they would have potentially had games against Kansas and Virginia. The schedule was also set to include games against Marquette and UNLV. Those are all great games that could have helped UCLA's resume going into the NCAA tournament, and the loss of those games does lower the margin of error for the Bruins.
But losing the non-conference also hurts from a team growth standpoint. While there are marquee matchups, a lot of the non-conference is filled with cupcake opponents that allow teams to work out the kinks and build chemistry in low-pressure situations. They're incredibly important for young teams, or teams trying to integrate new pieces, or even new coaching staffs trying to implement a new system. All of that describes the UCLA of 2019, a young team led by a new coach trying to get everyone to buy into a brand-new system. That team benefitted from a non-conference that was not very successful but allowed the team to learn the new system so that when conference play rolled around, the Bruins were able to make everything click and go on a run that led them to second in the conference.
All of which is to say, the UCLA of 2020-2021 is not a team that needs the non-conference in the same way they did last year.
To be sure, the Bruins do have new pieces to integrate, especially Johnny Juzang who is a capable outside shooter for a team that could use some better shooting. Consider, though, that UCLA is bringing back the entire rotation that keyed that unbelievable stretch to end the season, give or take a few Alex Olesinski and Prince Ali minutes. That's a huge amount of continuity, and Mick Cronin does not have to spend time this year trying to get the roster to buy-in to the system. Yes, there will be some more wrinkles added this year, but the base understanding is there, which can only help.
But compare the Bruins to every other team in the conference, especially the other front-runners. Oregon has to replace three starters, including conference POY Payton Pritchard, while also integrating a batch of transfers. Arizona State got good news with Remy Martin returning, but their front court was already thin before Romello White transferred out, and they have talented freshmen that they'll need to acclimate to the college game. Stanford pulled off an absolute coup by landing top prospect Ziaire Williams, but lost sensational guard Tyrell Terry to the draft. Southern Cal also got a top prospect in Evan Mobley (though it should be noted that Mobley's dad is on the Trojan coaching staff) but lost almost all of their key contributors from 2019-2020, so they're essentially starting from scratch. Arizona lost all of their stars and doesn't have the usual reinforcements coming in this next season.
All of those teams have various levels of issues that UCLA does not have to deal with, and losing the non-conference games doesn't help those teams with solving their problems. Stanford would love to ease Williams into college basketball with some early cupcake games - instead, he could be thrown into the deep end of the Rocky Mountain Road Trip. Similarly, Oregon does not get to work out the kinks against an overmatched opponent (unless they open with Oregon State, sorry Beavs), but could open with the Arizona schools to start.
Of course, not everything is set in stone yet. The Pac-12 could allow for their basketball programs to schedule a few non-conference games at the end of December or beginning of January to allow those teams to tune up, for example. Jon Wilner reported recently that the Pac-12 is willing to reconsider this decision should the rest of the NCAA move towards starting basketball season in late November, for example. But Pac-12 programs won't have their normal slate of around 13 games to figure things out before conference play starts. That can only be to the Bruins benefit.
Go Bruins!