College Football Viewing Guide, Week 5: Big Week in the SEC
A true top 10 matchup highlights the week's action.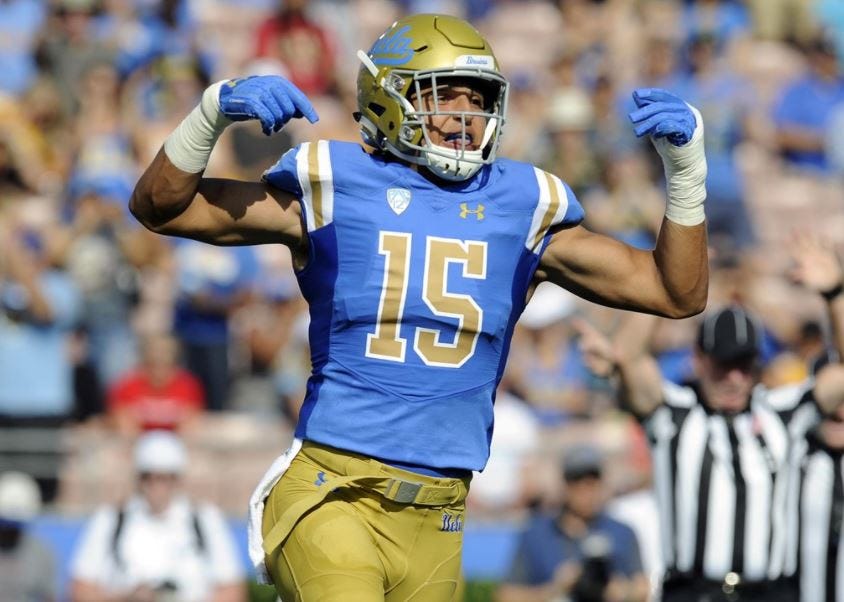 (Photo credit: Gary A. Vasquez-USA TODAY Sports via
UCLABruins.com
)
---
A lot has been made of the mass exodus of talent that has occurred at UCLA under Chip Kelly. I'm not here to rehash those arguments, but I did think about it while considering the excellent play of Jaelan Phillips at Miami.
Phillips has had a career resurgence so far in Miami. The defensive end has amassed 8 tackles so far through three games, to go with an interception and two passes defended. His improved play has helped spur a revitalized Hurricanes defense, and is one of the many reasons Miami is currently ranked 8th in the nation.
I imagine it is hard for UCLA fans to watch Phillips perform as well as he is without feeling a ting of regret for how his UCLA career went. Phillips was the top-rated recruit in his class, and he was expected to be the next great UCLA pass rusher, built in the vein of Anthony Barr. But injuries derailed his UCLA career, and a coaching change was the final nail in the coffin, as Chip Kelly's approach is a radical departure from the one used by Jim Mora.
I don't bring up Jaelan Phillips's success as a way to take a shot at Chip Kelly. Rather, I think it is interesting how different styles of coaching can bring out the best in different players. Phillips does seem to thrive in a more relaxed atmosphere that promotes having fun, and that's not a bad thing. Chip Kelly's business-like program is not for everyone, and that is similarly fine. I'm mostly just happy for Jaelan Phillips, if I am being honest.
Even if he went to Miami. Melsby was forever down.
---
Let's get to this week in games!
FRIDAY
Game to watch: Lousiana Tech @ #22 BYU (6:00 PM PT, ESPN2)
This gets the top slot by virtue of featuring a ranked team, but if I am honest neither of these games really grabs me as being good games. BYU is favored by 24 points in this game, which is fascinating considering both teams are 2-0 heading into this game, but the quality of those wins is very different. I don't expect this to be very close, which is perfectly fine for a Friday night game.
Keep an eye on: Campbell @ Wake Forest (4:00 PM PT, ACCN)
Did I decide to list this game just to continue the streak of mentioning Campbell in the column? Maybe!
EARLY SATURDAY
Game to watch: South Carolina @ #3 Florida (9:00 AM PT, ESPN)
The early slate does us a favor by not being loaded like last week, instead easing us in to the major games later in the day. In that spirit, let's use the top spot in this time slot to highlight Florida, which is somehow #3 in the rankings thanks to Oklahoma blowing things last week and Ohio State still not a major factor yet. The Gators fended off a spirited comeback attempt from Ole Miss in their first game, but they showed off a highly-productive offense in that first game, amassing 642 yards as Kyle Trask provided Florida with the best QB play since Tim Tebow was behind center. The Gator defense was a bit concerning in the win, but it's hard to fault them too much considering the Gators had opened up a 23 point lead in the 4th quarter. Still, if they can get the defense in sync, this team could make some noise and have an actual shot at the College Football Playoffs. South Carolina should provide solid resistance after putting up a solid effort against Tennessee last week.
Keep an eye on: Arkansas State @ Coastal Carolina (9:00 AM PT, ESPN2)
Is Coastal Carolina good? The Chanticleers are 2-0 on the season, including a dominant win on the road at Kansas to start the year. This is a prove-it type of game, as Arkansas State also has a Big 12 win this year, as they beat the same Kansas State team that just beat Oklahoma. A win here, and Coastal Carolina can prove that they are legitimate contenders for the Sun Belt. Arkansas State can do similar with a win, as the Sun Belt looks more wide open than normal.
MIDDAY SATURDAY
Game to watch: #13 Texas A&M @ #2 Alabama (12:30 PM PT, CBS)
This feels very much like an important game for Jimbo Fisher at College Station. He's in year 3 as the head coach of the Aggies, who gave him a ridiculous contract in hopes he could compete with the Alabamas and Georgias of the conference. Fisher has recruited well, but he needs to start getting results on the field, and the first Texas A&M game of 2020 left much to be desired, as the Aggies were forced to grind out a very close win over Vanderbilt at home. The Aggie offense struggled to get anything going against the Commodores, and I can't imagine things get better against Alabama.
Speaking of, you will be shocked to learn that Alabama is again ridiculous. The Crimson Tide didn't break a sweat in handling Missouri in their first game, breaking in a new quarterback in Mac Jones while letting the rest of their star-studded offense got in solid reps. Alabama's defense looked a bit suspect at times, and they committed more penalties than you'd like to see, but in general the Tide look every bit the national title contender we assumed they would be.
Which gets back to Texas A&M. Alabama is as vulnerable as you can realistically expect them to be given the situation, while A&M is three years into Fisher's tenure. I don't think the Aggies need to win this game, but this feels like a game that the Aggies need to be competitive in, if only to prove that the Fisher era is worth the price tag.
Keep an eye on: #25 Memphis @ SMU (12:30 PM PT, ESPN2)
Believe it or not, this is only Memphis's second game of the season, after they've had to postpone a few games due to a COVID-19 outbreak. Memphis was one of the AAC's presumed front-runners this season, but now we have no idea how they will look after the long layoff. We do know how SMU looks, which is better than anticipated. This combines to create a fascinating game, one that should help us better understand how the AAC Championship race will shake out.
LATE SATURDAY
Game to watch: #7 Auburn @ #4 Georgia (4:30 PM PT, ESPN)
Auburn passed their first test last week, handling Kentucky fairly easily. Georgia…eventually passed their first test, but not without a ton of questions. The Bulldogs did not look very good for much of their game against Arkansas, and a lot of the focus has been on the quarterback position. D'Wan Mathis started the game and was ineffective, while Stetson Bennett came in later and most played mistake-free football. Now former Southern Cal quarterback J.T. Daniels is back in the mix after being cleared from a knee injury he suffered last season. If you went off of talent, Daniels should probably be starting this game, but he was already an immobile quarterback before the knee injury, and putting him in the pocket seems like a recipe for disaster against an impressive Auburn defensive front.
Georgia is an interesting case for me because they are undoubtedly talented, but they were a bit more combustible last season, and the early returns for this season aren't great. More importantly, it does not bode well for the Bulldogs to be unsettled at the most important position on the field going into a big matchup like this, because if there's one team that loves to take advantage of the situation, it's Auburn.
Keep an eye on: Virginia @ #1 Clemson (5:00 PM PT, ACCN)
Outside of the day's marquee game, the late shift is full of games featuring teams either looking to re-establish lost momentum (Oklahoma, LSU) or continue the momentum they've built (Mississippi State, UCF). So give me Clemson, a complete team that could possibly overlook a solid Virginia team as look ahead to next week's meeting with Miami. I don't think Clemson loses this, but stranger things have already happened this season, and this is the latest game kicking off this week, so the possibility of #Pac12AfterDark looming over the proceedings is too much to ignore.