Discover more from The Mighty Bruin
Blog Of The Bruins, By The Bruins, For The Bruins
Over 1,000 subscribers
College Football Viewing Guide, Week 8: The B1G is Back
Also the Mountain West returns, and the Pitt Superweapon is fully operational.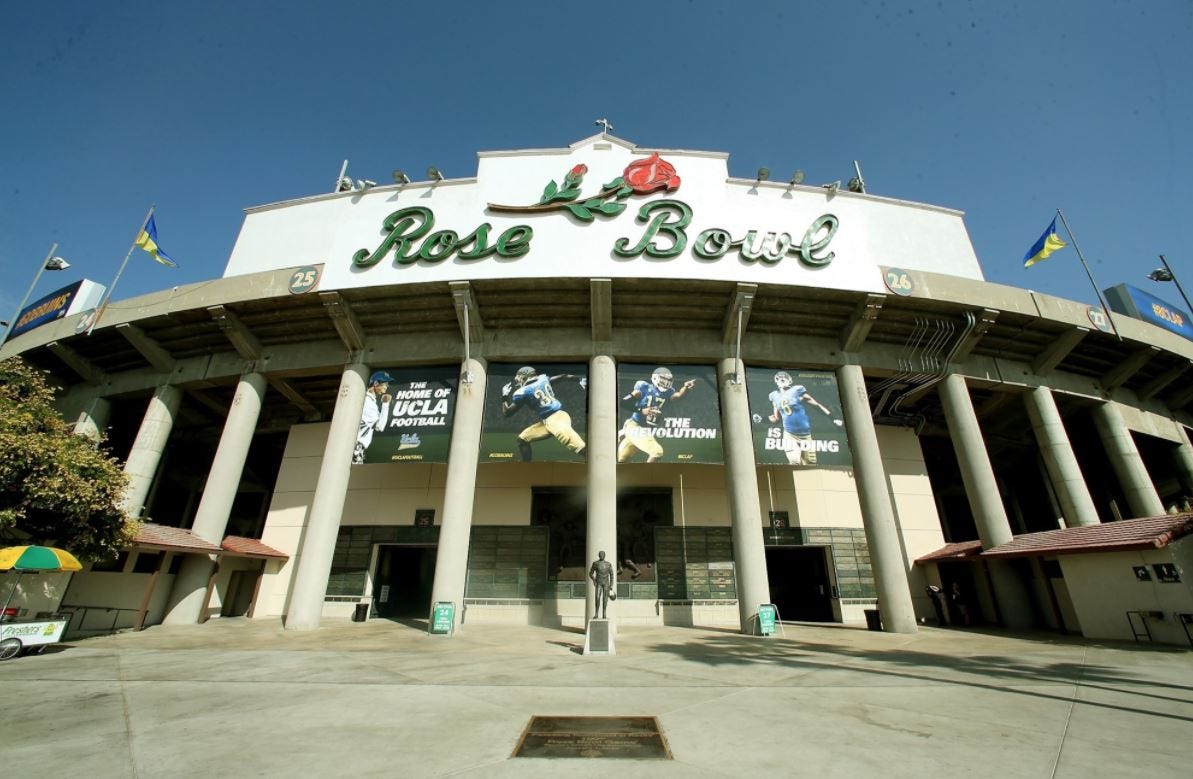 ---
I usually use this opening section to comment on some greater going-on in the world of college football, but frankly I just don't feel up for it at the moment. Part of it has to do with UCLA football ramping up and preparing to play in a few weeks, which means work on other stuff is ramping up (positional previews soon!). Part of it may also have to do with my new job taking up more of my time and energy.
But also, I guess on some level this college football season hasn't really grabbed me in the way past have? The pandemic definitely plays a part here, but the football has generally not been good, and the typical stratification between the best teams and the rest seems particularly big this year, with Alabama and Clemson clearly established as miles ahead of the competition, and Ohio State set to join them. And sure, I've taken some weird pleasure in watching teams fall flat on their faces (Oklahoma and Texas racing to the bottom is particularly fun) but that gets old after awhile.
In general, that has been the trend across sports. Television ratings are down across the sporting world, and college football has not been spared from these issues. Yes, there are some mitigating circumstances at play, such as a lack of marquee non-conference games meaning a lack of big games to draw eyeballs in September, but casual fans have not returned to the sport in the numbers many expected, and honestly that makes sense. Sports are supposed to be a reward for a functioning society, and even during these games we have signs of all the various problems currently going on. The pandemic in particular is still front-and-center during games, with coaches wearing masks and crowds kept socially distant (at least, the ones allowed into the stadiums), creating an eerie viewing experience. If the old truism that "people use sports as an escape" were actually true, then the current sports landscape would have been yet another reminder of how the real world constantly enters into the sporting space. For hardcore fans, the current season has made it easier to see the seams tearing apart on the sport and wonder when wholesale changes are going to be made, while for more casual fans, it has just provided an easy excuse to just walk away for a season.
Huh, I guess I did find something to talk about.
Anyway, let's get to the games.
FRIDAY
Game to watch: Illinois @ #14 Wisconsin (5:00 PM PT, BTN)
Here it is, the first game of the year in the B1G, and appropriately enough, it's going to be on the Big Ten Network. There's not a lot of intrigue here - Wisconsin feels like the clear toast of the Big 10 West while Illinois is improving but not there yet - but it's the only Power 5 game on, and the start of a new conference season, so it gets the nod.
Keep an eye on: Louisiana @ UAB (5:00 PM PT, CBSSN)
This should be a really fun non-conference game! Both these teams are in the mix for their conference's title, and are really fun teams to watch in general. If that Illinois/Wisconsin game gets bad (which could very easily happen), then this game exists to give you something fun to watch instead.
EARLY SATURDAY
Game to watch: #23 North Carolina State @ #14 North Carolina (9:00 AM PT, ESPN)
North Carolina flew too close to the sun, and ended up losing to a bad Florida State last week, which means we're back to pretending Notre Dame is the only threat to Clemson winning the ACC. Still, this should be the best game in the early slot, which is mostly filled by potential slaughters. North Carolina is probably still a really good team, and I would assume they'd want to prove that against one of their in-state rivals.
Keep an eye on: Georgia Southern @ #25 Coastal Carolina (9:00 AM PT, ESPNU)
So, uhh, Coastal Carolina is ranked. And as of right now, looks to be the favorite in the Fun Belt. At the same time, Georgia Southern is right there in the standings and really could use a win here to stay in the race. In other words, this should be a very good game that should clarify how the Sun Belt will shake out going forward, even with Appalachian State lurking in the background.
Just for fun: Nebraska @ #5 Ohio State (9:00 AM PT, FOX)
Adding a third game in this slot just to point out that Nebraska threw the biggest hissy fit in the world and is getting properly awarded for it. Play stupid games, win stupid prizes, I guess.
MIDDAY SATURDAY
Game to watch: #17 Iowa State @ #6 Oklahoma State (12:30 PM PT, FOX)
So we're close to the end of October, and Oklahoma State has arisen from the ashes of this past month to stand alone as the Big 12's last remaining playoff hopeful. Considering how that has gone for Oklahoma State in the past, it really feels like there is now an open playoff slot that a team (perhaps from the Pac-12?) can now claim. Still, the Cowboys are going to trudge on towards their inevitable, Sisyphian demise, and who are we to stop them now that they schedule begins to get hard. First up, a visit from Iowa State, a team that has beaten Oklahoma in the recent past! I'm sure that will go well.
Keep an eye on: #3 Notre Dame @ Pittsburgh (12:30 PM PT, ABC)
This game gets the other midday slot over the other potential slaughters by virtue of featuring the Pitt Superweapon. For those unfamiliar with the concept, the Pitt Superweapon refers to the strange college football concept of Pitt being able to upset a highly-ranked opponent at a moment's notice despite they themselves not being very good. Our former colleagues over at Banner Society put up a good explainer of the history of the Pitt Superweapon that I recommend you go check out (most of these former colleagues from Banner Society have also left SB Nation and like us migrated to Substack, where you can follow them over at Moon Crew. I highly recommend it). In any case, one of the concepts behind the Pitt Superweapon is that they spend time charging, waiting for the perfect time to strike. They were ranked early this year, but have spent the last three weeks charging up with a series of losses, culminating with a road loss to Miami last week. Would that have been the opportune time for the Superweapon to fire? Perhaps, but a home matchup with an even-higher ranked opponent is a much better situation. So while I'm not saying an upset will happen here, everything does seem to be lining up for that to be the case.
LATE SATURDAY
Game to watch: #9 Cincinnati @ #16 SMU (6:00 PM PT, ESPN2)
There's a lot of intrigue surrounding this game, the first being that these are the two best teams in the American Athletic Conference. Cincinnati being in this position isn't a surprise - the Bearcats were considered one of the early favorites in the conference, and have risen to the occasion so far this season. But SMU was not supposed to be here, and effecitvely gate-crashed the proceedings with an upset win over Memphis. Now, I don't know how long SMU can continue to ride this train - they follow up this game with a visit from Navy, the other conference undefeated team at the moment - but I don't know that I'd necessarily bet against them, especially since Cincinnati is much less proven at this point comparatively. Plus the Mustangs are at home, which could prove beneficial.
Keep an eye on: #18 Michigan @ #21 Minnesota (4:30 PM PT, ABC)
This is the first marquee B1G game of the year, and appropriately enough it features two teams that feel like they're going in opposite directions. Minnesota is on the rise, as PJ Fleck's squad had a fantastic season last year going 11-2 and ending the season with an Outback Bowl victory over Auburn, and they're looking to build on that in 2020. Michigan, meanwhile, feels rudderless at the moment - a massacre of Notre Dame hides the fact that they went 0-3 against fellow Big 10 standard-bearers Ohio State, Penn State, and Wisconsin last year, and they ended the year getting pants'd by a disinterested Alabama team in *checks notes* the Citrus Bowl. That's not necessarily where you want to be after handing that kind of contract to Jim Harbaugh. I mentioned a few weeks ago how Jimbo Fisher needed a big win to justify his contract at Texas A&M, and then he went out and got an upset victory over Florida. Harbaugh is starting to get into that area with the Wolverines, and I don't think a win here necessarily helps him in that regard, while a loss here definitely hurts him.
Just for fun: Utah State @ Boise State (4:00 PM PT, FS1)
The Big 10 isn't the only conference coming back this week, as we also get Mountain West action! So let's quickly highlight Boise State, who are going to try and look good for a few weeks before providing BYU with a quality win, and Utah State, who had a quarterback drafted in the first round last year! Fun stuff.