Discover more from The Mighty Bruin
Blog Of The Bruins, By The Bruins, For The Bruins
Over 1,000 subscribers
College Football Viewing Guide, Week 9: The Calm Before the Storm
There are some decent games this week, but the week generally feels like a breather before a big Week 10.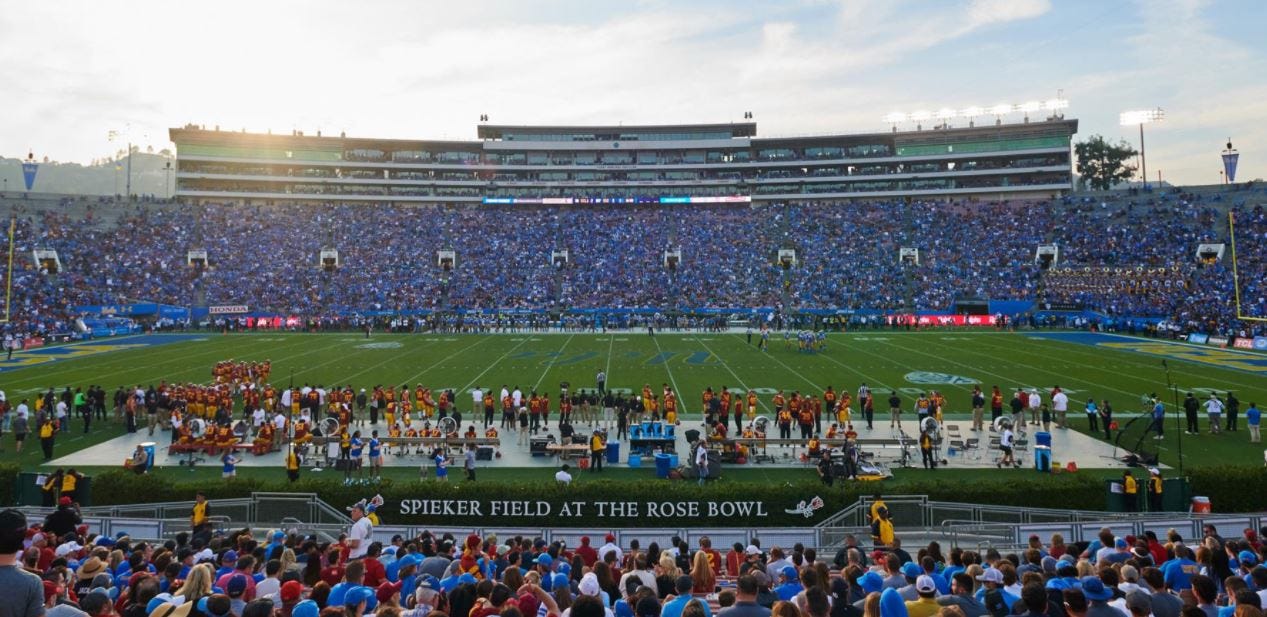 ---
Unlike last week, where I complained that I didn't have anything to write about and ended up instead writing something about how uninspiring the season has been to this point, this time I definitely don't have anything to write about. That's mostly because when I sat down to look over the schedule and plan this week's viewing guide out, I realized there was nothing interesting actually happening this week. Next week feels particularly loaded (BYU/Boise State, World's Largest Outdoor Quarantined Cocktail Party, Clemson/Notre Dame, and oh yeah the Pac-12 is back) and this week just feels like an afterthought in the schedule. Which probably means there will be some surprising outcomes, but it makes writing these much harder. So you'll forgive me for how short most of the write-ups are.
I will quickly take this time to urge you to make sure you vote in the upcoming election. I don't particularly care who you vote for (and really don't take this as an opportunity to start posting whatever political take you've been itching to unload in the comments) but I wouldn't be doing my duty as a social science teacher if I didn't urge everyone to do their civic duty.
Let's get to the week.
THURSDAY
Game to watch: South Alabama @ Georgia Southern (4:30 PM PT, ESPN)
This is the better game of the two, just based on these teams having an actual track record to this point. There's also a better chance of this game being entertaining, and with most of sports now in their offseason, options have become limited.
Keep an eye on: Colorado State @ Fresno State (7:00 PM PT, CBSSN)
Fresno State got beaten down by Todd Graham and Hawaii last week, and this is Colorado State's first game with new coach Steve Addazio. Nothing here really matters, and I'm only adding the game just to see if angry Fresno State fans will track me down over here while I mention how terrible their city is. Honestly, tracking down people being mean to Fresno on the internet seems superior to actually being in Fresno, so I get why they would do it.
FRIDAY
Game to watch: Minnesota @ Maryland (4:30 PM PT, ESPN)
The Friday slate is a barren wasteland not even fit for a second slot. The only reason this game is getting highlighted is because it features two Power 5 teams. That's it. Maryland is extremely bad so I really doubt this game is close, and if it is close then Minnesota has way more problems than initially believed.
EARLY SATURDAY
Game to watch: Michigan State @ Michigan (9:00 AM PT, FOX)
This game will probably not be good - the Spartans did just lose to Rutgers after all - but it is a rivalry game which means the chance for screwy things happening is higher than the rest of the morning slate. That said, Michigan actually looked good in their opener at Minnesota, so maybe Harbaugh will turn things around before their inevitable massacre at the hands of Ohio State.
Keep an eye on: #20 Coastal Carolina @ Georgia State (9:00 AM PT, ESPNU)
Coastal Carolina was down their starting quarterback and tight end last week, and still managed a convincing win over Georgia Southern. They feel fully-established as the team to beat in the Fun Belt this year, which is a testament to the program building that head coach Jamey Chadwell has done in two years. But really they're just getting highlighted so I can link to their post-game celebration, which as a wrestling fan brought me great joy.
MIDDAY SATURDAY
Game to watch: Texas @ #6 Oklahoma State (1:00 PM PT, FOX)
The midday slate is bleak, as is most of this weekend, so let's give the top slot to Oklahoma State, who are still struggling against their inevitable fate as a multi-loss team. This would definitely be a game to worry about as a Cowboys fan, as Texas is probably better than they've appeared at times this season, and they definitely have the talent to beat OK State. It's all down to whether that talent actually shows up or not.
Keep an eye on: #17 Indiana @ Rutgers (12:30 PM PT, BTN)
Ah, a battle of unbeatens, just like we all assumed would be the case. In reality, I think Rutgers is a better team? Indiana's win was more impressive from an opponent standpoint, but Rutgers actually did more to win their game - Indiana mostly jumped out to an early lead and hung around long enough to steal the game at the end. In either case, one of these teams is moving to 2-0 and you can bet neither fan base will have any idea how to cope with that.
LATE SATURDAY
Game to watch: #3 Ohio State @ #18 Penn State (4:30 PM PT, ABC)
This is the clear game of the week, and was set up before the season as one of the marquee regular season matchups the Big Ten has to offer. Did it lose it's luster a bit now that Penn State has already suffered an embarrassing loss to Indiana? Sure. Does it also not help that Ohio State looks like it's head and shoulders better than the rest of the conference? Definitely. Does that mean this game won't be close? Ehhh, I'd lean towards Penn State making a game of it, but Ohio State has so much more talent than the rest of the Big Ten that it's hard to bet against them at this point.
Keep an eye on: Nevada @ UNLV (7:30 PM PT, FS1)
Next week we get the triumphant return of #Pac12AfterDark, so let's pour one out for the Mountain West, which has gamely tried to fill that void for the past few weeks. Plus this game has a better chance of being closer than BYU's slaughter of Western Kentucky will be.