Discover more from The Mighty Bruin
Blog Of The Bruins, By The Bruins, For The Bruins
Over 1,000 subscribers
Analyzing the Names Being Floated as the New UCLA Athletic Director
Friday brought some actual news on the athletic director search.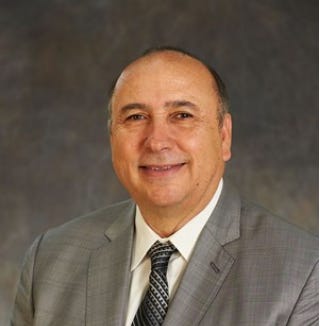 (Photo credit: UCLA Athletics/uclabruins.com)
---
Let's start with the news. On Friday, Jon Wilner reported that the UCLA Athletic Director search was nearing the home stretch, with current UNLV AD Desiree Reed-Francois at the top of a list that also potentially includes Virginia's Carla Williams and Auburn's Allen Greene. Ben Bolch at the LA Times followed up with a report that, at the very least, current UCLA Senior Associate AD Josh Rebholz was out of the running for the position.
There's a lot to take in here, so let's start with the Josh Rebholz news first. It honestly shouldn't be surprising to anyone that Rebholz did not make it to the finalist stage of the search. Despite taking on a more active role in running the department in recent years, Rebholz's prodigious fundraising ability has come under increased scrutiny in recent months after it was revealed that he was involved in a donations-for-admissions scandal in recent years. Those scandals most-likely made Rebholz toxic to the search committee, and with good reason.
Shifting over, Wilner gave three names purported to be finalists for the position, with Reed-Francois at the top of the list. Let's start with her. As stated, Desiree Reed-Francois is the current athletic director at UNLV, a position she's held since 2017. Prior to that, she was the deputy athletic director at Virginia Tech and has past experience at Cincinnati (where she at one point served as the interim AD and thus has past experience with current UCLA men's basketball coach Mick Cronin), Tennessee, and a host of west coast schools including Fresno State and UC Berkeley. Reed-Francois is a UCLA alum and was a former rower for the Bruins. Reed-Francois has a reputation as a solid fundraiser and raised the profile of UNLV considerably in her short time at the school.
Perhaps most importantly, Reed-Francois's record of hiring for the major revenue sports (football and men's basketball) is not half-bad; at UNLV, she hired Marcus Arroyo this past offseason to take over the football program while her hiring of T.J. Otzelberger is widely seen as a solid hire to help rebuild that program. In addition, at Virginia Tech she was intimately involved with the process that eventually brought Justin Fuente in to take over for the departing Frank Beamer. That experience, and the quality of those hires, can't be discounted.
Moving on to Carla Williams, she too ascended to the athletic director position at Virginia in 2017. Prior to that, she served as the athletics administrator at Georgia for 13 years, and critically had oversight of the football program during her tenure. She also has athletic department experience from her time at Vanderbilt and has experience as both a coach and player for the Georgia women's basketball team. The big-time SEC experience at Georgia cannot be discounted, and you have to like that she is a current athletic director at a major public university. Perhaps crucially, she does not have any UCLA ties, with her operating in the South for the entirety of her career.
The biggest sore spot on her resume is a lack of any experience with a coaching search. Both Tony Bennett and Bronco Mendenhall were already in place when she took over at UVA, and while Kirby Smart was hired while she was at Georgia, I don't know how intimately she was involved with the coaching search, as you would think that would be something her biography would mention considering all the success Smart has had at Georgia.
Finally, let's talk about Allen Greene really quickly. Honestly, I don't know if Greene is seriously considering leaving Auburn for UCLA so much as using the search to get a better deal from Auburn, but I will say he's a solid name to have as an option if true. Greene took over as athletic director at Auburn in 2018 and has prior experience as the athletic director of Buffalo. He also has experience working with the athletic departments of Ole Miss and Notre Dame and was a baseball player for the Fighting Irish. All that said, it doesn't appear as though Greene has experience in hiring for a revenue sport either.
So with all of the candidates analyzed, let's lay out some basic truths here.
Truth #1: UCLA was never going to hire a name brand AD from another major program - The fact is that there is so much working against UCLA hiring a major name, especially when it comes to compensation. In 2018, Dan Guerrero was the 11th highest-paid athletic director in the country, but it also took decades for him to get to that point, and the basic assumption is that any new hire is going to come in much cheaper. Reed-Francois, Williams, and even Greene (who reportedly made around $625,000 a year at Auburn) fit into UCLA's price range on this front. Beyond that compensation issue, there is also the cost of living in Los Angeles to consider and administrative red tape inherent in the UC system. Oh, and who can forget…
Truth #2: Any potential new AD hire is going to have to dig the department out of a massive financial hole - Yeah, top-name athletic directors aren't chomping at the bit to take over a program with the financial issues UCLA currently finds itself in. Fundraising can only take you so far, especially when your predecessor leaves you with a legacy that left a series of disastrous hirings and firings in the two major sports that leave the football program dead in the water and the basketball program just beginning their recovery. The budget issues are so bad that UCLA may be forced to ride out the Chip Kelly years just to try and save money, which won't go over well with an already-dejected fanbase.
Truth #3: Any potential hire runs the risk of being dismissed as a "diversity hire" - I don't necessarily think it is a coincidence that Reed-Francois, Williams, and Greene are all members of marginalized communities, and even other potential contenders like Fresno State's Terry Tumey and UC Davis's Dr. Kevin Blue fall into these categories. I do believe UCLA made a concerted effort to give consideration to candidates from all walks of life. But at the same time, all three candidates listed are highly-qualified for the position; Reed-Francois has taken a ton of heat online since her name was floated, but she has a case to be the most-qualified UCLA athletic director candidate in history.
Truth #4: None of these candidates are Dan Guerrero - This is not to say they are all home-run hires, but moving away from the Dan Guerrero department has to be seen as a positive, and given that two of the three names don't have UCLA ties, that could be a signal that those in charge are potentially looking to move away from the corrosive way of doing business that has plagued the department over the past few decades.
And really, we should note that no one has been hired yet. I'd still guess at this search lasting a few more weeks, with today's flurry of news being the beginning of a more public vetting process for the potential candidates.
Go Bruins!